Of all the East Asian countries – the cuisines of China, Japan and Korea are arguably the widest known globally, their distinct individuality responsible for hundreds of thousands of restaurants around the world that pay homage – and look to replicate – their dishes.
Taiwan's cuisine to the uninitiated, who've never been to the country, will probably struggle to describe it beyond its large Chinese influence. That's continued to be the case – until the explosion bubble tea across the region.
Now Taiwan's most known culinary export, you'd find it hard to meet someone in Brunei too who hasn't quenched their thirst or sweet tooth with a cup of bubble tea and some chewy pearls.
But while milk tea shops continue to proliferate across the Sultanate, cousins Evelyn Ting and Jolin Ho are trying something a little different by starting an eatery serving an entire menu, full of Taiwanese food.
"We started Food Messenger (FM) because we wanted to introduce Taiwanese food to Brunei in a Halal way," says 30-year-old Jolin. "The cuisine is filling but light; something you could eat every day."
Their spritely, yellow storefront within a nondescript building inside Spg 98 of Jalan Gadong is home to the Taiwanese staples; pancaked-styled egg rolls (dan bing), large rice rolls (fan tuan), different cut buns (gua-bao), beef noodles, fried chicken steak (ji pai) along with different braised meats and vegetables.
While Jolin fills the role of management and marketing, 29-year-old Evelyn – who's worked the kitchens of Dynasty and Li Gong in Empire Hotel & Country Club – takes the duties of head chef.
"My first experience with real Taiwanese cuisine was when I first traveled there back in 2013," said Evelyn, whose formal culinary training began at MTSSR, now known as IBTE Sultan Saiful Rijal Campus, back in 2006.
"I enjoyed the food so much that I came back for a Taiwan cooking course for two weeks."
In 2014, she floated the idea to her cousin, then working for a Taiwanese company based in the Philipines, to start a business in Brunei serving Halal Taiwanese food, but the idea only materialized three years later – from Evelyn's home in Sg Akar.
By that time, Evelyn had left cooking behind as a profession, and was working as a clerk at a department store.  Despite more than five years experience in some of Brunei's most established kitchens, her time – aside from a stint at Villa Mauri as chef – was mostly limited to food preparation where she worked as a cutter, or as a kitchen assistant.
"I never stopped cooking (myself) but at the same time I wanted to try and do something new, something different," says Evelyn, who has always harboured hopes of opening her own restaurant.
"So we started small. We began from home and did food delivery, which is where our name Food Messenger comes from. We wanted to test the market, see how people would respond to Taiwanese food."
Jolin, who had returned to Brunei to partner with Evelyn, helped to set up the social media accounts to promote the business.
After four months of increasing orders, Evelyn took another week-long course in Taiwan on serving Taiwanese food – and the duo decided to pool together their savings to open Food Messenger at a commercial space in July 2017.
To keep costs low, they rented a space in a less frequented side of Gadong, and furnished the space in a sparing but functional manner, with most of the interior decor done in-house.
The eatery began primarily a breakfast, lunch and tea spot, opening from 7.30am, but recently decided to extend their hours to 10pm to cater for dinner.
"We're still trying to get our brand out there more," said Jolin. "Hopefully one day we can make Taiwan food something that all Bruneians will enjoy."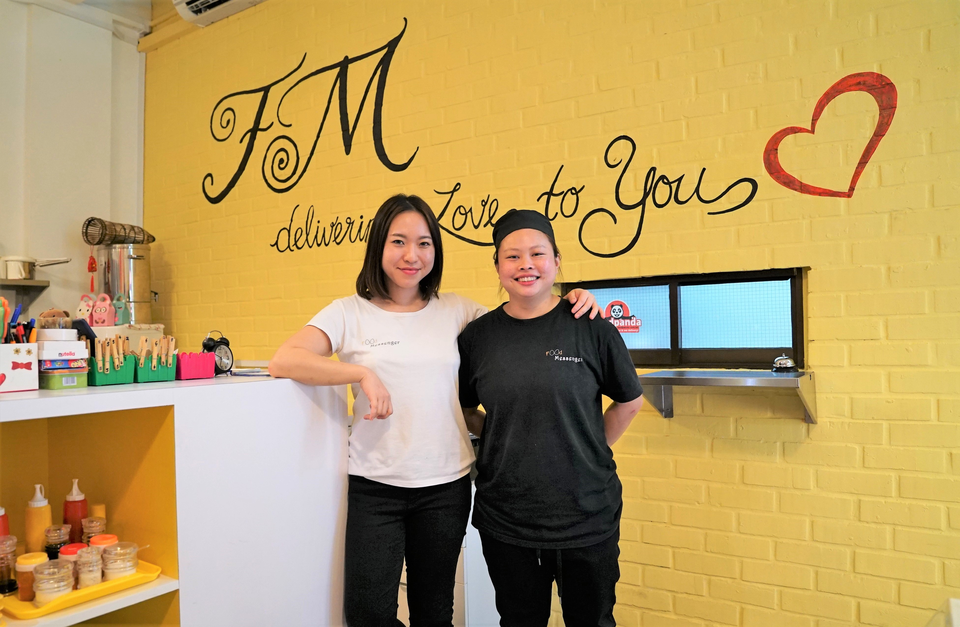 Food Messenger is located at Unit A-117, 98 Residences Lot, Spg 98, Jalan Gadong (Simpang after Court furniture) and opens from Tuesday to Sunday. To learn more follow @food.messenger on Instagram, @food.messenger814 on Facebook or contact +6737319775 to get in touch directly.