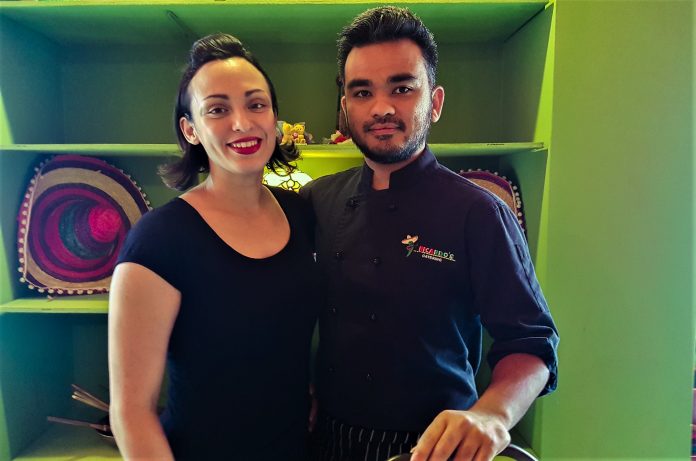 Stepping into Ricardo's La Galeria – you'd be forgiven for forgetting that you're in a Kuala Belait home, and had been teleported into Mexico.
Colourful placemats and runners across a green tablecloth, with the sounds of mariachi playing in the background and walls painted an earthy-brown. The stage is set for authentic Mexican cuisine whipped up by Hakeem Abdul Rahim (pictured main R) and his wife, Mari Lin Gonzalez (pictured main L).
"This is our attempt at creating a little slice of Mexico in Brunei," says 31-year-old Hakeem.
La Galeria is an intimate extension of Ricardo's, more popularly known to KBians as a Mexican food delivery service. After three years operating from home, Ricardo's is ready to make the leap to their first commercial space at the Jerudong Park Food Court next month.
With hundreds of regulars, thousands of social media followers and monthly sales breaking $10,000, Hakeem has plenty of reason to be confident about is next move.
But there's still some nerves, some lingering doubt at the back of the 31-year-old's mind.
A "nightmare" as he calls it – in which he failed to sustain a Spanish restaurant in prime Kiulap seven years ago – continues to serve as a painful reminder.
Young and ambitious
"I love cooking. I remember learning how to make bechamel sauce when I was 8 or 9 years old," says Hakeem with a smile. While studying for a business degree in Canada, he took on part-time jobs at restaurants, working his way up from dishwasher to kitchen assistant.
"It taught me the basic foundations of running a kitchen," he added. While in Canada he fatefully met Mari online, a Mexican-American who he began dating and remained in contact with, even after he returned to Brunei in 2009.
"When I got back home I tried a lot of (small) businesses from home; re-selling beauty products, cooking food, but they didn't really amount to anything," said Hakeem, who became convinced that opening a proper storefront was the answer. "So I got a small loan from my family and got an investor to make up the capital to open up a Spanish restaurant in Kiulap."
He was admittedly naive in assuming that opening the restaurant, which he chooses not to name publicly, would be the most difficult part, and that pulling in customers would just be an afterthought.
"My mistake was that I saw opening a restaurant as the finish line," he said. "I was in my early 20's, with a grand idea of running a restaurant and found out that I was lacking real confidence and knowledge."
While balancing running the kitchen, managing the staff, marketing and getting returning customers, he became increasingly at loggerheads with his investors on how to run the restaurant, especially when times became more challenging.
A painful lesson
In the year that the restaurant opened, Mari migrated to Brunei to be with Hakeem, who was slowly becoming engulfed in debt and a failing business.
"I barely had time to even see Mari and that made me feel even worse. There I was, the woman who was the love of my life had came all the way to Brunei to be with me and converted (to Islam)," said Hakeem. "Her family couldn't understand her decision to be with me… I felt so guilty and responsible for not being able to give her the life that she deserved."
"I remembered Hakeem would sometimes come to me with tears apologising, telling me he was sorry that everything wasn't working out like he wanted," said Mari.
The "nightmare" ended in 2013 when he finally gave up the restaurant and got a full-time job at a catering company based in Belait.
"I was at rock bottom. I decided to get a job, marry the woman who stood by me, and move on," said Hakeem. "I had to learn to buckle down, swallow my pride, and learn how to do my new job (doing accounts and finance). I'm grateful I did because the knowledge turned out to be very valuable."
Starting from scratch
At his job, Hakeem was mostly tasked with doing inventory for catering orders, but evidently missed cooking. Mari would begin cooking him Mexican food as lunch for him to take to work to cheer him up, and recalls how she always made sure she made extra so he could share with his colleagues.
Mari fell back to the food that she used to cook for her family back in Los Angeles, while her mother took up part-time jobs to make ends meet.
Hakeem's colleagues were impressed, and Mari's cooking became a staple at the office.
"I had no interest in being a businesswoman at the start," says Mari. "But Hakeem really persuaded me to give it a go."
They named the business after Mari's grandfather Ricardo, and committed to creating all the dishes – from the sauce to the tortillas – from scratch.
Through word of mouth and social media, Ricardo's became a hit amongst the Belait community, served at parties, family dinners and office functions.
Within months Ricardo's was bringing in more than Hakeem's administrative accountant job – but the 31-year-old was initially reluctant to make the full plunge into being a business owner full-time.
"I didn't want Mari to experience the pain and struggle that we had to endure again," said Hakeem.
"I too felt a bit of trepidation about Hakeem (resigning from his job). I was brought up to play it safe and not to take risks," said Mari. "We had a baby on the way too, so I was hesitant (about him leaving his full-time job). But I shelved my doubts because deep down I knew that Hakeem wasn't truly fulfilled at his job. Ricardo's was really all he wanted to do."
In 2014, he took two-weeks off to see if he could make it work – and the rest is history.
A quick count of Ricardo's regulars today number at 700, and while delivery makes up the bulk of the business, they continue to take bookings for dine-in at Le Galeria, as well as do live cooking services to customers' homes.
Ricardo's will soon have a second home in Jerudong, and the married couple – having now learned to never settle – are looking to bring something new to the takeout experience.
"I want to serve more hearty meals, meals that won't be out of place at home; tacos, big burritos," says Mari.
"Looking back, I wouldn't wish the experience of a failure on anyone," added Hakeem. "But in some ways, I wouldn't be here now, doing Ricardo's, if I didn't have to go through that."
Ricardo's La Galeria is located at Lot 5556, Jalan Setia Pahlawan, Kg Pandan, Kuala Belait. To call for reservations, or to order take-out/delivery, contact +6737206809. Follow @ricardoslagaleria or @ricardosmexicandelivery on Instagram for the latest updates.