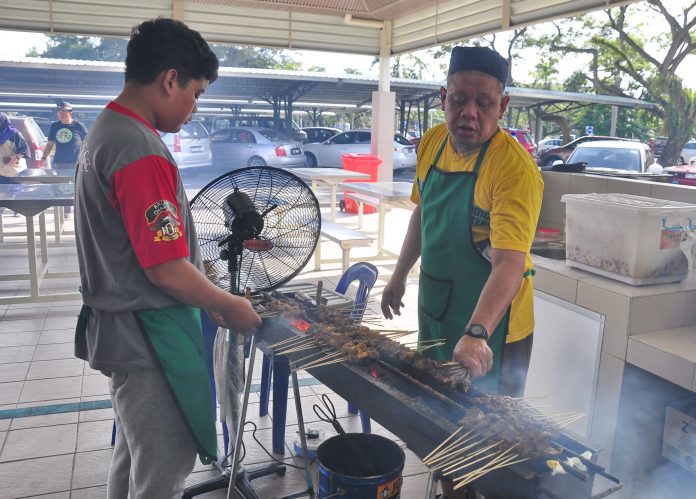 Through a haze of smoke I greet Hj Yuza Hj Shamsuddin of Salim's Satay, a portly man in his late 40s as he deftly manages over 50 sticks of skewered meat on a narrow grill likely to be just under a metre long at the all-new Gadong night market.
"Waalaikumsalam Sir! I'll be with you when I am done with the grilling," he greeted back.
It's almost sunset and he, along with his sisters and his 15-year-old son, have been there at their square since 3.30pm. They take turns grilling and selling satay, never abating until all 2000 sticks of flavourful beef and chicken – sold at three-sticks-a-dollar – are gone.
He keeps a watchful eye on the sizzling meat; brushing it with oil to make sure that the outer skin crisps while the inside is kept sweet, juicy and tender. You won't mistake him for anything but a master of his craft, though he would humbly tell you otherwise.
The roots of Salim's Satay go far back as 1948 – starting as nothing more than a man trying to make ends meet. According to his descendants, Salim Damit would sell satay door to door on foot, selling to enthusiastic customers who bought from him as a regular routine.
As the days turned to weeks, and months to years, the mode of transport shifted from foot to bicycle, then car and finally a spot at the market in the capital.
His children took over the business when he passed, and they too passed it onto their children – which includes Hj Yuza – creating an unbroken tradition lasting close to 70 years.
"Sorry to make you wait. Once I start grilling, I don't stop until it's all done," said Hj Yuza as he takes off his mask. "I've never really thought that I would do anything else really. I wanted to continue the tradition and keep it going."
Hj Yuza first got his hands on the grill at 10, and while Salim's Satay has also expanded to stalls in Tutong and Serusop, he credits his grandfather and his mother for laying the groundwork for a brand that has proven its ability to endure the test of time. Perhaps it's only fitting that they occupy stall A01 at the new night market – known formally as Pasar Pelbagai Barang Gadong.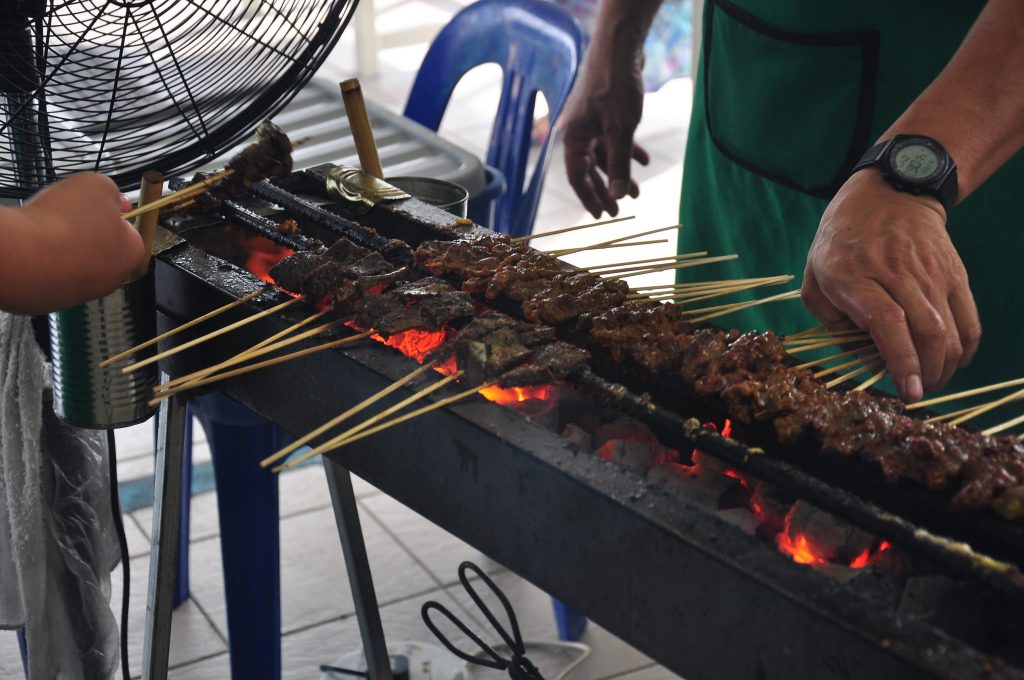 Considering Salim's legacy – I have to ask: what makes a good satay?
"You have to be consistent with the spices and marinade," he says, without hesitation. How well it's cooked – is up to each person's preference. Some like it well done, some like it rare, but it is the spices he says "that carry the satay".
"What my late grandfather tasted (back then), is what you taste now."
But if you've ever manned a barbeque pit for more than 30 minutes – you'll know that sweltering heat, and the accompanying swirl of smoke can make the eyes water isn't a joke. And if your going to do it upwards of three hours a day, you're going to need a level of grit that the walls of an air-conditioned office cannot teach.
"I have taken short breaks before but it never feels quite right," he said, ruefully saying that he would miss the grill. "It's in my blood. I prefer selling seven days anyway. Sure, people look at what we're doing and think that selling satay is easy money but the reality is that it is very, very tough.
"There is not even a guarantee that someone is going to buy your satay because you have to also get out there and create exposure to your product," he continued.
For brands that are already established – it's more about keeping the taste consistent, the service warm, and showing up – even when on those days where you aren't feeling 100 per cent.
"Most important of all is that you have to truly love what you're doing," he told me, we wind down our chat and his family members at the stall gets ready to pack up, clean up and go home and rest before another day of grilling.
"I'll probably keep on doing this until I die, even as I pass this on to my son and daughters," he said.