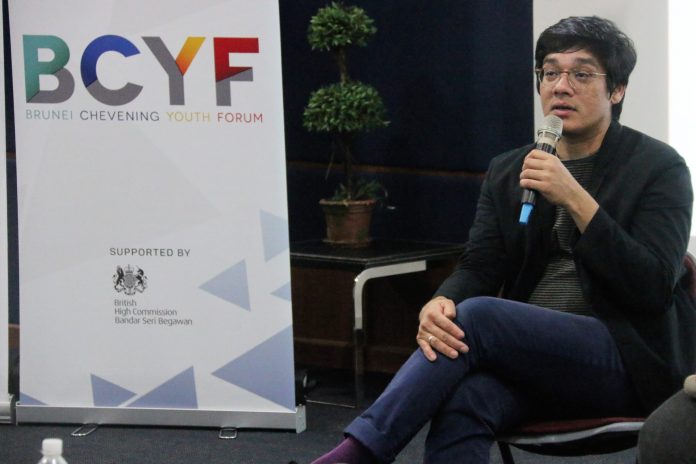 "The world is looking at Southeast Asia."
It's Bernard Chauly's main proposition as he takes to the stage at Universiti Brunei Darussalam's The Core recently to present about creativity and innovation at the Brunei Chevening Youth Forum.
The Malaysian director, whose breakthrough film Gol & Gincu 12 years ago made him a household name, talked about managing resources, believing in your story and how now, more than ever, the region needs to take advantage of the social media revolution.
I sit down with Chauly after the forum to get his thoughts on the regional film-making scene and how Bruneian film makers can make a dent abroad. Here are the three takeaways.
The social media and technological revolution has disrupted conventional television
Whether it's videos of cats filmed on mobile phones, or minute long videos on food recipes – the power of filming and uploading has taken off in a big way in the past several years with the advent of internet bandwidth increasing and film making equipment diversifying and becoming more affordable.
"With internet speeds increasing; viewership of videos online is on the up," said Chauly. "And it's not just on YouTube anymore."
Gone are the days where you had to keep your eyes peeled to a television screen for 30 minutes to watch a chef come up with a simple recipe. Now Tasty – which has over 80 million followers on Facebook – and all the imitators that have followed, can give you simple to-the-point videos lasting not more than a few minutes – and gain the same, if not more viewership with much less production costs.
"Gaining access to resources is still an issue in the region," said the 43-year-old. "But the internet has solved much of it. Hardware is also more compact, sophisticated – and you really don't need much to start out. And Soundtracks, copywriters, editors and other help; it's all a click away."
On a separate note Chauly points out that tastes and mediums fluctuate – the appeal of music videos, for example has largely faded – so paying close attention to the trends in how society consumes media is key.
Believe in your story – but also be mindful of cross cultural appeal

"I still think to a certain extent that we film-makers and the community in the region still carry a chip on our shoulder when it comes to media," said Chauly. "And what I mean by that is that it's sometimes not until an outsider shows up and films a hit movie here that we realize: 'Hey what we have here is actually cool'"
Chauly was pointing to Welsh film maker Gareth Evans, who shot the Indonesian action movie The Raid – which was a commercial and critical success globally.
While leveraging on unique cultural elements – humour, styling, language, behaviour – material should also find a way to connect between cultures.
"So in the context of a Brunei film: What's stopping it from being a film that can also represent Borneo and have appeal in Indonesia, Malaysia, Singapore or the region and world?"
Seek to make a difference
Perhaps a more trite point, but Chauly is serious on this one.
"At the end of the day you have to ask yourself as a film-maker – why do you choose to tell a story and what will that story be," he says. "Is it for the most hits, to entertain, provoke, inspire, make money or to improve peoples' lives?
"The why you do what you do matters – and so does the intent to make a positive difference in what you do. No matter how small or big it ends up being."