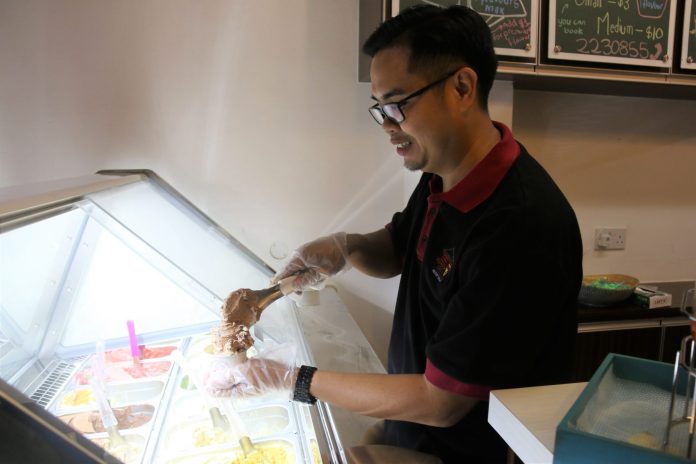 Hidden in between rows of sleek, chic outlets at Kiulap's Setia Kenangan II lies a small ice cream parlour that's become the talk of the town.
Taking up half a shop lot, with an understated all-white exterior and a quaint signboard, Rumah Gelato doesn't have the backing of wealthy investor or the flex of a global franchise.
It's making a compelling case that to start a business you don't need either – but there is still a price to be paid.
As I step into Rumah Gelato (RG) to meet the founder Mordeny Hj Modihi and his wife, customers are walking in by the minute.
They are greeted warmly, served generously and are impressed by the price. But the matter is ultimately settled on the taste buds – and the customers leave convinced.
"Our intention isn't just to satisfy customers," says Mordeny. "It's to amaze them. We want them to be surprised after they ask to test a flavor. And we always want them leaving with a smile."
Gelato, the 38-year-old is keen to explain, carries a different taste than regular ice cream. Its true home is in Italy and favours milk over cream, resulting in a lower fat content.
When gelato is made, it is also churned at a slower rate than ice-cream; introducing less air into the mix – making it taste denser than your average ice-cream.
Mordeny humbly points out that RG isn't the first to serve gelato in the Sultanate – but it is the first homegrown outlet to focus entirely on making it.
Over 30 flavours have been developed, and more than 100 customers are now served a day. Monthly sales comfortably break five figures, and momentum is gaining such that on Chinese New Year – while many businesses took a day off – RG sold out within six hours of opening.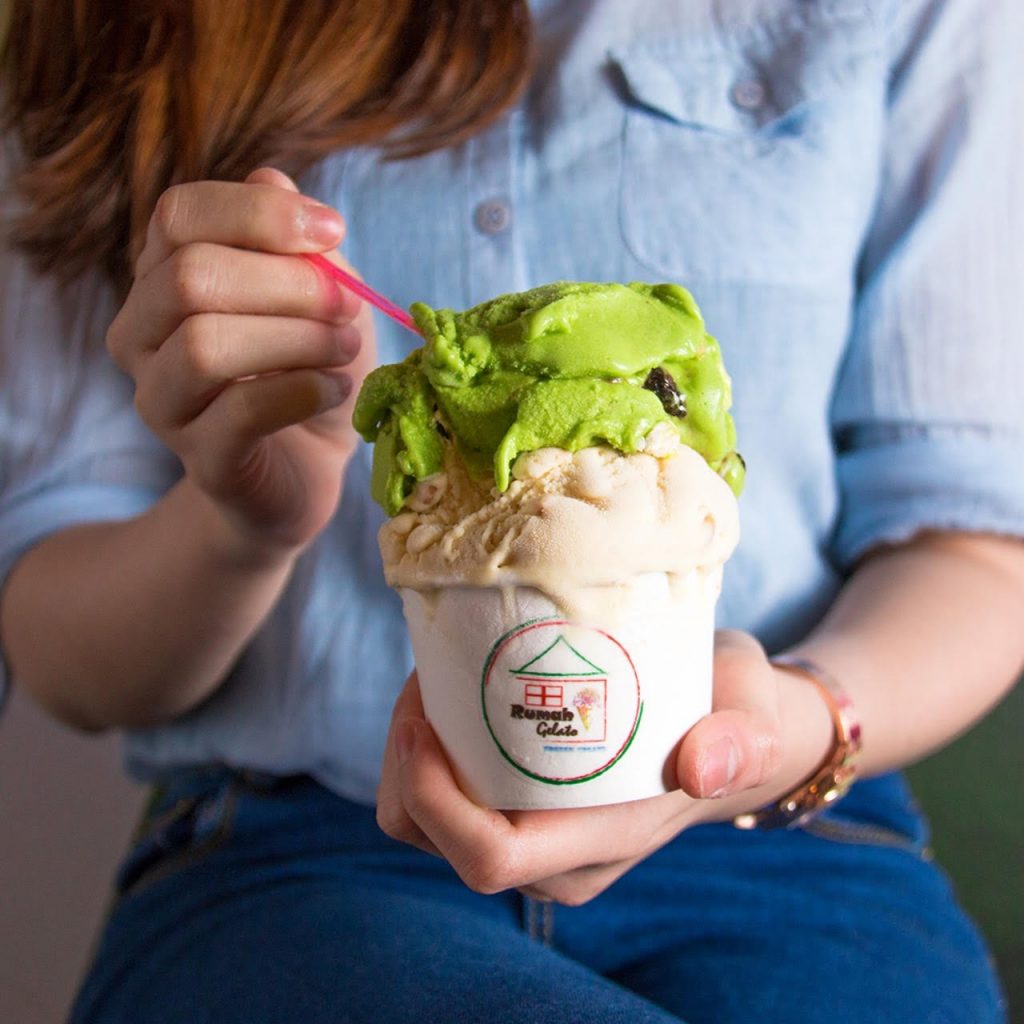 Doors are opening for Mordeny and the 38-year-old is carefully calculating his next move. But there was a time not too long ago where gelato-making, or starting a business for that matter, was not on his mind.
"I was raising a beautiful family, was happily employed and played football on the weekends," said Mordeny of his early 30s. "The thought of having a business… it was simply not there."
One weekend, Mordeny took to a futsal court. He took a hard fall on the concrete floors, but was able to shrug it off and got back on his feet.
A few days later, he joined a long distance run. But hours later, he found himself having trouble walking and the morning after – he could not get out of bed.
"My wife rushed me to the hospital," recalls Mordeny. "I had an MRI – and the doctor told me that I had slipped a disc in my lower back."
Mordeny would spend two weeks in the hospital, while doctors mulled operating on him to fix his spine. Collectively they decided against surgery, and Mordeny was left to do extensive physiotherapy.
"I was told to rest another two weeks at home before I was allowed to return to work," said Mordeny, who is employed with an IT company. "During this time I was left to ponder… The thought of losing my job, or if nobody was willing to hire me fueled me to explore what other opportunities were out there.
"What else could I do to provide for my family?"
It was 2012. And while Mordeny recovered and returned to his job, he could not immediately find the answers to the questions that continued to loom large in his mind.
A year later, the photo-sharing platform Instagram, which was becoming immensely popular in Brunei, first started to see a new trend in locals using the app to market homemade products.
"We took notice of people popping up online selling cupcakes and pastries from home," said Mordeny. The model was simple. Buy ingredients and bake out of your home kitchen. Deliver or ask the customer to pick-up and receive payment in person.
"Around the same time I was cleaning out the storeroom and noticed an unused ice-cream maker that we bought some time ago while my wife was abroad," said Mordeny.
He had been to Germany while his wife was stationed abroad and one store – Café Gelato Berlin – became the couple's favourite ice-cream stop. "It was such an experience for us. The gelato was unlike any ice-cream we ever tasted before," he said.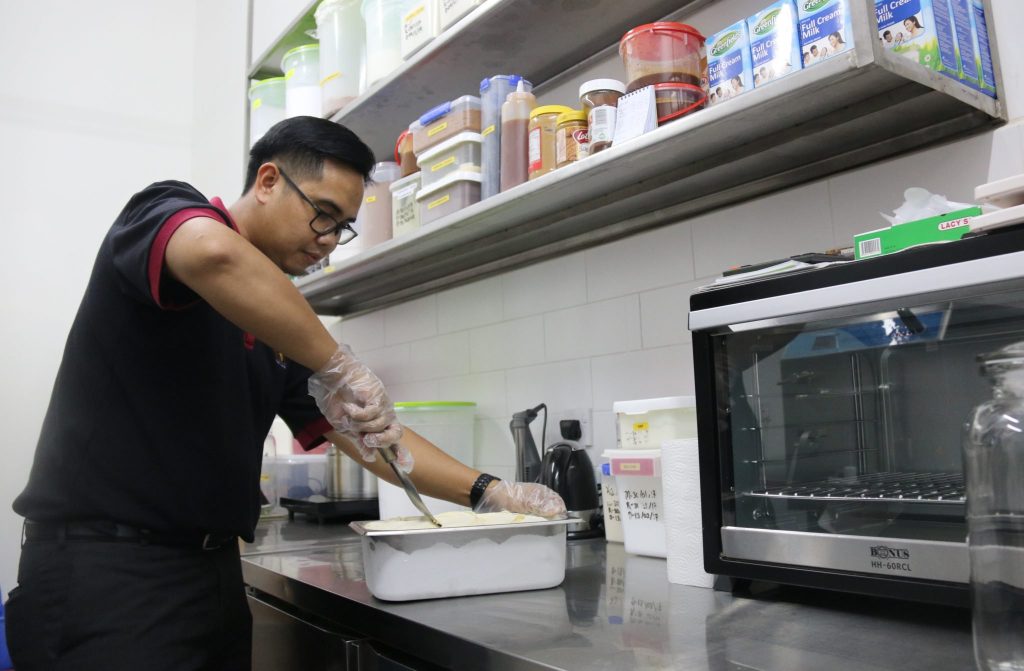 "With the memories coming back I began to use the small ice-cream maker. I began to experiment, learned online and made a few test batches.. and then one day my sister took a photo and posted it online."
A few of his sister's friends, impressed by the picture, inquired if they could order. And just like that, Mordeny had made his first sale from home.
In the three years that followed – Mordeny would work seven days a week, morning until night. "I would work my full-time job during the weekdays. After I would come home and make gelato, and on the weekends I would be delivering and be making even more."
Pop-up sales, special functions, deliveries and pick-ups – if there was foot traffic and an opportunity to distribute – Mordeny would be there. The couple even stopped hosting open house during Hari Raya, remarking how their home "had been turned into a store."
Early last year, when Deny went with his family to play games at Escape in Kiulap, a half-sized unit at the ground floor caught his eye.
"We weren't in a perfect situation. We didn't have any staff yet. We didn't have massive amounts of cash lying around," he said. "But I discussed with my wife. I told her this is what I wanted to do. Not just for me, but for my family. All this while we were making good, steady progress. But until when was I going to sell from home?"
Deny invested heavily in the pursuit of mastering his art, and is proud to share that RG now finds itself in the ranks of the leading gelato companies listed on gelatospecialists.com – a trading and consulting company headquartered in Singapore that wants to bring the iconic Italian artisan tradition to Asia.
The couple eventually forked out their savings, and together with a loan, launched their first physical store in mid-2016.
"I believe that a time comes where you will have to accept responsibility and take matters into your own hands," says Mordeny. "The future: it belongs to those willing to take a chance and have the perseverance to see it through."
Rumah Gelato is located at Unit F3, Block F, Setia Kenangan II, Kg Kiulap, Bandar Seri Begawan, Brunei. You can follow them on @rumahgelato on Instagram or contact them directly on
 +6732230855.