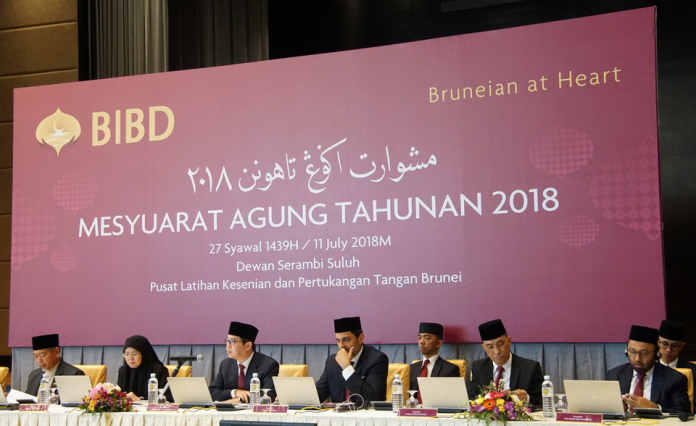 Brunei's largest financial institution Bank Islam Brunei Darussalam (BIBD) recorded their biggest ever net profit of $169 million in 2017 – an increase of 39.1 percent ($47 million) from 2016.
In their AGM with shareholders earlier today at Tarindak Hall at the Brunei Arts and Handicrafts Training Centre in the capital, BIBD released a dividend of $0.176 per share for a total of $127 million corresponding to a yield of 12.7 percent – amongst the highest regionally, with each BIBD share valued at $1.38 in 2017 based off the bank's net assets.
Driving the record performance was the bank's profits from financing, leasing and investments which were up to $252 million from $233 million the year prior, with funding also growing as deposits from customers increased by $320 million in 2017 to $7.4 billion and total assets increasing by $194 million to $9.2 billion.
BIBD said its achievements echo Brunei's recovering economy – which grew 1.3 percent in 2017 after a recording a 2.5 percent decline in 2016.
The bank's stellar performance was ahead of its subsidiaries – which include BIDB At-Tamwil, who offer Islamic hire-purchase facilities for motor vehicles, BIBD securities, and BIBD (Middle East) Limited. The BIBD Group collectively posted an income of $331 million with net profit at $116 million – an increase from 11.5 percent from the year prior – but much less than the bank's increase of 39 percent in net profits which hit $169 million.
BIBD's Chairman and Minister of Finance II Yang Berhormat Dato Seri Paduka Dr. Awg Hj Mohd Amin Liew Abdullah said that the bank had also undertaken a capital optimisation strategy last year, returning excess capital to shareholders to achieve "a more efficient capital structure".
"This reflects the strong organic capital generation of our business and capital position, and consistent profit generation," said YB Dato Amin, in his statement in BIBD's 2017 annual report. "The exercise resulted in us returning $0.30 back per ordinary share, totaling to more than $217 million, improving our return on equity by 3.1 percent to 10.5 percent for the group and 7.1 percent to 16.9 percent for the bank."
He also noted Brunei's wider growth as an Islamic financial hub, with the Sultanate climbing to ninth out of 131 countries in the Islamic Corporation for the Development of the Private Sector-Thomson Reuters Islamic Finance Development Report 2017 which tracks the ecosystem that develops Islamic financing industry.
Managing Director and CEO Mubashar Khokhar also acknowledged the emergence of FinTech startups and new technologies, saying that BIBD's digital platform NEXGEN is aiming to pioneer cashless transactions and create a mobile-led banking experience that will simplify as well as be more specific to customers' needs.
"A robust approach to digital banking is the need of the hour and a major priority for BIBD," said the CEO the annual report. "BIBD NEXGEN will unify all of BIBD's digital technologies under one umbrella. This includes technologies introduced last year such as Brunei Darussalam's first ever authenticated Mobile Chat capability provided in-app. This full suite of banking capabilities will then be made more accessible to the public through third-party alliance platforms that are 'powered by BIBD NEXGEN' and will contribute to de-cashing the economy."
BIBD's shareholders are the Ministry of Finance, the Sultan Haji Hassanal Bolkiah Foundation, Fajr Capital and 6,000 individual Bruneian investors. The bank has 207,000 customers and hires more than 900 employees, operating 16 branches and 61 ATMs across Brunei's four districts. The bank was formed in 2005 through the merger of Islamic Bank of Brunei and Ismaic Development Bank of Brunei.