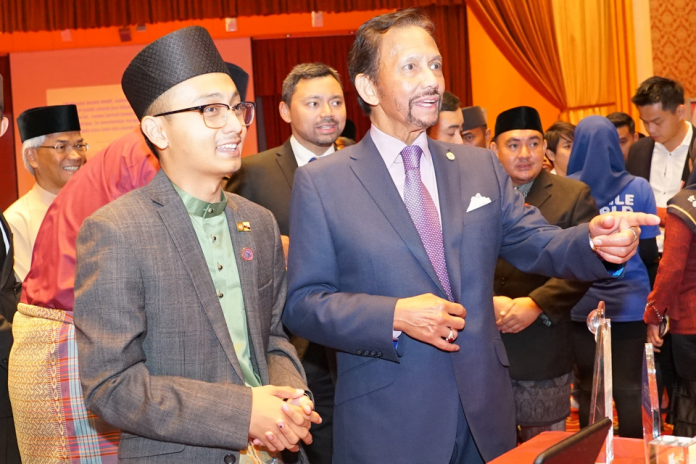 Local entrepreneurs took centre stage yesterday winning three out of the four Youth Awards held in conjunction with National Youth Day.
Founder of education startup Teachmeguru Ak Abdul Azim Pg Yusof won the Youth Leader Award, while his company's collaboration with the Youth and Sports Department to provide free tuition classes for over 80 less fortunate students won the Outstanding Youth Project Award.
The founder of Battle Pro Marketing and Management Services – one of Brunei's leading event organizers – Hj Syed Mohd Yassin Hj Syed Anayatullah Shah took home the Excellent Youth Award while sixth form Sociology teacher Nurul Hadina Hj Alias won the Youth Service Award for her volunteering work with several local NGOs.
The youth said that receiving the awards, presented by His Majesty Sultan the Sultan and Yang Di-Pertuan of Brunei Darussalam, symbolized a "personal responsibility" for them to "bring Brunei forward".
Syed said that BattlePro, who've organized some of Brunei's largest sales bazaars, is expanding into business training and development for local micro, small and medium enterprises (MSMEs).
"Having organized many sales events for local businesses, we begin to understand what are the issues they are facing and what training they need the most to grow," said Syed, whose company has organized more than 20 events since 2014 participated by 200 MSMEs – drawing hundreds of thousands of visitors and millions of dollars in sales cumulatively. "We're looking at sales, marketing and business management training."
Syed said that there are more youth keen to take "ownership" over their careers by starting their own businesses after being unable to secure professional employment. "Entrepreneurship can reduce unemployment not only by the founders employing themselves but by their (business) growth driving the creation of more jobs," added the 34-year-old.
25-year-old Ak Abdul Azim (pictured main), who bounced back from losing his job in the oil and gas downturn in 2015 to starting Teachmeguru said that they were looking at ways to expand their educational outreach both commercially and charitably.
"Through Teachmeguru we've now catered to more than 500 students with a pool of 200 teachers," said Ak Azim, whose platform began matching tuition teachers – mostly Bruneian university graduates – to students' homes. "But we realized that this was not enough, and we wanted to find a way to help out those who are in need of tuition but could not afford it, which is how we started offering free classes with KKBT."
Under KKBT's Belia Sayang and Wakaf Ilmu projects, Teachmeguru has been able to provide classes to 60 O-Level students and another 20 PSR students beginning last year.
"We must continue to build on this; so we can find a way to help more students as well as help Bruneians with the potential to teach, but have find difficulty in finding jobs, a way to earn through our platform," he added.
Meanwhile education officer Hadina (pictured below), who began her journey of volunteering as a secretary for entrepreneurship within Persatuan Kemajuan Insan (KESAN) in 2014 after graduating, said that she is currently focused on helping "put Brunei on the map" by raising awareness and helping unify existing and future programmes in the Sultanate that align with the United Nation's Sustainable Development Goals (UN SDG).
"I'm planning to use (the financing received with) the award to organize promotions and collaborations in Brunei with other agencies and initiatives towards achieving the UN SDG," said Hadina in her capacity as an ASEAN MYWorld 2030 Advocate.
The 27-year-old is also planning to continue her work with WeCare – which has provided humanitarian aid to Rohingya and Syria refugees and Global Shapers BSB which has helped match technical students with internships with companies to help raise their future employability.