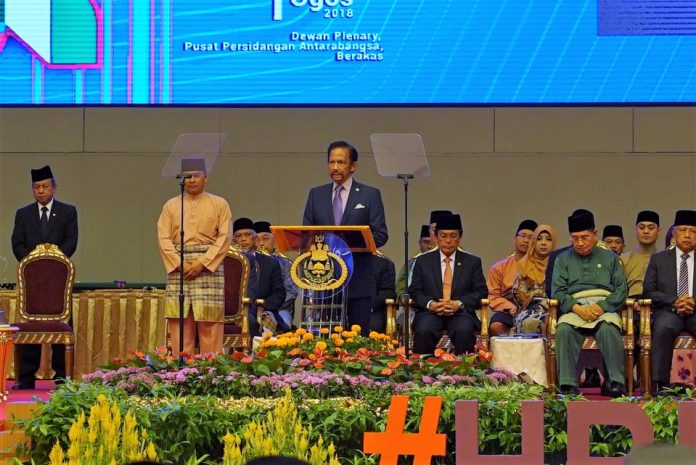 Brunei's government is working on restructuring the youth entrepreneurship ecosystem to enable the younger generation to thrive in business said His Majesty the Sultan and Yang Di-Pertuan of Brunei Darussalam earlier today at the 13th National Youth Day celebration at the International Convention Centre in Berakas.
In a titah focusing on harnessing the youth's entrepreneurial potential, His Majesty said an ecosystem providing a diverse range of opportunities and assistance for aspiring and existing businesses would play a key role in enabling these enterprises to grow and penetrate global markets.
"The government is working on revamping and improving the youth entrepreneurship ecosystem to assist youth to become successful entrepreneurs," said His Majesty, who has repeatedly called on Brunei's youth this year to take bold action in starting their own businesses.
"These include efforts to update existing capacity building (training) programmes, the provision of physical and digital infrastructure as well as financial support and market access."
He also said improvements in the ecosystem included the provision of specific opportunities for youth to begin businesses; highlighting the i-Usahawan initiative as an example, which in its current form looks to enable young Bruneians to secure their first contract with Brunei Shell Joint Venture (BSJV) Companies by providing them with the knowledge and training to successfully bid for tenders with lower risk contracts.
"There are 30 contracts in the oil and gas industry for the first phase of I-Usahawan," said His Majesty, adding: "This programme has the potential to be rolled out to other sectors including the government."
His Majesty said national agencies would also work closely with youth entrepreneurs to help them develop and understand business plans and offer assistance. At the same time, he called on youth to strengthen their efforts towards penetrating the global markets.
"With rapid communication and information through advanced technology, the pursuit of business and entrepreneurship has been greatly expanded," said His Majesty. "Through these platforms youth should be more creative and strengthen themselves further."
His Majesty also called for a youth farming programme that would utilize modern technology to capitalize on contemporary opportunities in agri-business.
"There was previously a programme for youth looking to get into farming," he said. "With the availability of modern technology and wide opportunities, this programme is suitable to be revived, but with a new approach."
Entrepreneurs also featured prominently in this year's National Youth Awards, with founder of education startup Techmeguru Ak Abdul Azim Pg Yusof winning both the Youth Award for Young Leadership and the Youth Award for Excellent Project.
The founder of Battle Pro Marketing and Management Services – one of Brunei's leading event organizers – Hj Syed Mohd Yassin Hj Syed Anayatullah Shah took home the Youth Award for Excellence while sixth form Sociology teacher Nurul Hadina Hj Alias won the Youth Service Award for her volunteering work with several local NGOs.
His Majesty also personally met with 34 young entrepreneurs from diverse backgrounds including farming, services, food and beverage, IT, fashion, sports, education and oil and gas.