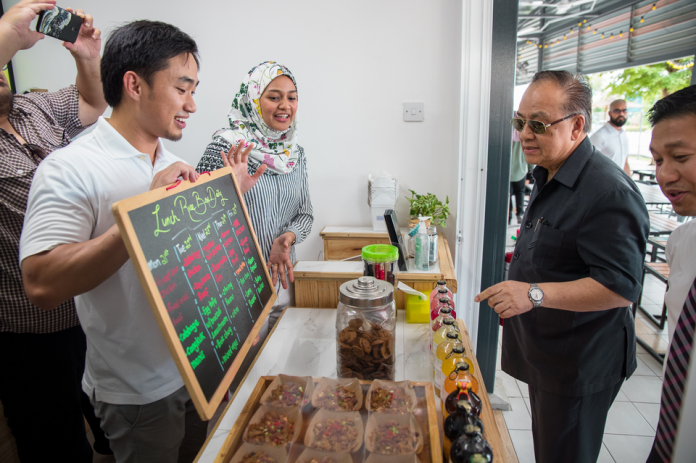 Darussalam Enterprise's (DARe) revamped food and beverage (F&B) incubation facility Kontena Park has drawn over 19,000 customers since opening with nine local businesses last October 21.
The initial traffic – measured by total receipts – has exceeded the expectations of the vendors, who are hoping to use Kontena Park as a platform to grow their business by gaining exposure and experience operating within an affordable commercial facility while also upskilling their business knowledge through DARe's programmes.
The re-designed Kontena Park is made up of eight, 6.1 metre square container units in a row which serve as the front service area, each with its own 6.5 metre square extension housing a certified kitchen in the rear. A new shaded seating area with fans has also been added, along with free WiFi for customers.
Kyna's popsicles founder Hj Muhd Khairul Yadiy Hj Damit, who was part of the initial cycle of Kontena Park tenants when it first opened May 2017, said the expanded, all-new design and marketing efforts by DARe have driven newfound attention to the space in Anggerek Desa.
"There's a tremendous improvement, just in the first week of the opening it created a lot more business opportunities than any other place we were before," said Hj Muhd Khairul. "The upgraded Kontena Park has provided us with a better platform to gain experience of having our very own brick and mortar place in the near future. We believe that it will continue in teaching us different types of knowledge and experience as we go further in our entrepreneurial journey."
The businesses residing at Kontena Park have signed on for a one-year tenancy at a monthly rental rate of $350, which can be potentially renewed. However DARe Executive Officer Khairul Azmi said the main objective of Kontena Park was to help host multiple batches of emerging local brands to gain experience to expand to the wider market and potentially establish retail chains or franchises.
"As an incubation space, we would like to help new cycles of local F&B businesses every year, with the current tenants 'graduating' to bigger and more commercial spaces," said Khairul.
"To help them (current tenants) reach this stage, we will be helping out monitoring sales, overall traffic, to see what strategies can be taken for improvement. They will also have access to DARe's ecosystem which includes training programmes, workshops and financing."
The Minister of Energy, Manpower and Industry and DARe chairman YB Dato Seri Setia Dr Awang Hj Mat Suny Hj Md Hussein led a visit of DARe's board and management to Kontena Park yesterday, where he met with residing vendors and was updated on their progress.
Kontena Park's tenants also include Cakoi Rindu, Eat's Hot, Home Flavors, Kofta Diva, Fuego, The Toast Club, Top Folk, and Star Anise. Collectively, they offer a wide-ranging cuisine including Asian, Malay, Moroccan, Western and Mexican; covering snacks, to full meals as well as desserts.
DARe's board members who visited also included Ministry of Energy, Manpower and Industry's Permanent Secretary of Industry Pg Hj Mohd Hasnan Pg Hj Ali Hassan, Director of LVK Group of Companies and APEC Business Advisory Council Member YB Nik Hafimi Abdul Haadii, Principal Architect of Eco Bumi YB Rozaimeriyanty DSLJ Hj Abd Rahman, DARe CEO Javed Ahmad, Partner of Jurusy Perunding Hj Abdul Samat Hj Abas, Principal of Jumin Marsal Perunding Hj Jumin Hj Marsal and Partner Consultant of MWH Hj Md Zin Hj Md Salleh.