Fashion startup UPSYKL is looking to market eco-friendly, sustainable fashion in Brunei by redesigning and sewing discarded clothes into new pieces for sale.
UPSYKL founder Nabilah Jeffery (pictured main R) said the business are now selling their first 11 designs – each $40 – for women at the Creative Space Art Gallery & Studio in Sengkurong.
The startup began last April with a donation drive that collected more than 50 kilogrammes of used clothes. Together with her co-founder Nina Saiful, they began disinfecting the donated clothes through dry cleaning, before selecting a design to work on – and sowing materials from multiple garments to come up with a finished product.
"It usually takes me one day to create something simple and about three days to create a complex piece that uses three different garments," explained UPSYKL's collaborative designer Humaira Zakaria (pictured main L). "I keep the scraps of the clothes I use. If it doesn't fit into the piece, I keep them and try to use it on other pieces."
Nabilah Jeffery said that the startup was inspired by thrifting culture she experienced while studying overseas – where reusing and repurposing everyday items – not just clothes – is gaining popularity.
"We wanted to expand the concept here in Brunei," said the 25-year-old, who named her startup as a play on upcycling, which looks to recycle unwanted products into newer, better quality items.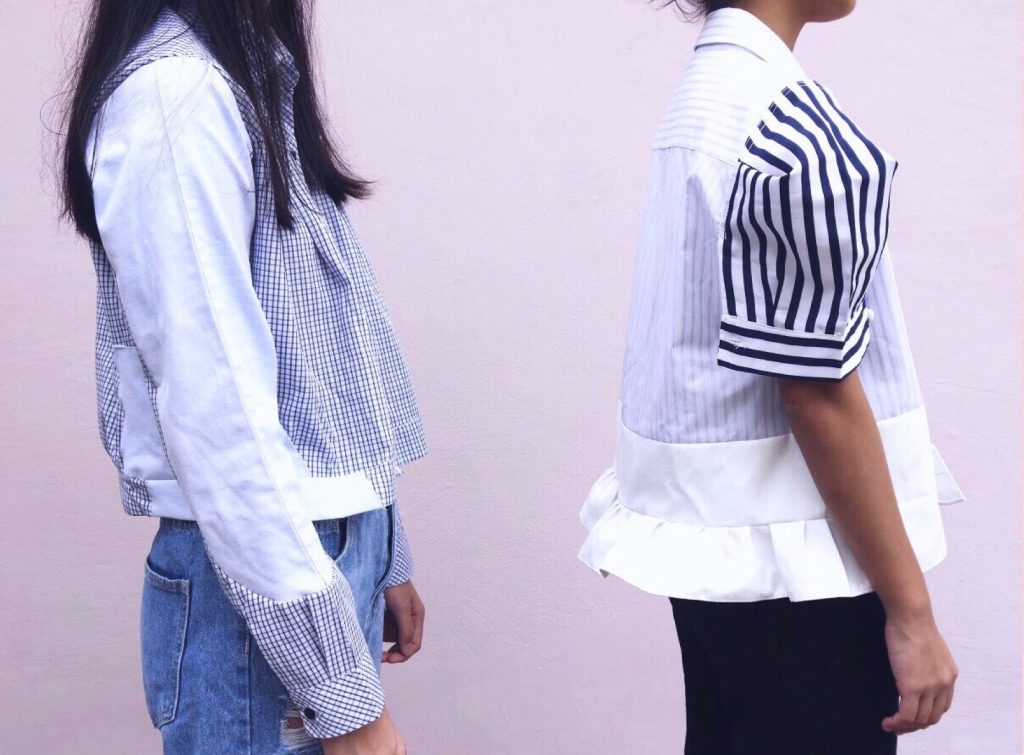 "My friends and I would go to thrift stores that sell secondhand clothes and have fun looking through them. There were so many options to choose from and sold at such an affordable price."
UPSYKL's next project will focus on designing womenswear for the upcoming Hari Raya Aidilfitri festivities, and they also aim to expand their range to include menswear and are currently looking for more designers to collaborate with.
"There is a lot of potential that can be produced with these clothes, we would really like to work with more local designers in the future and see what we can come up with together," said Nina. 
UPSYKL's pieces are open to the public for viewing and purchase at the Creative Space where they are housed together with an art exhibition that looks to raise awareness of upcycling and sustainability.
For more information, follow @upsyklbn on Instagram. UPSYKL is currently accepting clothes donation from the public and open to collaboration with interested designers. For any inquiries, contact +6738869946 or email upsykl@gmail.com. The Creative Space Brunei is located at No. 6B, 1st Floor, Block B, Sengkurong Shopping Center.