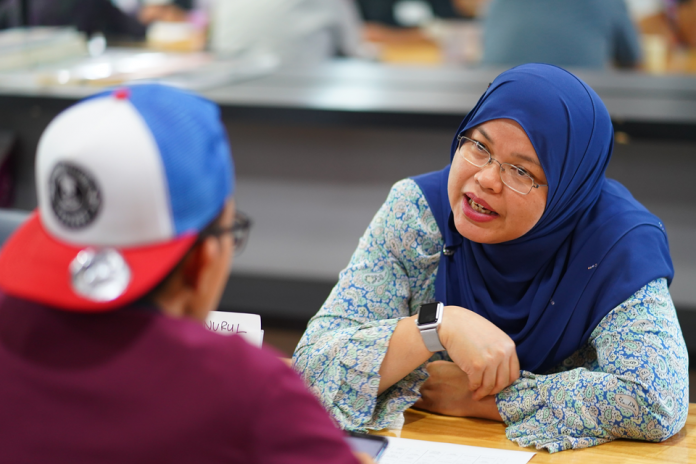 Darussalam Enterprise (DARe) hosted their first speed mentoring last week for micro, small and medium enterprises (MSMEs) to seek business advice and potentially form long-term mentorships with leading professionals and entrepreneurs based in Brunei.
The speed mentoring event, hosted at iCentre's lobby last Friday, was fully booked with 15 mentors and 28 representatives from MSMEs. Each participant was allotted four minutes with up to four different mentors. Collectively, the mentors' expertise encompassed business growth, sales and marketing and investment and finance.
Assistant Manager at DARe's Business Advisory Services Hariz Khalid said the session was part of the Brunei Mentors for Entrepreneurship Network (BMEN) which was launched last March as the national arm of the ASEAN Mentorship For Entrepreneurs Network (AMEN) which is overseen by the ASEAN Business Advisory Council (ASEAN-BAC).
"Speed mentoring is a great way for MSMEs seeking mentorship to not only get insight on specific issues but to explore if there's compatibility for a more long-term mentorship through the BMEN platform," said Hariz, who is leading BMEN's delivery under DARe.
Hariz added that DARe will continue to host more events where MSMEs can meet potential mentors, as well as set up mentor clinics – offering more private, one-to-one mentorship – and group mentoring sessions where business issues can be discussed collectively.
LiveWIRE Brunei Senior Business Counsellor and BMEN mentor Fadhilullah Tudun said MSMEs should consider accessing mentors through the platform for their "highly specialized" expertise.
"Although mentorship is already widely practiced in the business community, having a single platform that profiles all mentors from diverse backgrounds is an opportunity MSMEs should not miss," said Fadhilullah. "At last week's event (for example) the mentor group included accountants and consultants with decades of experience working with established corporations as well as entrepreneurs like Nicky Wong who has succeeded in internationalizing businesses."
Business consultant Nariman (R) meeting with a mentee.

LiveWIRE's Fadhilullah (L) meeting with a mentee.
Another BMEN mentor Raiyo Nariman, who is Mercatus Capital's Regional Partner for Malaysia and also a visiting lecturer in Brunei, said mentorship programmes would also provide the administrator insight into key issues faced by MSMEs.
"I have seen first-hand the significant potential these programmes can add and how they can assist SMEs address key issues & surmount barriers to growth – accelerating their growth & development," said Nariman. "Given the level of support that DARe is providing the programme and the interest & engagement I noted from the event last week, from both mentors & mentees, I can see BMEN soon becoming a key platform for high-growth minded business owners to tap into."
Last week's 15 mentors also included Founder of GoodLife Financial Planning Kian Guan Ang, Deloitte Brunei's Audit Partner Cheng Wei Lim, Head of Universiti Brunei Darussalam's Entrepreneurship Village Adna Rahman, Senior Investment Associate at Darussalam Assets Johan Johar, CEO of Bank Usahawan Udo Schedel, Head of DARe's Industrial Site Management Daniel Leong, BIBD's Head of Retail Banking at Nurul Akmar Jaafar, Founder of Bake Culture Nicky Wong, Founder of Kunyit 7 Lodge Pg Kemariah Duraman, KPMG Brunei's Partner Shazali Sulaiman, Managing Director of BizAdvize Ambrose Nathan and Epipeople Consultant's Strategic Planning Consultant Dr Sophiana Chua.