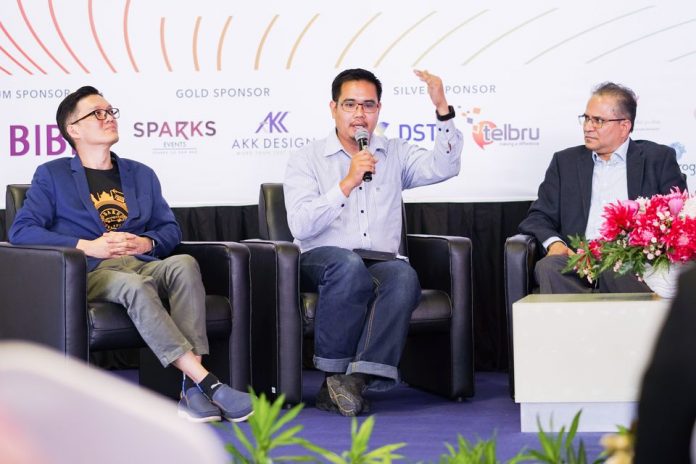 Brunei launched its first formalised business mentorship platform for micro, small and medium enterprises (MSMEs) at the MSME Festival this weekend.
The Brunei Mentors for Entrepreneurship Network (BMEN) will connect local MSMEs with Brunei-based business owners, professionals and academics from a diverse range of industries and expertise. The mentors are envisioned to use their knowledge, experience and skills to help MSMEs navigate the challenges and opportunities in an evolving – and increasingly digital – business landscape.
Permanent Secretary (Industry) at the Ministry of Energy, Manpower & Industry Pg Hj Mohd Hasnan Pg Hj Ali Hassan believes BMEN can be a game-changer for Brunei's younger MSMEs by providing them support from those who have established themselves in different fields.
"A thriving MSME sector is crucial in driving innovation and in developing a dynamic economy; their growth must be therefore strategically nurtured throughout the different stages of their business life cycle," he said at BMEN's launch.
We give you a rundown on how BMEN will function – and what you can expect from signing up as a mentee or a mentor.
Watch: Brunei mentors share the importance of mentorship
How does BMEN work?
BMEN will be administered through Brunei's national body for businesses Darussalam Enterprise (DARe). BMEN will function through its website – where you can register as a mentor or mentee. The website also has messaging and video call capability for online engagements.
Matching between a mentor and mentee will have to be mutually agreed. Mentees can research, then engage a mentor on a potential mentorship – which will then be formalized through a request form which both parties will commit to the objective, goals and duration of their mentorship.
A review will be held in the middle to track progress and at the end to measure overall progress and effectiveness. Both mentor and mentee will submit feedback, with the mentee leaving a rating out of five for the mentor at the culmination of the mentorship.
DARe is recommending mentors take one to two mentees at a time, to ensure a high quality of mentorship provided. MSMEs can simultaneously have multiple mentors.
Who are the mentors?
There are currently 18 mentors on BMEN – with more expected to be added over the coming weeks. They range from entrepreneurs who've built multi-million dollar companies to professionals with specific expertise in business-related fields from legal to accounting to marketing.
Mentors who are entrepreneurs must have been in business for at least five years. DARe will asses each mentor's registration before they are added to the platform.
Mentors to get training
BMEN is the Brunei arm for the ASEAN Mentorship For Entrepreneurs Network (AMEN) which is overseen by the ASEAN Business Advisory Council (ASEAN-BAC).
To ensure a high quality pool of mentors with the capability to deliver meaningful mentorship, project advisor for AMEN Merly Cruz said AMEN would be providing certification for mentors along with a uniform set of mentorship modules. This will be followed by the setting up of an ASEAN Mentors' Academy.
"(The academy) would institutionalize the management of the AMEN activities, establish procedures for the certification and mobilization of the mentors as well as the selection of the mentees," said Cruz during BMEN's launch.
What are potential outcomes?
On a regional level, AMEN was set up to enable MSMEs to access three "M"s: mentorship, money and market. Cruz said AMEN is targeted to have over 50,000 mentees matched with 6,000 mentors.
His Majesty the Sultan and Yang-Di-Pertuan of Brunei Darussalam said last year that dedicated guidance on starting and managing a business would be critical for the future of Brunei's MSMEs as not all have the necessary skills or knowledge to grow a business.
Serial entrepreneur Nicky Wong – who has pivoted from IT to food and beverage – framed the implications of mentorship more practically.
"I think this initiative (BMEN) is a must. If it weren't for mentorship I would'nt be in business today," he says. "Mentorship can be the turning point for an entrepreneur. Sometimes a business can go from just surviving – operating only one store – for many years, yet others can scale across the country and successfully venture overseas. The difference is in the business model, and I believe the right mentorship will help you see things from a new perspective and help you towards achieving your true potential."