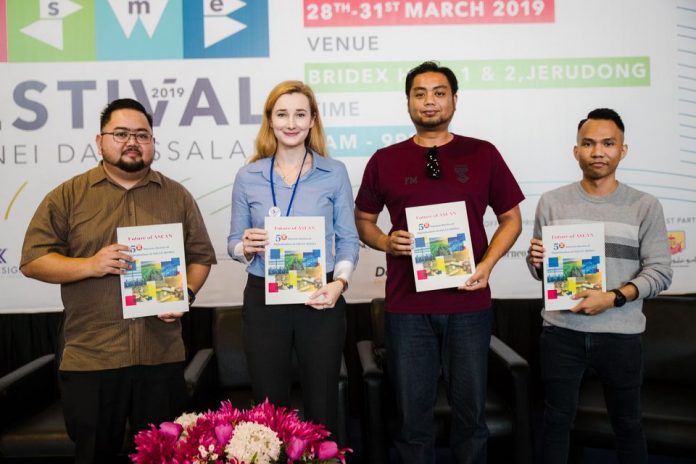 Brunei startups Nuara Group, Nextacloud Technologies, DotRoot Technologies, AgromeIQ and Super Squad have been featured in an ASEAN secretariat publication highlighting 50 regional micro, small and medium enterprises (MSMEs) that have successfully digitalised their business models.
Published under the "Future of ASEAN" series in conjunction with the regional bloc's 50th anniversary, the 50 Success Stories of Digitalisation of ASEAN MSMEs will be distributed at ASEAN offices and online through ASEAN's website.
CEO of Nextacloud Agus Muslim – whose company has developed an online software for blood donation management – said that it's key for Brunei to make the transition to digitisation in the public and private sector to increase efficiency and be able to take actions more strategically based off data.
"There is a demand (regionally) for organizations to move physical processes and storage digitally but we are already seeing the next step (of digitizing) in going digital to break through markets and develop solutions that can scale rapidly," he said during a sharing session at the MSME Festival earlier today to commemorate Brunei's feature in the publication.
Using their mobile blood donation app as an example, Agus highlighted how a single software achieve multiple outcomes. "With Bloodkad (app) we can reach potential donors swiftly in the event of an emergency, reduce paper work to donate and streamline donor data for health centres," he said.
IT company Nuara Group, who similarly develop digital solutions for international clients, said digitisation has helped increase their company revenue by 400% over the past six months.
Their flagship Enterprise Resource Planning (ERP) software E2 has been nominated for an E-business award at this year's World Summit on the Information Society.
"Digital technologies have become a crucial feature in today's business world, but most ERP in the market is non-customisable and expensive for SMEs to afford," said Nuara's Managing Director Barbora Grexa.
"We believe E2 can bridge that gap with full customisability of our modules with in-person and on-site consultation. We are a pioneer with this sales model because we've identified our customers' desire for digital yet personalised service."
Founder of Super Squad – formerly known as Weekend Warriorrs – says their online platform that connects strangers to meet in person to play football while tracking their individual performances online has plans to expanding regionally this year.
"We have been in talks with Air Asia and Red Bull and have some big partnerships lined up," said Faezal Murni. "Being a digital platform, once we have built the (digital) infrastructure we can quickly scale, as long as we can position and market the product effectively."
Joining in the sharing session earlier today were Islamic education startup Mindplus Education and organic cosmetics company Bellary Nature who were previously featured in a separate ASEAN publication on businesses that have expanded beyond their countries' borders.