RallyEngine, an app-based communications system from Canada offering tools to quickly and easily notify groups, assemble teams and inform communities, will be available in the Brunei market beginning October.
RallyEngine's app/mobile services include TipLine (for informing authorities of hazards), HelpLine (for emergency assistance requests), SoloSafe and Safewalk (for ensuring worker safety when working alone or in a remote area) and TaskBoard (for engaging communities to volunteer in emergency tasks).
These services are available on subscription basis for organizations, with Nuara holding the rights to distribute the system in Brunei.
Nuara Group, a local IT services company, recently signed a Memorandum of Understanding, with the Canadian-based company to become the local Bruneian partner company for the RallyEngine system.
The MoU signing took place at the High Commission of Canada between Nuara Group CEO Reda Jasmine Abdul Rahman Taib and RallyEngine President Steve Hardy. The High Commissioner of Canada to Brunei, Her Excellency Caterina Ventura, witnessed the signing.
Co-Founder and Managing Director of Nuara Group, Barbora Grexa said that Brunei could benefit from the RallyEngine services in terms of "nationwide management of natural disasters and emergency situations, the quick and efficient communication of warnings, coordination of volunteer efforts and general safekeeping of the public".
RallyEngine President Steve Hardy said that RallyEngine offers a suite of software-as-a-service tools that help companies, schools and cities with internal communications and safety.
"In its simplest form, it lets organizations build an actionable contact list so they can more effectively alert groups, rally teams and inform communities," he added, explaining that this is a crucial capability during a crisis or natural disaster.
RallyEngine uses mobile apps and a web-based dashboard to instantly find people in an organization and push critical information to them in real-time. If there's a crisis or an urgent need to rally your organization and assemble a specific team of qualified professionals, RallyEngine lets you do it with just a few clicks.
An example of its use can be seen in The University of Calgary (UC), RallyEngine's largest partner, which utilizes RallyEngine's systems to alert its students and faculty of emergencies and advisories as well as offer them ways to stay safer on campus when alone or in a group. The Government of Canada had also contracted RallyEngine last year to enhance the speed of the community and volunteer response to natural disasters.
Grexa said that because of RallyEngine's partnership with UC, their services would be an instant match for schools and universities in Brunei. With natural disasters such as floods and forest fires in Brunei, RallyEngine could be used to inform the community and gather public volunteers faster.
Additionally, the oil and gas sector could also be potential customers of the communications system to strengthen communications between offshore oil platforms and their main headquarters as well as ensure safety and rapid response in the case of any emergencies.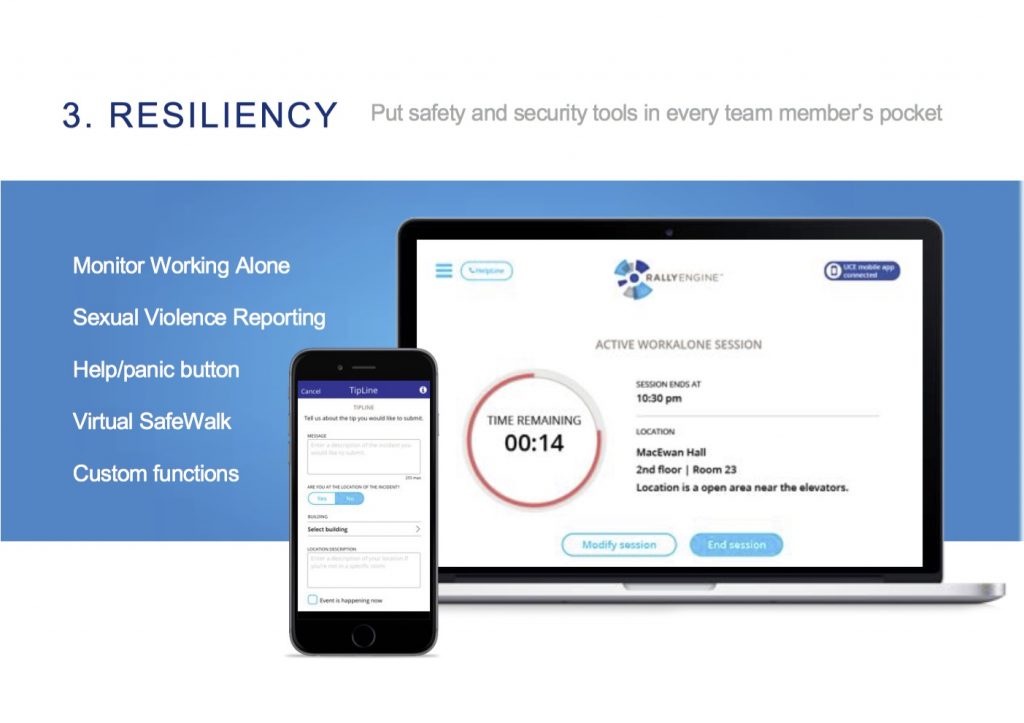 Pricing for the RallyEngine services have different tiers, depending on the size of the organization and the number of users. However, end users (such as workers, communities, students) do not have to pay any fees for downloading or using the application.
"It (RallyEngine) is modular and therefore people can pick and choose the modules that are more suitable for their organization," said Grexa, explaining that they are now in talks with several organizations within the public and private sectors who have shown interest in the services.
Nuara Group will be in charge of the initial optimal set up of the system in Brunei, which includes configuration, implementation, training users and providing first-level support for the services.
For more information regarding Nuara Group and RallyEngine, visit their websites at www.nuaragroup.com and www.rallyengine.com respectively.