Thick, brightly coloured wooden beams, hanging blocks of wood, metal constructs, and thick mats everywhere; the Gravity 8 Zone fitness centre located along Tungku Link, at the Eng Ho Building, looks as if someone took a child's playground and re-imagined it into something for adults.
That 'someone' are a pair of women: Dk Noormi Salwa Pg Damit and Noorul Haya Hj Daud, who met some five years ago as colleagues at an oil and gas company. Together with Noormi's husband's Ray, an avid fitness enthusiast, they now run facility that's the closest thing you can get to the increasingly popular series Ninja Warrior, in doors and in Brunei.
At 42, Ray has a lean, muscular physique that most men half his age would envy.
"I do a lot of body weight training and calisthenics; so a big part of it is street workouts," said Ray, whose greying beard and temples are perhaps the only signs of his ageing. "But whenever it rains, its hard to do those workouts outside. That's where the idea of Gravity 8 comes from."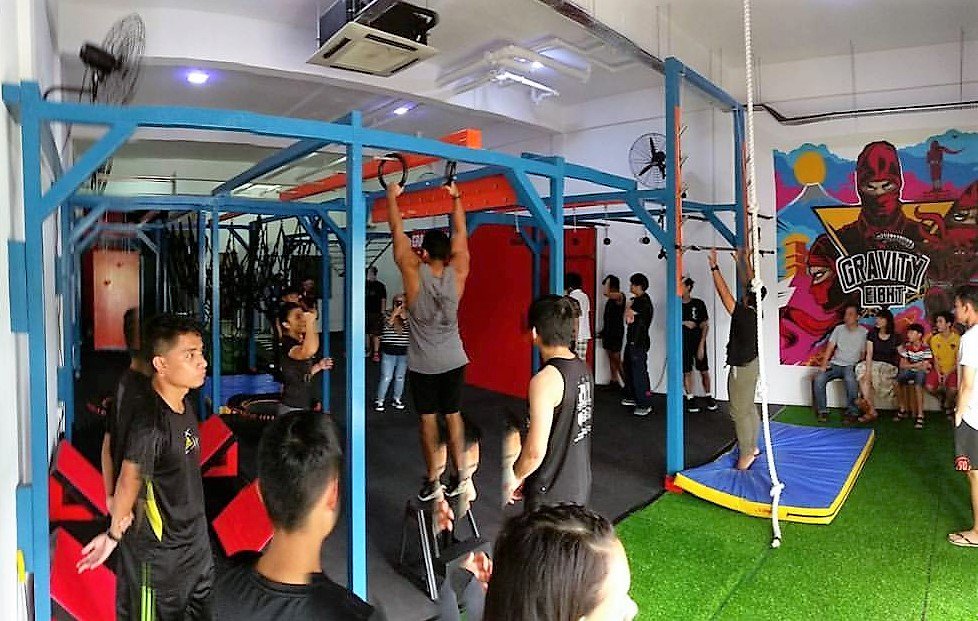 Ray's philosophy is that for those looking to maintain and improve flexibility and functionality, weight training alone is not enough.
"We loved the idea; it's unique enough that we would be the first, if not one of the first, people to do a Ninja Warrior concept fitness centre," said Noormi, when her husband put forth the idea recently.
16 types of brightly coloured obstacles that are in the fitness centre, including climbing  two walls parallel to each other (spider climb), a raised board with a series of holes that users naviagate by hanging and inserting wooden pegs, and the Warped Wall (pictured below) – a concave wall where the user can only scale by running rapidly up to its top.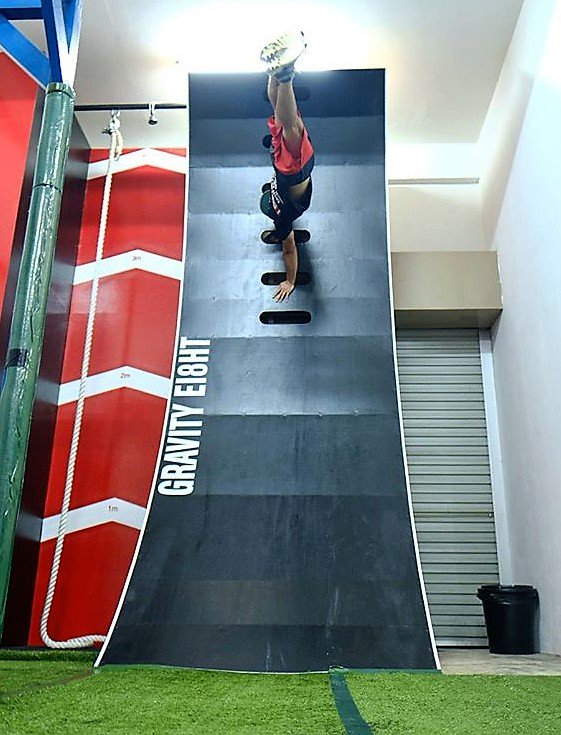 Pointing to a red wall at one side of the centre which he called the Parkour Wall, Ray told me that to the average person, there's maybe one or two ways to go through the obstacle. But to a parkour practitioner, there are half a dozen way to go through it.
"There was this one time, a parkour guy came in and he basically treated the wall as if it was laid flat on the wall and he just crawled across it. He was like a real life spiderman. Even I didn't think of some of the things that he did on it," he told me with a small laugh.
"There are no set ways to go through the obstacles. You can make it as easy or as challenging as you want. The main thing that was in my mind when we planned all of this is that we want people to rediscover and maintain their flexibility, functionality and ultimately have fun."
Noormi added the gym was designed to be of use to the general population, and while planning, always kept in mind that a healthy and active lifestyle shouldn't be a chore.
"It's like a huge playground and even better, no matter your fitness level and age, there's always something for you to try and have fun with," said Haya.
"Our vision is to turn our fitness centre as a place for people and families to gather, have fun and lead a healthy and positive lifestyle together."
To learn more follow Gravity 8 Zone on Instagram at @gravity8zone, and contact 8888235 or 8742112 to get in touch directly. Gravity 8 Zone is located at Shop No. A5, Ground Floor, Block A, Eng Ho Complex, Simpang 217-5-54, Jalan Tungku Link, Kg Rimba, Brunei.