"I just got a call from Supasave. They just told me that all my ice cream is finished," says Kong Chung Ang with a beaming smile.
The 33-year-old's homemade ice-cream has cracked the supermarket for the very first time.
Earlier in May, Kong and his wife Daisy, stood in a conference room at the Design and Technology building in Anggerek Desa, where they – along with other local businesses – pitched to representatives from some of Bunei's leading supermarkets.
"Commercial, mass-produced ice cream is made using powder and water. We wanted to make the ice cream from scratch; milk, cream, eggs, salt, sugar… the grandmother (original) recipe of what ice cream is supposed to be," said Kong to the panel, as he unpacked his samples.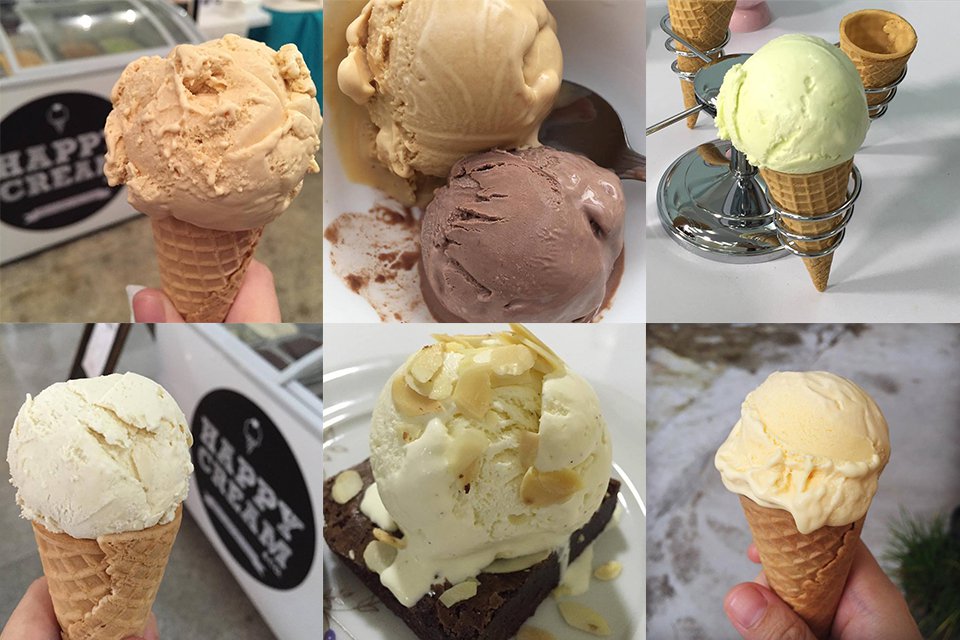 His enthusiasm may have won a smile or two, but it was a spoonful of their ice cream that settled the debate if their homemade recipe belongs on the shelves of supermarket freezers.
Suitably impressed, Supa Save agreed to a conservative first supply of 96 pints, each sold for $11 as well as 160 cups, each 100ml, priced at $3.50.
"We thought the supply would last two weeks or more," said Kong in our interview two weeks ago. "In less than a week, it was sold out. I am surprised at how fast they went."
Kong, together with his wife and high school sweetheart from Chung Hwa, Daisy, left their jobs and opened their first business last year, an Enrichment Centre using educational programmes originating from Japan that teaches maths and reading to young students.
Happy Cream meanwhile, was initially only a hobby the couple enjoyed in their own kitchen during their down time.
Using an old ice cream maker brought back from Australia during Daisy's time studying abroad, they began experimenting with unusual flavours, starting with earl grey (tea) and then teh Tarik.
"We wanted to make ice cream flavours that are distinctly local or regional, such as Milo, Horlicks, and Bandung," said Kong, who began selling in 2015 from home, after positive encouragement from close family and friends.
Orders would be compiled until Monday, and would be ready by Friday. This meant those looking for Happy Cream ice cream had to plan their purchase advance, an odd predicament for a customer, considering that many looking for the sweet treat consume it on impulse.
"We didn't have the capacity initially, so this was the best we could do (at the start)," said Kong, whose home began to fill up with freezers and stockpiles of ingredients. "What we made sure was that we never diluted our product or quality, just to take on more orders."
As orders began to increase, the couple made a calculated gamble in late 2016 to rent a place in Kiarong which they invested in building a central kitchen with the intent to supply to Brunei's retail stores, and begun to participate more strategically in local expos to build up brand awareness.
Admitting to not be the textbook "dollar and cents" type, they roped in a close friend and accountant to properly track the financials of the venture, and planned for a small kiosk on the Mall's first floor – which they opened on September 23.
A few months before that they partnered with the Amsarra restaurant at The Airport Mall to have an initial avenue for the public to purchase on the go.
"Our motto is 'Serving scoops of happiness'; I won't tell you that our ice cream is healthy, but at the very least we can make sure that we use only high-quality ingredients for our ice cream, with no added preservatives, and that you'll be satisfied with our product with every scoop," said Kong.
You can follow Happy Cream & Co on Facebook and Instagram at @happycream.co for the latest updates. You can also find the Happy Cream Scoop shop at the first floor of the The Mall at unit 1.35A.