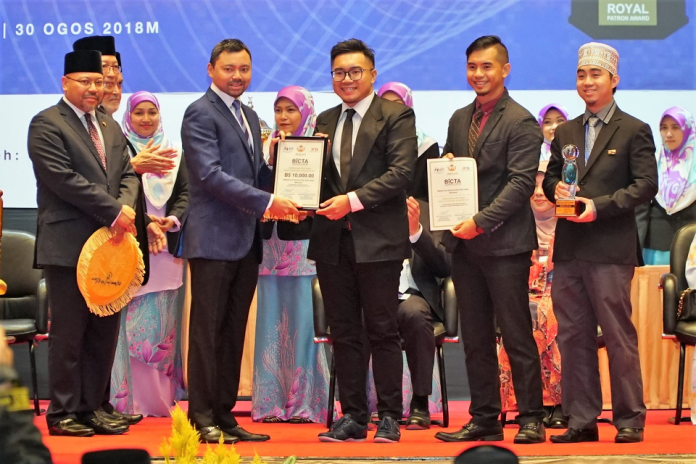 Tech startup Mindplus won both ICT industry and the Royal Patron awards at the Brunei ICT Awards (BICTA) yesterday at the International Convention Centre (ICC).
Mindplus' winning entry was their latest project Mindtrex – a digital learning application to help pre-university students ace their respective national examinations through adaptive learning, practice and simulation.
Mindplus' founder Pg Mohd Khairi Pg Hj Metussin shared that they will launch Mindtrex in five Indonesian cities next month targeting high school students sitting for Indonesia's National Exam (Ujian Nasional).
"We have worked with education stakeholders in Indonesia and will open Mindtrex to Medan, Jakarta, Surabaya, Bandung and Yogyakarta," said Pg Khairi who set up a Mindplus office in Bandung in 2016 to launch their gamified education app for children Islamic Mind which has registered more than 40,000 downloads.
Mindplus plans to monetize the Mindtrex application by charging on a subscription basis, positioning itself as more affordable and accessible option to traditional tuition.
Subscribers will first select a curriculum or exam, and will then be assisted to develop a personalized study plan which will then be broken down into daily workouts that are tracked. Mindtrex's user interface is simplified into three main categories: learn, practice and exam.
"The app is very focused in getting students better grades in specific exams," said Pg Mohd Khairi who has experience running a physical tuition school and publishing arm under his family's company PHMD.
"We've curated extensively previous exams tests for the specific curriculum taught like O-Levels and SAT and analyzed their patterns. With the use of artificial intelligence, the student will be able to have a continously evolving personalized improvement programme that can target their weaknesses."
Founder of online payment solution WasapPay, which won second and $5,000 in the ICT industry category, said that their system was currently being reviewed by Brunei's central bank Autoriti Monetari Brunei Darussalam before being approved for public trial.
"WasapPay is a solution for businesses and customers looking to make fast payments over mobile using QR codes and weblinks," said TechBru Solutions founder Aizuddin Fakhri (pictured R above), who was also a BICTA winner last year for their online marketplace Naindah.
E-commerce platform Rotuku took third in the ICT industry category with a pledge to help Brunei's micro, small and medium enterprises (MSMEs) sell regionally through a product development export programme.
"At Rotuku we're not only looking to be the online sales platform for Bruneian products, but we also help as consultants for smaller businesses to gain all the standards needed – such as barcodes, nutrition labels and halal certification – for their product to be exportable," said Rotuku founder Azri Jumat (pictured below).
"This leaves the businesses to focus on production, while we help with the logistics and marketing."
In the tertiary (higher education) category, Universiti Teknologi Brunei took home first and $7,000 for their virtual reality simulation for mechanical installations. They also won third and $3,000 for a crowdsourcing solution.
Universiti Brunei Darussalam's Droplets – an online system that monitors water in the environment won second and were awarded $3,500 to kickstart their product development.
Belait's private institutions dominated the school project category with mobile applications; St Johns School winning first and $3,000 for a mental health app, while Ching Ching Middle School took second and $2,000 for their tourist app and Chung Hua Middle School KB came in third to earn $1,000 with a health aid app.
BICTA is an annual event organized by the Ministry of Communications in collaboration with the Authority for Info-communications Technology Industry and the Infocom Federation of Brunei.
The awards – which are themed digital generation with a vision this year – also serve as a pipeline to identify Brunei's representatives for the Asia Pacific ICT Alliance Awards (APICTA) which will be held in Guangzhou in the People's Republic of China this October.