The first batch of 10 Institute of Brunei Technical Education (IBTE) students farming rice under the LiveWIRE AgroBiz Padi Agropreneur Project (AgroBiz) have recorded a yield of 8.5 metric tonnes (MT) of paddy per hectare, one of the highest in the country.
The yield of the planted Sembada188 from the 10-hectare plot at the IBTE Agro-Technology Campus in Kampong Wasan exceeds Agrobiz's target for four to five MT per hectare, and is being attributed to the site's irrigation infrastructure and use of pesticide-free and organic fertilisers which were deployed using modern methods including drones.
LiveWIRE Chairperson and BSP In-Country Value Manager Hjh Rosita Hj Hassan said the 10 participating students are also being trained to start their own farming businesses upon completing AgroBiz, which is a new programme for students specialising in rice production under IBTE's HNTec in AgroTechnology.
"They (participating) have several options (in the farming value chain) on graduating; they can become farmers themselves, and we are in discussions with the Department of Agriculture and Agrifood to secure them land to farm," said Hjh Rosita. "They can also venture into farming services, such as the operation of drones or developing and selling seedlings and fertilisers."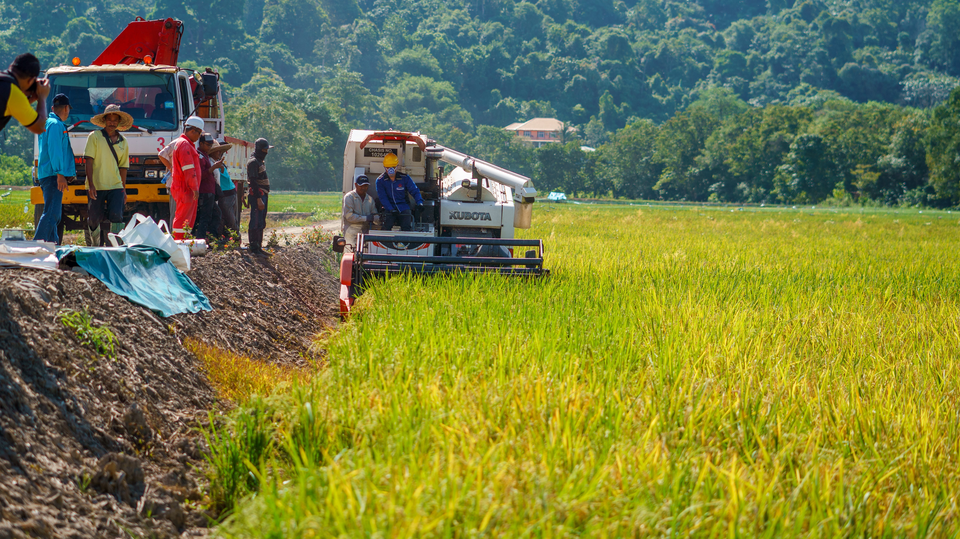 AgroBiz is being targeted for five annual cycles of 10 to 20 students – training up to 100 agropreneurs – before its management is fully handed over to IBTE.
Hjh Rosita added that financing options were available through the LiveWIRE Brunei's Start-Up Funding Scheme – which provides up to $50,000 in financing that is repayable without interest – and DARe's co-matching scheme – which provides a grant up to $20,000.
BSP through LiveWIRE has invested over $2 million into AgroBiz to develop a "complete" value chain for rice planting including a milling facility on-site and a workshop to develop fertilisers in-house.
The lot's irrigation system receives rainwater from several roofs around the campus channeled into a reservoir, and is also connected to a river to address overflowing from flooding during wetter seasons. Drones are used to spray using fertilisers increasing consistency and speed.
One hectare can be fertilised in 10 minutes using drones.
AgroBiz's harvest will be sold to supermarkets; their pesticide-free Sembada188 will be sold at $1.80 per kg and their next targeted variety to plant Titih will be farmed completely organically and retail for $3.50 per kg.
AgroBiz's appointed project manager Hj Arine Hj Budin from LNS Trading & Construction said students will farm two cycles of paddy during the year-long programme. They will also be taught to plant other cash crops such as chilli and melons.
"The course is comprehensive covering land selection, to land preparation, leveling, treatment of soil, preparation of seeds, planting, treatment, harvesting and milling," he said. "Our hopes are very high for this programme; farmers are aging in Brunei, and there need to be more young talent in this field to continue to grow the industry."
Participant Muhd Azizan Ali Hj Mohd Azlan said his batch is looking to establish a single company or complementing group of companies in which each of the 10 graduates would oversee a different area in the agricultural industry.
"We see opportunity in this industry as not many have pursued it, and with the support of the programme and the encouragement His Majesty has given to this sector we believe we can establish ourselves as young entrepreneurs," said the 20-year-old.