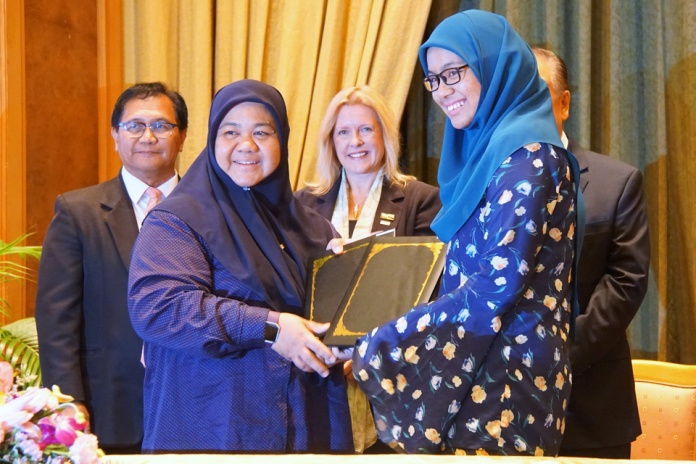 LiveWIRE Brunei is planning to provide $300,000 in financing annually to startups recognized at the LiveWIRE Brunei Business Awards.
Chairperson of LiveWIRE Brunei and Head of Supply Chain Management at Brunei Shell Petroleum (BSP) Hjh Rosita Hj Hassan said earlier today at the first LiveWIRE Brunei Business Awards Start-Up Funding Scheme (BASFS) ceremony that the financing was a grant between $5,000 to $50,000 per company, that would be repayable over 36 months without interest.
The money paid back by the businesses would then be recycled, allowing more startups to be funded in the future. "We wanted to see the reaction on the initial (funding) pilot programme; since it's been encouraging, a lot of people (businesses) are coming forward asking how they can be a part of this," said Hjh Rosita at the BASFS signing ceremony earlier today at the Empire Hotel & Country Club.
"We are thinking about doing (the funding scheme) twice a year instead of just once, given the encouraging response, so we are looking at February next year with a fresh group of businesses."
The first five recipients of BASFS awarded earlier today were Hazeeyah Duck Farm who received $50,000, Santai Ride who received $45,000 and Pondok Selera Kitani, Al-Huffaz Management and Roys Car Wash who received $30,000, $20,000 and $10,000 respectively.
With $155,000 in total financing for the first batch, Hjh Rosita said there was still another $145,000 available to startups who go through LiveWIRE's programmes and were successful at LiveWIRE's Brunei Business Awards.
LiveWIRE's awards are split into two categories; one for business plans with the most potential and the other for startups who have been operational for six months to three years who showcase sustainability, good governance, and a promising growth trajectory.
Hjh Rosita added that the repayment terms would be flexible, recognizing the cash flow issues that startups may run into in the beginning or when embarking on a new project. BASFS has also assigned a dedicated mentor for each business awarded financing; for the first batch, three are senior Brunei-Shell Joint Venture company executives and the other two from LiveWIRE Brunei.
Speaking on the wide economic development of Brunei, the Minister of Energy and Industry Yang Berhormat Dato Seri Setia Dr. Awang Hj Mat Suny Hj Mohd Hussein who was the guest of honour at the event said that the growth of the private sector and entrepreneurship is critical for Brunei's future, especially in job creation.
"Every year we see roughly 6,000 new jobseekers registering themselves at JobCentre Brunei," said the minister. "The growth of industry and the private sector are vital to ensure employment in the long-term. The quest for job creation is an ongoing effort that will require not just foreign direct investment, but also the organic growth of our local businesses to expand the job market."
Also attending yesterday's ceremony were Permanent Secretary (Energy and Industry) at the Ministry of Energy and Industry (MEI) Hj Mohamad Azmi Hj Mohd Hanifah, Permanent Secretary (Manpower and SHENA) Hj Kamaludin Hj Bungsu, Deputy Permanent Secretary (Power, IT & E-Government) at MEI Pg Jamra Weira Pg Hj Petra, Managing Director of BSP Dr Ceri M Powell, CEO of Darussalam Enterprise Javed Amad and CEO of BIBD Mubashar Khokhar.
LiveWIRE is a social investment initiative by Shell, with Brunei's programme established in 2001.