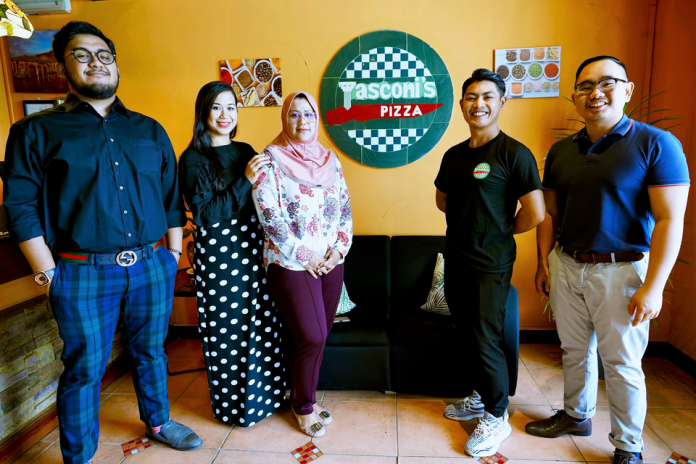 The late 1980's and early 1990's saw an influx of foreign F&B franchises into the Sultanate; Jollibee made its debut in 1987, followed by KFC in 1992 and Pizza Hut in 1993.
Chairman of the Mashhor Group of Companies Malai Hj Abdul Hamid Hj Malai Mashhor – best known for servicing the oil and gas industry – and his wife Hjh Sapurahbee Hj Ibrahim saw an opportunity in the F&B industry; could they be the ones to establish a Bruneian fast-food brand?
After pushing out surveys trying to discern Brunei consumer tastes, the couple traveled to the US – home to the world's largest franchises – to study what it takes to establish an enduring F&B chain.
Their stop in Chicago would be the most important however – as the deep-dish pizzas found in the city, serving up a thicker crust would eventually be a key characteristic of Tasconi's pizzas today.
After taking up pizza making courses and purchasing equipment, they returned to Brunei to formulate their own recipes and opened Tasconi's in Manggis in 1994.
Wholesome and family-owned; 24 years on
Today, Tasconi's operates three branches based in Berakas, Tutong and Kuala Belait, with the bulk of the business tied to deliveries, as well as supplying frozen pizza and baked macaroni to Supa Save's outlets in Seria, Beribi and Mabohai as well as Hua Ho branches in Manggis, Tanjong Bunut and Tutong.
"It is still very much a family business," said Hjh Sapurah, who is the managing director. "We are a family who loves food and after all these years, we still hold onto our mission of creating a Bruneian brand that Bruneians can be proud of."
Her daughter Syarifah Safinatul Najah Malai Hj Abdul Hamid and son Syed Ismail Faris now manage operations including their team of 30, half who are locals.
"All our lives we just remember being called in to help in the outlets, being called to give ideas, input so it really is a family-run business from top to bottom," said Safina, who previously worked as a lawyer, before taking over operations and international business for Tasconi. "Most of the recipes you find on our menu were originals by my mom."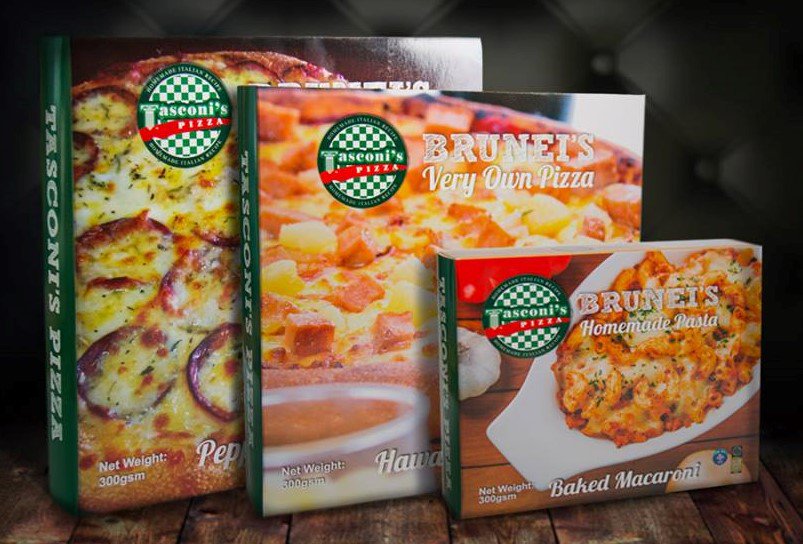 An attempt at franchising
Central to the founders' ambitions was to create a Bruneian franchise that would make headway abroad. 18 years after they began, they rolled out their standard operating procedures and opened branches in Bali, Indonesia, Johor in Malaysia and Singapore.
After some initial success, they ran into a number of problems – including disagreements over the procurement of ingredients to prepare their dishes, expanding the menu and the serving of alcohol.
"We had always dreamed about creating a Brunei F&B brand that would go international," said Hjh Sapurah. "But when we found out about the intention to serve alcohol, that was where we drew the line; we pride ourselves as a high quality 100% halal brand and having alcohol in our franchises was never part of the arrangement."
By 2016, the family decided to end their affiliations with their foreign branches and went back to the drawing broad to rethink their franchising efforts.
"The difficulty in enforcement, the experience we went through, gave us the opportunity to learn and now we have the chance to improve where we failed," said Safina.
Restrategizing with kiosks; building a factory
Safina shared that Tasconi's is now looking into expanding through kiosks in central retail locations. With low capital outlay, the kiosk model has a potential for rapid expansion, carries a lower risk with lower investment and has seen success regionally, with Singapore-based franchise Pezzo Pizza amongst the front-runners in applying the concept.
Tasconi's, however, is looking to share the rights to run the kiosks with small individual operators instead of solely relying on a master franchisee who has exclusive rights to whole areas.
"With this approach, we are aiming to include more young and new entrepreneurs, both locals and overseas, to purchase the franchise as it would be more affordable and sustainable in the long run," said Safina.
Tasconi's is also working on building their first dedicated factory to increase their frozen and packaged food for retail stores, with a line of ready-to-use seasoning called Bee's Spices – named after Hjh Sapurah – also in the works.
"With the facility, we're looking to manufacture on a bigger scale, and have the ability to export," said Safina. "Under Bee Spices, we're trialing three flavours; an all-purpose seasoning, lemon garlic salt and Moroccan spice."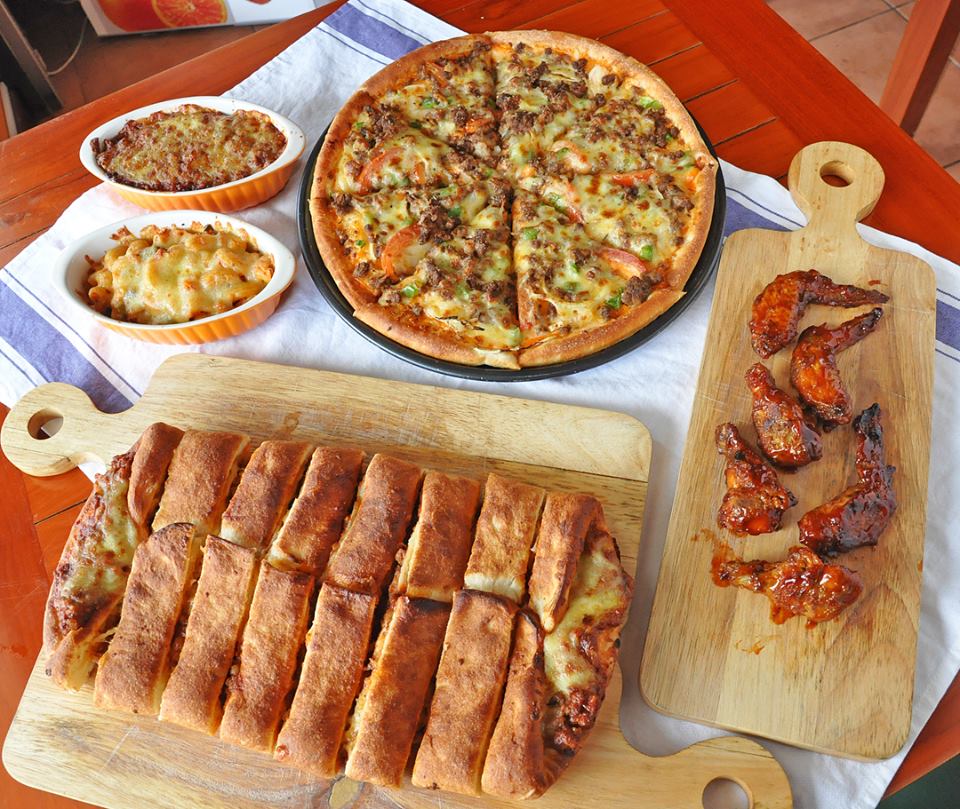 Reaching out to millennials
While Tasconi's is undoubtedly a name almost any Bruneian is familiar with, Brunei's F&B has also become increasingly competitive. Debuts of new franchises and specialty pizza brands are commonplace, and Safina acknowledges that Tasconi must aggressively reach out to the young generation if the brand is to stand the test of time.
"We recently joined the Gerai Ramadhan and we make sure we're at current expos and consumer fairs," added Safina.  Nabil Ibrahim, a recent hire in sales and marketing, has refreshed Tasconi's social media feeds, encouraging engagement through striking photos and graphics.
An enduring Bruneian Halal brand, Tasconi's has yet to fulfill all of its ambitions and the responsibility now falls squarely across the shoulders of Malai Hj Abdul Hamid's children to usher the enterprise into a new era of growth.
"We're looking to fly the Brunei flag very, very high," said Safina. "We know Brunei has a high standard of halal food, and we want the Tasconi's brand to represent that in quality and taste."
For more information, visit Tasconi's Pizza at @tasconispizza on Instagram and @tasconispizzabrunei on Facebook.
Their Berakas branch is located Spg 145, Lot No. 10102, Ground Floor, Unit No. C5, Kampong Berakas and can be reached at +6732335222/2334999. Their Tutong branch, located at Spg 14, Unit No 5, Ground Floor, Bangunam Hasbollah Yusof Puteh can be contacted at +6732670222, while their Kuala Belait branch is located at B2, Block B, Bina Industrial Area, Spg 114 Jalan Setia Di-Raja, Kampong Pekan Belait and can be reached at +673333222.
All outlets operate from 8am to 10pm daily.