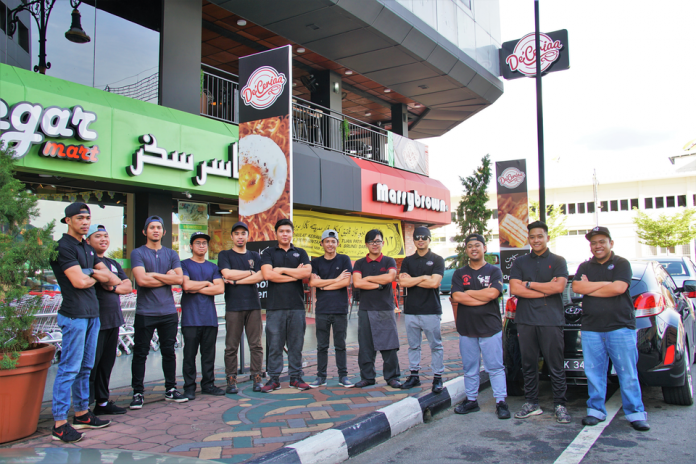 What was only a home-based operation making burgers for delivery five years ago, has now moved into the corner on the first floor of Darussalam Complex along Jalan Sultan Omar Ali Saifuddien.
De'Ceriaa, owned and run by 18 Bruneians – all below 30-years-old – will now tussle with Malaysian fast food chain Marrybrown located just below them, along with franchise heavyweights Burger King, KFC and Jollibee in the heart of the capital. Will they survive?
De'Ceriaa's menu juggles what you'd get in a kopitiam, a fast food diner, a gerai as well as what you're likely to cook at home past midnight – but with more panache. If you want brewed coffee and delectable homemade burgers alongside roti kahwin and Indomee – staples of the unapologetically Bruneian millennial diet – De'Ceriaa will be right up your palette.
"The menu has grown a lot over the past four years, because Acap (pictured main 6th L) gives us the freedom to develop and suggest new dishes," says 29-year-old Pg Muhd Firdaus Pg Hj Ramli, who began as a cleaner at Gerai De'Ceriaa when they opened at a half-sized shop lot in Kiulap back in 2014, and now serves as the Bandar operations  manager. "That is why we follow him. He listens to what we have to say."
In an industry where even seasoned businessman regard foreign hires as necessary, 28-year-old Acap – whose full name is Mohd Nur Asyraf Noraini – has managed to do without them; filling his ranks from cleaners to chefs to managers with just locals, most who have had no experience in F&B prior to joining De'Ceriaa.
"I believe Bruneian youth today are creative at heart," says Acap. "Like myself, we have a desire to create new things. Maybe we didn't do so well in a classroom. But out here (in the restaurant) it's hands on, it's practical. You try it out, you practice and then you learn."
Learning-by-doing
Acap was the very first entrepreneur to be featured on Biz Brunei. On the recommendation of his former teacher from MTSSR, now known as the Institute of Brunei Technical Education's Sultan Saiful Rijal Campus, I stopped by his establishment at the end of Bangunan Hj Matussin in Kiulap in December 2016.
With a seating area about the size of a common bedroom, Gerai De'Ceriaa could then only be described as a miniature cafe – but make no mistake – business was thriving, as it operated to its fullest capacity throughout lunch, late afternoon and most evenings.
"Unfortunately none of us had business experience or business knowledge when we started," says Acap. "We were just a bunch of young guys figuring things out. We had to learn a lot of things the hard way."
Gerai De'Ceriaa got off to a rocky start after Acap – on cloud nine to be transitioning from home business to opening his first storefront – prematurely committed to operating from their half-sized unit. He found out late on that he could not have proper gas supplied to the store's mini kitchen because of safety regulations.
"At first I settled: we would just sell drinks, sandwiches and food that we packaged and prepared from home and brought to the store," said Acap. "But business was doing terrible. One day, the aboslute worst, we sold one tin of 100PLUS."
He improvised and bent the rules a little; using small electric fryers, ovens and then portable stoves using mini gas canisters. As they began to streamline their cooking, they found themselves out of the red.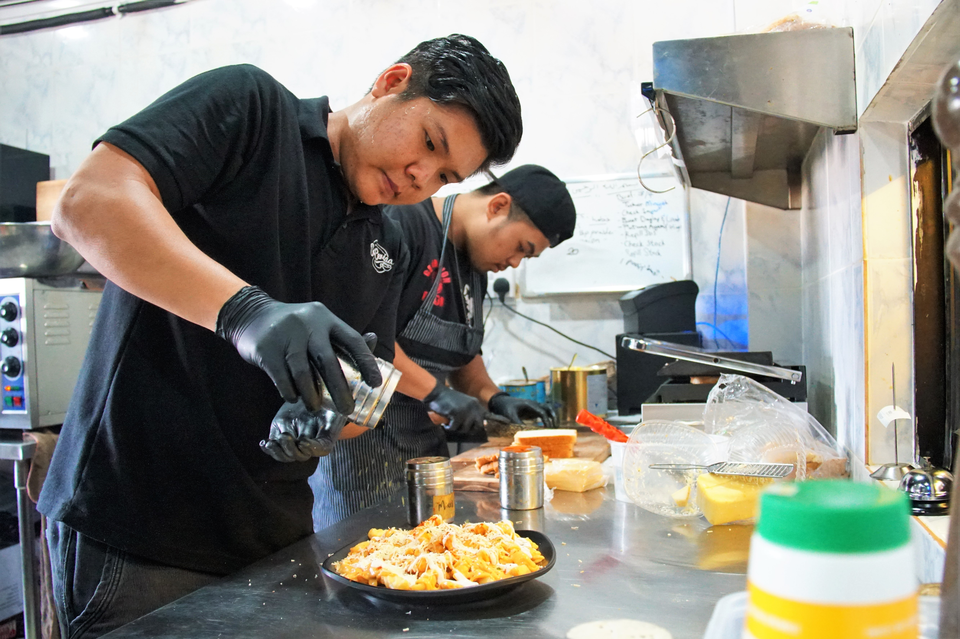 Catching the eye
Towards the end of 2017, Acap received an unlikely call from a businessman interested to bring De'Ceriaa to the Utama Bowling Centre – but with the same caveat that initially constricted the potential of his Kiulap site: he couldn't cook on the premise.
"The businessman was really impressed at how packed De'Ceriaa always was," said Acap. "At the time I really wanted for De'Ceriaa to expand, but I didn't have enough capital yet."
After accepting the proposition, De'Ceriaa operated a small snacks and coffee bar opposite the bowling lanes, but without being able to serve their signature dishes, the new site never really took off.
The move was critical however, as a mutual contact of the businessman later introduced Acap to another businessman who was planning to revamp the space the old Citibank used to occupy at Darussalam Complex in the capital into a retail store with room for two eateries.
"At this point we were really cautious, because we could not afford another misstep," said Acap. "But when we came down to visit the area and talk to the investor, we knew this was it. It was right in the centre of Bandar. This would be our chance to take De'Ceriaa to the next level."
Acap together with these investors formed a partnership to register a new company, Kafe De'Ceriaa. Acap initially took his three best staff to Bandar in April, but with a capacity to seat up to 100 guests, they soon were overwhelmed by the demand, and struggled to complete orders quickly.
"We hired another 12 local staff, bringing our team (under Gerai and Kafe) to 18 today," said Pg Muhd Firdaus, who was promoted to be Kafe De'Ceriaa's manager. "Alhamdullilah, the waiting times are now much shorter and we are working closely together to deliver the best for customers."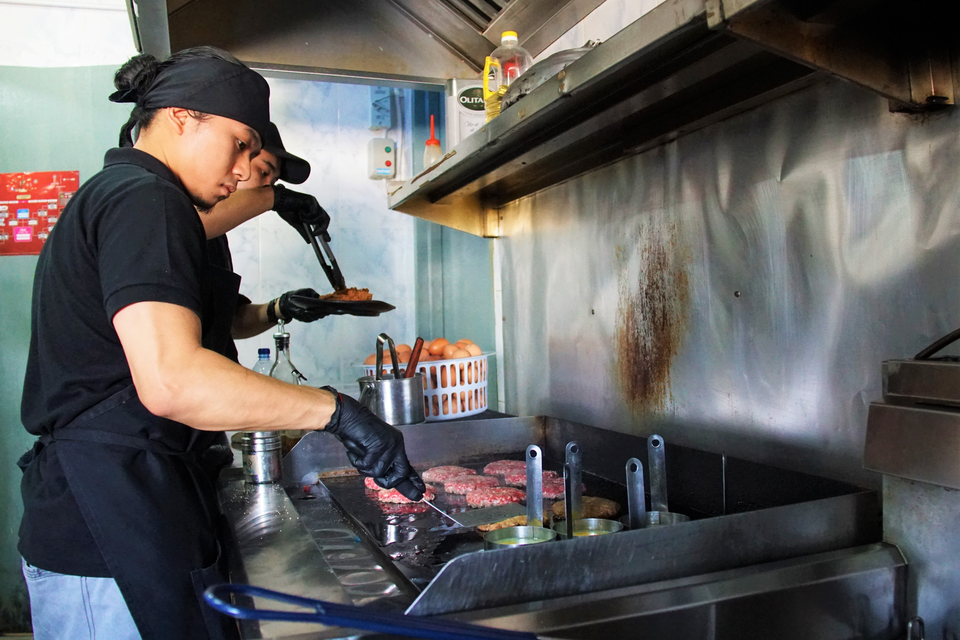 Expectations
High expectations was something Acap never really grew up having. He was only four when his family was rendered homeless by a blaze that destroyed their home in Kg Ayer.
He was grateful to enroll into MTSSR – after leaving high school with only three O-Levels despite multiple tries.
He thought himself lucky when he ran his business selling burgers from home, and when he was awarded a canteen kiosk to sell MTSSR, found himself settling, without the hunger to achieve more.
"I was happy, I was content to be able to earn my own living," said Acap, recalling his time running a small stall. "I didn't really have goals or ambitions. Then one day, I was sitting down with my friend, who I consider my mentor now. He asked me a question that I still carry to this day."
Acap, sampai bila ko sini?
Kafe De'Ceriaa opens in Bandar from 11am daily, except for Friday where they open 2pm onwards. They close at 11pm from Monday to Wednesday and midnight on Thursday to Sunday. Gerai De'Ceriaa in Kiulap open from Tuesday to Sunday at 11am, except for Friday where they open at 4pm. They close at 11pm except for Sundays where they close 7pm. For the latest updates follow @deceriaacafebn and @kafedeceriaabn on Instagram, and contact +6732240892 and +6732234709 to get in touch directly.
Correction: Kafe De'Ceriaa located in Darussalam Complex (BSB) and Gerai De'Ceriaa in Bangunan Hj Matussin H.A & Hj Abdullah H.M Adik Beradik (Kiulap) are separately registered businesses, each with their own set of shareholders. We apologize for any implication that both operations are under a single business entity.