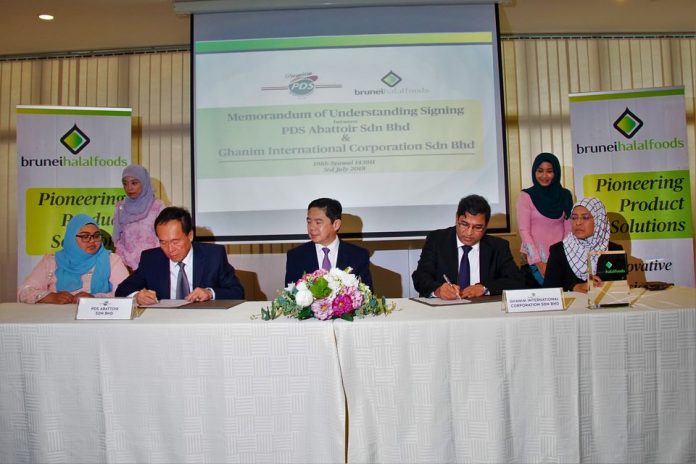 Ghanim International Corporation Sdn Bhd are looking to develop meat products with PDS Abattoir for local and international markets after both companies signed a memorandum of understanding (MoU) earlier today at the Royal Brunei Recreational Club.
CEO of state-owned Ghanim – whose flagship brand is bruneihalalfoods – said that the partnership would allow PDS meat products to penetrate international markets more effectively through its wide network and brand equity.
"PDS is a reputable company with a factory with international certification," said Dr Nur Rahman. "We are confident of their quality, and are looking forward to working with them to develop and market a range of meat products – from frozen to processed meat – under the bruneihalalfoods brand."
The CEO added that they would be working with the Ministry of Foreign Affairs and Trade and the Ministry of Primary Resources and Tourism to identify challenges faced in exporting meat products, which are typically subjected to stringent food safety criteria and screening in the receiving countries.
PDS currently imports and breeds Australian cattle that are slaughtered and sold mostly locally as fresh beef or processed into cured meats, sausages and burgers, with a small percentage exported to neighboring Malaysia. Dr Nur Rahman said that initial plans include exporting PDS' frozen beef and developing more processed products that will be tested first in the local market.
"Strategically this will increase Brunei's (beef) exports, and reduce our imports (of processed products)," said the CEO.
bruneihalalfoods has rolled out 70 different products since its inception in 2009, half which are produced locally, and the other half from overseas, including from their UK factory.
However their meat products sourced locally are limited to three canned products, making the MoU significant in opening up new supply chains.
Dr Nur Rahman explained that today's MoU is also part of Ghanim's renewed focus to source bruneihalalfoods' product lines from local suppliers, with notable partnerships including their blue shrimp crackers with Marimin which have been exported regionally.
"There are several challenges in exporting, not just logistically but in marketing as well, because when you're entering new markets building the brand awareness and credibility takes time and investment," said the CEO. "We are therefore encouraging local SMEs with high potential products to consider partnerships with bruneihalalfoods and leverage off our brand."