68 youth and veteran artists have come together to showcase 200 pieces of art at the newly launched Art Vision at Seni Gallery, Dermaga Diraja along the capital's waterfront.
The exhibition, believed to be the biggest showcase of local art in recent times, was officiated yesterday afternoon by the Minister of Culture Yang Berhormat Major General (Rtd) Dato Paduka Seri Awang Haji Aminuddin Ihsan Pehin Orang Kaya Saiful Mulok Dato Seri Paduka Haji Abidin.
Art Vision is split into two galleries; the Point of View which houses higher-end contemporary pieces, and the Brunei Art Bargain which offers affordable local art under $1,000.
Head of Art Vision's management and planning Osveanne Osman said that Art Vision is targeted to evolve beyond a standalone event into a platform for local artists to catalogue and curate their art, opening up possibilities to network with potential buyers and international exhibitors, an essential component for Brunei's art scene to thrive.
"Looking back at archives from the 1950s and 70s there's a lot to indicate that our art scene was very big," said Osveanne, who is also the manager and curator Creative Space Art Gallery and Studio based in Sengkurong.
"And we wanted to carry and build on that. Over the years, there have been a lot of flourishing artists and new art studios, and we wanted to bring everyone together – beyond just a single event – and to work with the government to showcase that Brunei's art scene is prevalent and that we are determined to carry it forward."
With the Brunei Art Forum and the Department of Museums as organizers, Art Vision also engaged local art studios Creative Space Art Gallery & Studio, Kaleidoscope Studio, Stain, Rainforest Art Gallery, Jo's Art Gallery and Decor, Mizaty Gallery, The Birdhouse Studio and Arttralia as strategic partners to execute the exhibit.
Osveanne added that Art Vision also offers the public the opportunity to get in touch with artists directly to produce commissioned artwork specifically for their needs.
Aspiring artist and Universiti Brunei Darussalam student Mohd Yusran Saugi (pictured below) said that he joined Art Vision to showcase and test the waters for his artwork commercially.
"When I graduate (this year) I really hope to become an artist full-time, doing my own business through commission work including drawings, portraits and maybe even comics," said the 25-year-old who majors in art and creative technology.
"I brought two illustrative paintings here that tell a story of my life; how I was sheltered, introverted before, katak bawah tempurung (frog under a shell) and how I discovered the world through my Discovery Year at UBD."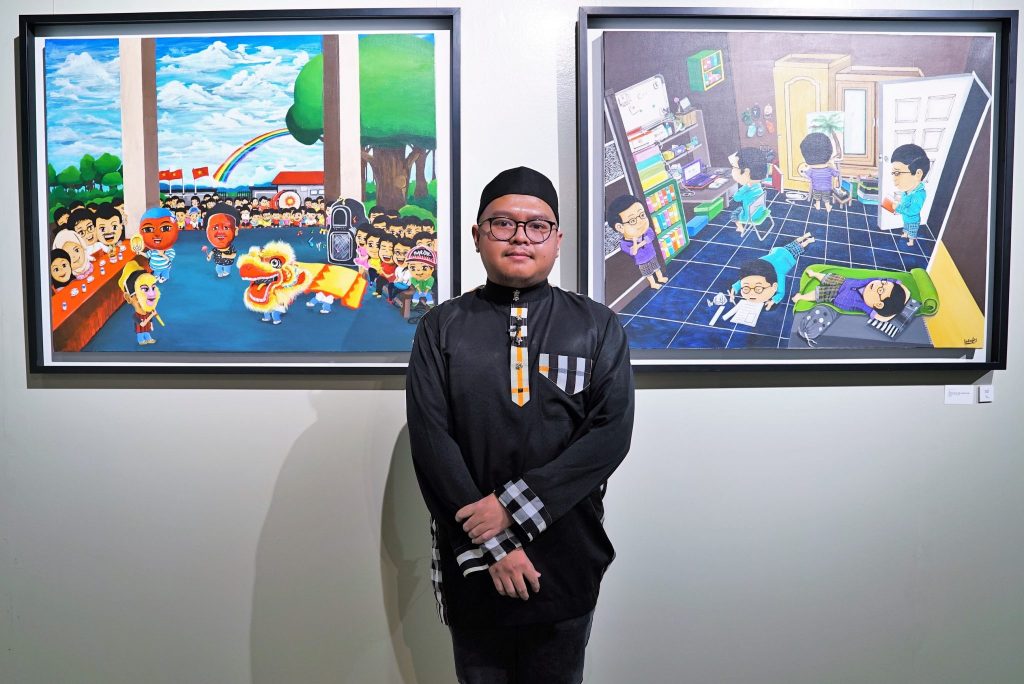 Six form art teacher Maziyah Yussof's intricate, patterned pieces also garnered wide attention. Inspired by Islamic art and design, the core of Maziyah's pieces were created by cutting up small pieces of coloured paper, layered to form a pattern.
"I painted sanctuary during my first pregnancy, and it's about my hope for my baby to be protected within this mosque," said Maziyah. "Although the method (of cutting up patterns) is very time consuming, it's meditative in its own way."
Art Vision is open to the public from June 30 to July 31, 9am to 4pm daily, except for holidays. For the latest updates follow @artvision.bn on Facebook and Instagram, and contact +6738254546 or artvision.bn@gmail.com to get in touch directly.