Before Ak Muhammad Hazim Pg Hj Mumin took centre stage to pitch his idea at the third Startup Weekend Brunei (SWB), the 23-year-old had already been busy turning his home kitchen into a mini-recycling studio; soaking, blending, shaping and drying out used paper to create new sheets.
A final year student of Economics at Universiti Brunei Darussalam (UBD) student, Hazim had his life's perspective put in check last June – where he visited Rohingya refugees in Bangladesh to distribute relief supplies with Bruneian NGO hand4handbn, including 25,000 food pouches and saw thousands of children languishing without the basic tools for education.
"It was a shocking experience," said Hazim. "The children were sitting and drawing on sand and soil. Even the sight of papers for them to use was a big deal."
According to the International Rescue Committee, less than two percent of humanitarian aid goes towards education – with half a million Rohingya refugee children in Bangladesh unlikely to receive formal education in 2018.
"From statistics, 18% of our (Brunei's) waste is from paper," said Hazim, who has produced 30 sheets of paper as prototypes. "So why don't we recycle so that we can help others?"
Hazim's initial pitch for Trash 4 Recycle (T4R) at Startup Weekend at Progesif's headquarters drew the support of four other participants: Dk Nurazierah Pg Hj Sahdan, Siti Nur Haazimah Norfadilah, Siti Nurulyaziidah Hj Abdul Aziz and Muhd Taqy Syazwan Hj Hasnan. Over 54 hours, the team refined their idea and after their final pitch to a panel of judges, successfully took first place.
T4R is planning to produce annual planners out of recycled paper for sale, the proceeds which would be invested into making notebooks for Rohingya children.
"For each planner (sold) we're aiming to match with one notebook donated," said Hazim, who will now begin to search for financial support to scale T4R's operation beyond using home appliances.
Coming second and third respectively at Startup Weekend – which targeted the United Nations' Sustainable Development Goals – were Pen of Hope and Tambang.BN.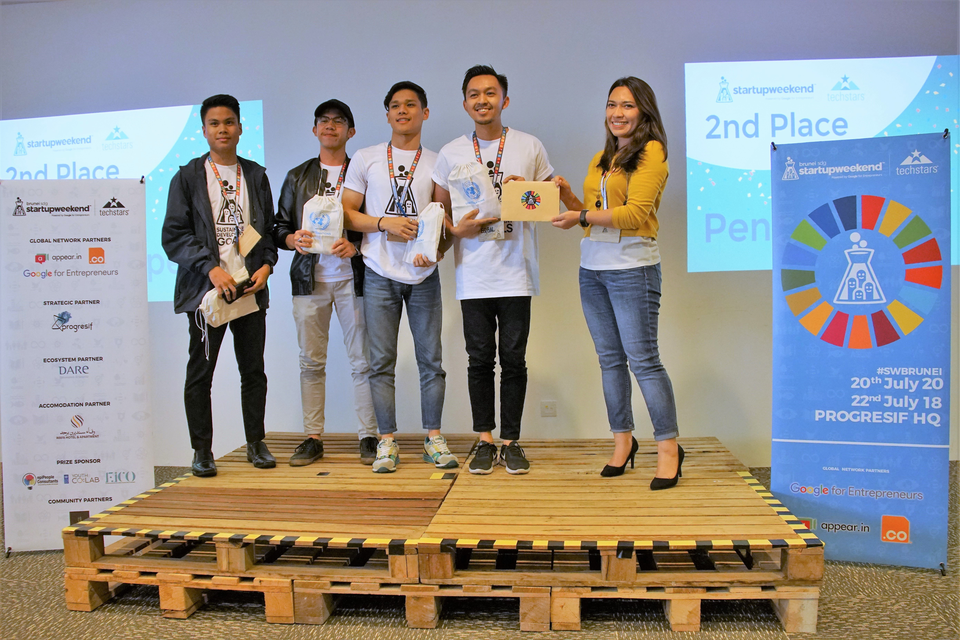 Pen of Hope looks to make a pen made out of recyclable materials; its a shaft made out of bamboo with seeds encased at the top that can germinate when placed in soil.
"The idea is that after the ink runs out, you can simply place the pen in a pot and it will grow into a tree or plant," said project lead Eqbal Volinuskhi. "There are other startups (around the world) with this idea, but we hope to bring something different that's Bruneian made."
Meanwhile, Tambang.BN looks to develop a ride-sharing mobile application for Brunei's water taxis that will allow the public to cut through traffic and experience the Sultanate in a different way.
"Brunei's capital is quite connected by river, but we don't really make use of it outside Kg Ayer," said project lead Hj Abdul Mateen Bolkini Hj Ahmad. "During peak events like national day or His Majesty's Golden Jubilee celebration, however, you could see lots of boats picking up people near Kiulap, so there is potential but there isn't a single platform that will service both passengers and boat operators. So we hope Tambang.BN can fill that."
Startup Weekend is a three-day entrepreneurial workshop held across 135 countries to birth new, innovative ideas that's supported by Google for Entrepreneurs and Techstars. Brunei hosted its first Startup Weekend in July last year.
The third SWB was organized by a group of local youth volunteers, including the founder of EICO Afiq Mohd and co-founder of In-Turn Danial Mahmud, with judges Tynes Solution founder Aimi Ramlee, Muslyfe founder Hadi Syafie and founder of Green Brunei and Legislative Council member Yang Berhormat Khairunnisa Ash'ari.
All three winners of SWB received a mobile starter pack from Progresif, mentorship by EICO Enterprise and tickets to the Brunei Rice Bowl Startup Awards. First place T4R will also have a financial workshop by Epipeople Consultants.
Contact +6738622653 to get in touch with T4R, +6738292246 for Pen of Hope and +6737128712 for Tambang.BN. To learn more about SWB follow @startupweekendbrunei on Instagram.