Brunei Shell Petroelum's (BSP) supplier development initiatives are increasing the number of local businesses securing BSP contracts in more core and complex scopes of work.
Forty-six percent of opportunities under BSP's core quadrant are currently being serviced by 30 local companies, a threefold increase from 2015.
BSP, as part of the Brunei Shell Joint Venture Companies (BSJV), utilises a local business development (LBD) framework that features four quadrants of business opportunities with increasing value and technology demands.
The basic and development quadrants are open to local companies only, while core and highly specalised quadrants are open to foreign companies as well.
An increase in local participation in core contracts indicates increasing competitiveness of local businesses, with initiatives such as the Energy Business Academy (EBA) targeted at helping local suppliers develop further, said BSP In-Country Value (ICV) Manager Hjh Rosita Hj Hassan.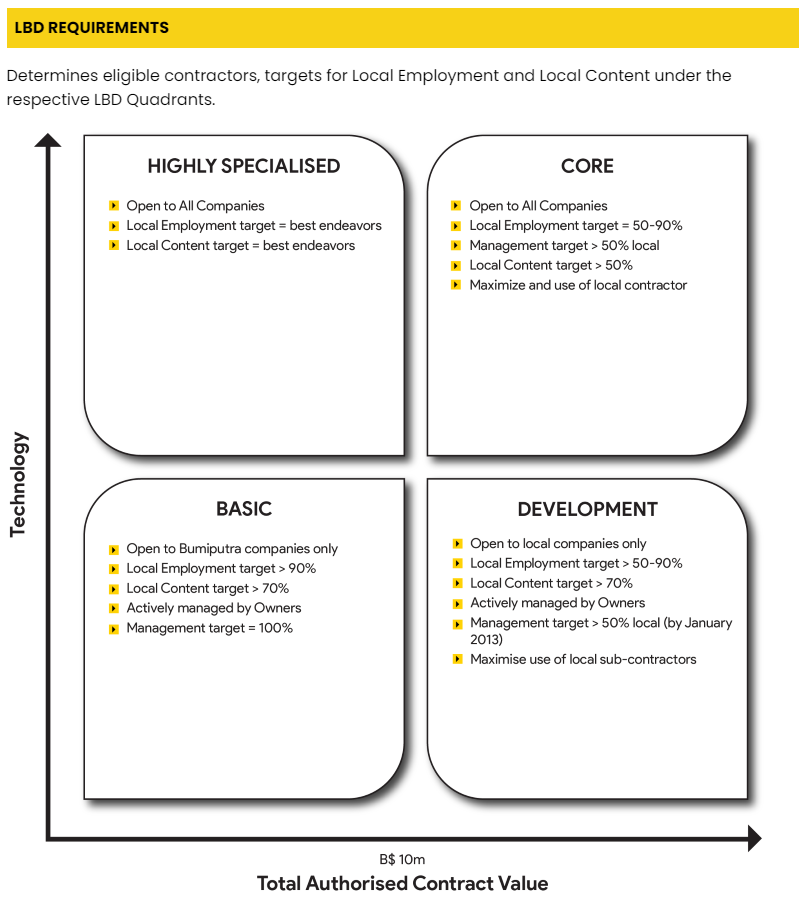 "Supplier development is one of the key strategic deliverables for ICV. There are local companies who made that journey from basic and development quadrants, into the more complex core quadrant contracts," said Hjh Rosita at a recent virtual launch for the second cycle of EBA 2.0.
EBA was first launched in 2014, helping over 70 new and smaller local businesses secure their first contract with BSP. The second version was then created in 2020 to help existing suppliers progress further up BSJV's contract value chain.
The first cycle of EBA 2.0 featured six businesses; the second, ongoing cycle, is being participated by 10 businesses who are being mentored by experienced industry professionals.
The new cycle will also be assisted by a supplier journal, an online learning tool for companies to chronicle and customise their developmental programmes to address their competency gaps in several areas including finance, operations, and Health, Safety, Security, and Environment (HSSE).
Participant of the first cycle of EBA 2.0 ROV Resources Sdn Bhd – an integrated sub-sea service provider – said the programme helped them increase sales through more consistent lead pipelines and analysing their market better including understanding their customers and competitors.
"The most enjoyable part of the EBA programme were the coaches and the facilitators; they were attentive and understanding and listened to us when we discussed with them our unique challenges in the oil and gas industry, even with the highly specialised nature of our services," said ROV's Asher Khan.
Meanwhile oil spill specialist Syera Services said the programme has helped them understand their weaknesses and improve on or minimise them.
"This (EBA) helps us to improve on building on our core strengths to make the company stronger. Our team are also more united and effective working together," said Syera's Michael Shim.
The 10 participants of the second cycle of EBA 2.0 are: Dream Makers Services; Jezemm Services; MKJ Technical Services Sdn Bhd; Rukun Al Yaqeen (Ray) International Sdn Bhd; QET Sdn BHD; Quaezar Engineering & Construction; S.B. Kani Company; Sepakat Energy Services Sdn Bhd; Sivli Tech Sdn Bhd; and Zu-HY Contractor.