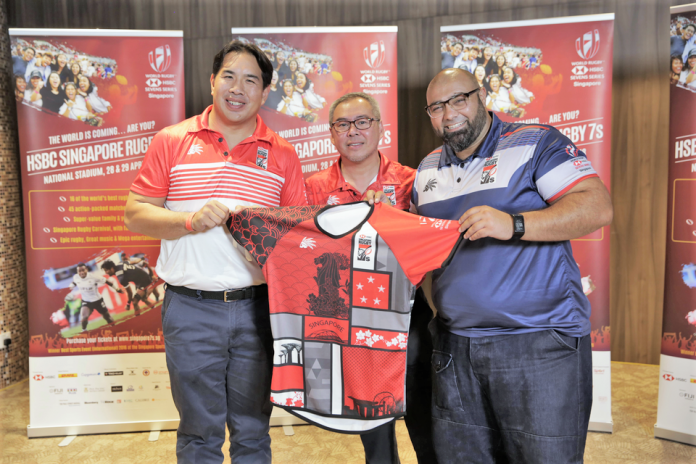 The Singapore Rugby Union (SRU) has announced Brunei sportswear startup Headhunter Sport as the official apparel merchandiser for the HSBC World Rugby Seven Series in Singapore next April 28 to 29 at the Lion City's national stadium.
The partnership is a pioneering achievement for Brunei's sportswear apparel industry and will see Headhunter sell Seven Series themed wear – a variety of shirts as well as rugby kit – directly through several booths set up during the course of the event, which is aiming to draw over 50,000 rugby fans from across the world.
Headhunter's wider arrangement with SRU also includes manufacturing the Singapore national rugby teams' jersey and their athletic wear for training, as well outfit referees across all of SRU sanctioned rugby games in Singapore.
"Headhunter Sport is a South-East Asian brand grown right here in our backyard, and a high-quality supplier of rugby kit with a proven track record of creating products that optimises performance," said SRU's Co-Chairman Marketing Commission Jonathan Leow.
"We look forward to working with Yusuf in partnering with him to grow not only his brand, but rugby in the region."
Headhunter's jerseys are made from proprietary microfiber blends with reinforced stitching that stands up to the punishment of aggressive games of rugby, but remain breathable and comfortable. The business began three years ago with founder Yusuf Flynn looking for custom, affordable rugby kit for teams he managed and played in.
"This is a huge milestone and honour for us to be working with SRU; supplying the Singapore national team as well as the Seven Series – which falls in the highest tier of professional and international rugby," said Yusuf.
"We have (previously) enjoyed engagement with customers in Singapore through online sales and this partnership is a huge step forward in showcasing our commitment to help SRU and the community to grow the popularity of Rugby."
Yusuf also thanked Brunei's national body for businesses Darussalam Enterprise (DARe) for providing access to mentorship, training and industrial facilities, and the Manpower Policy and Planning Unit who run JobCentre, for assisting in recruiting 18 Bruneians graduates, under the i-Ready scheme, to do graphic design, marketing and communications at Headhunter.
"The team (at Headhunter) has been instrumental in allowing us to do the most of the (manufacturing) process in Brunei," said Yusuf, who explained that the fabrics are first imported, then imprinted with digitally developed designs then sown.
"They've been a huge asset to us, and have really allowed to us to develop into a brand with creative, striking designs."
HSBC Singapore Rugby Sevens is the eighth stop of the 10-leg HSBC World Rugby Seven Series, and will be contested by the top 16 international teams. The popularity of rugby sevens has surged in the past two decades and is now an Olympic Sport where seven players play seven-minute halves – instead of the traditional 15-a-side playing 40-minute halves.
To shop or learn more visit Headhunter's website. Read how Yusuf first started here.