The man behind the latest dining buzz in Seria isn't a Belait native – but he's up for the challenge to shake up the sleepy coastal town's food and beverage scene with a new, retro-themed fast food joint called Burgers & Grills.
Housed within Pusat Insani's Grand Seria Bowling Centre that shares the same complex at Plaza Sutera Biru's cinema, Burgers & Grills is serving up sumptuous beef, chicken, fish – as well as vegetarian – burgers with milkshakes.
Founder Jason Lew is only 27-years-old, but his resume carries all the necessary credentials; stints at Radisson, the Energy Kitchen and as a personal chef to the Australian High Commission. While in between jobs he ran The Fat Chef BN – a home-based business serving western and fusion food through pick up, delivery and private caterings.
After years of culinary experience, Jason has taken the leap to open his first storefront, and the pressure now falls squarely on his shoulders to prove that he has the mettle to create a lasting F&B brand.
"We started out Burgers & Grills with a simple idea; creating burgers that were more wholesome and fresher," says Jason as he sears a beef patty on the grill before placing it into the oven for it to cook through and melt the cheese atop.
"This means we make the sauce; the patties from scratch, using real, quality beef and chicken, sea bass (instead of the typical Dori fillets) for the fish burgers and our own falafel (a mixture of chickpeas) for the vegetarian burger."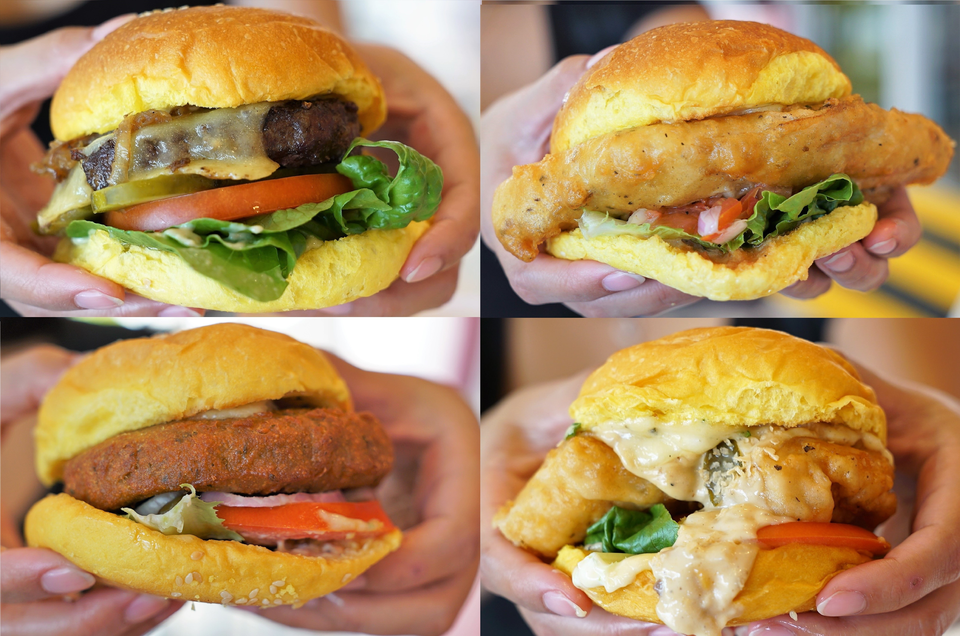 It's a commonly held view that the economic downturn has reduced consumer spending power and retail businesses in Belait – home to the country's oil and gas industry – have also been hit hard.
But Jason sees a silver lining in Belait's F&B scene, specifically when it comes to burgers. "Outside international franchises there aren't much local (western) outlets here," said the 27-year-old. "There is room in the market for newer players to establish and grow their brands."
Backed by advertising company Hoco Creative, Burgers & Grills has developed striking, unique identity inspired by 1960's American diners that's consistent throughout the store's design, down to details like staff uniform, menu appearance, and food packaging.
A matching multimedia-driven advertising campaign leading up to their launch two weeks ago built curiosity and anticipation, with short, retro-themed clips featuring a group of youth riding a Volkswagen Kombi, going for a picnic where they enjoy burgers, generating tens of thousands of views.
"The response has been intense," said Jason. Yesterday, the complex which houses the cinema and bowling alley was abuzz with activity – but it's hard to speculate what effect Burgers & Grills has had on increasing the overall traffic. Based off my anecdotal experience of previously frequenting the typically quiet space before the diner's inception – it has had at least some measure of impact.
Plaza Sutera Biru, who manage the overall operations of Pusat Insani, have also revamped the bowling alley to include a children's playground and arcade as part of a wider strategy to draw crowds, and Burgers & Grills must keep apace with high demand during its opening months if it hopes to wedge its way into becoming a staple of the district's eateries.
"We've gotten a lot of positives, but we've also received feedback which we must improve on," says Jason frankly. "We are continuously learning, staying focused and committed to bringing the best service and burgers we can."
Burgers & Grills are located at F19, Jalan Tengah, Seria and open from 10am to 10pm from Monday to Thursday, and open until midnight on Friday and Saturday.  Follow @burgersandgrillsbrunei on Instagram and Facebook to learn more.