Brunei Shell Petroleum's (BSP) Energy Business Academy (EBA) has helped 70 local companies secure their first contract with BSP since launching in 2014.
BSP is now introducing a second version of EBA targeted at helping existing vendors develop further within Brunei Shell Joint Venture's (BSJV) contract value chain, especially in being able to meet higher value, more technically complex core services.
EBA first targeted new and smaller businesses looking to venture into the oil and gas industry, specifically for tenders offered by BSJV. Seven cycles were completed, participated by 100 local companies.
EBA's classroom-based training covered modules that introduced BSJV business requirements, including ethics and compliance, supply chain management, finance, health and safety and quality management.
From the perspective of local business development (LBD), BSJV contracts are classified into four quadrants, each with different monetary value and technical competency.
EBA 2.0 will target businesses currently active in the basic or development quadrants, with six vendors identified for the first cycle.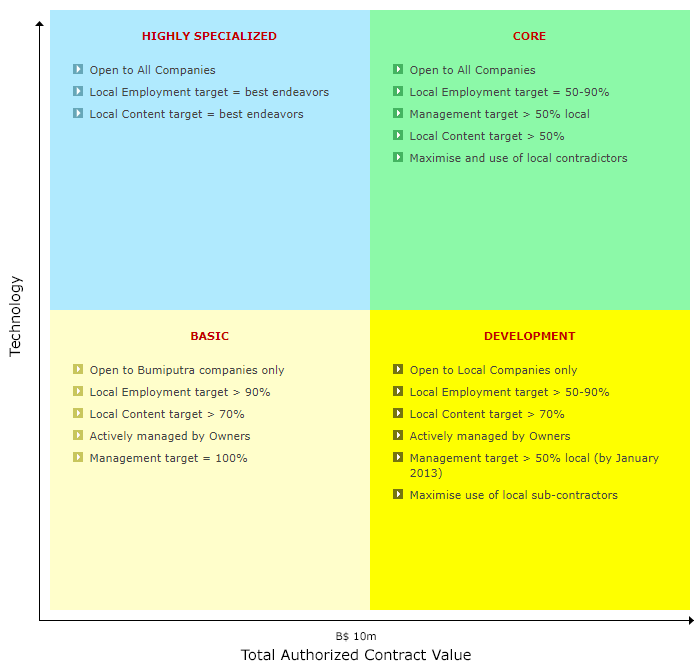 The basic quadrants covers work for small routine services and supply of general goods readily available locally, such as air conditioning and estate maintenance.
The development quadrant requires vendors to have a proven track record and covers more resource intensive and complex work such as after market instrumentation and fabrication services.
The core quadrant involves work with materials or services with high specifications requiring local technical support such as drilling rigs and crew personnel and aviation equipment and services. Because of the increased technological competency required, the employees of core vendors will have the opportunity to undergo significant upskilling and access technical knowledge.
EBA 2.0 will use a common platform called Delta to share the requisite information for suppliers and offer face-to-face coaching called Elite for 12 months that will monitor the vendor over a supplier assessment and a tailored development plan.
BSP In-Country Value Manager Hjh Rosita Hj Hassan said EBA 2.0 will further develop the competencies, capabilities and overall competitiveness of local businesses.
"Whilst celebrating these success stories, there are companies which have yet to be successful, and we should learn from their challenges and find ways to help increase their chances to succeed," she said at the launch of EBA 2.0 last Wednesday.
"This is the learner's mindset that we want to develop; that everyone can grow their abilities, learn from success and failures and perform better than before."
A pilot of EBA 2.0 was held last October with BSP selecting SPHI Marine, Esca Marine & Engineering and Aziz Latif Company to participate.
"The foundation from which we built the company was further strengthened through EBA 2.0 and we discovered what we lacked; what could potentially go wrong and what our key strengths are," said the Managing Director of Esca Marine Malai Masrhiem.
BSJV is comprised of BSP, Brunei LNG, Brunei Shell Marketing Company, Brunei Shell Tankers and Brunei Gas Carriers.