Brunei's first home-grown hybrid rice Titih has the potential to become the country's highest-yielding variety with eight tonnes per hectare when mass plantation begins next year, said the Minister of Primary Resources and Tourism.
Yang Berhormat Dato Seri Setia Hj Ali Apong said foreign experts would be arriving soon to begin commercial production of Titih seedlings, which would be distributed to local farmers in stages.
"We were supposed to introduce Titih to farmers this year but due to some issues with the lack of experts from Brunei in doubling its output, we have to fly in experts from overseas, then we can distribute the new higher-yield variety to farmers," said the minister at a harvesting and handover ceremony yesterday for Sembada188 at the Wasan Agricultural Development Area.
Titih's yield of eight tonnes of paddy per hectare were established during trials, where it grew to 1.07 metres in height and reached maturity in 115 days. Rice farms in Wasan and the upcoming site Kandol, who have the more complete irrigation systems, are expected to be the first to plant the variety on a large scale.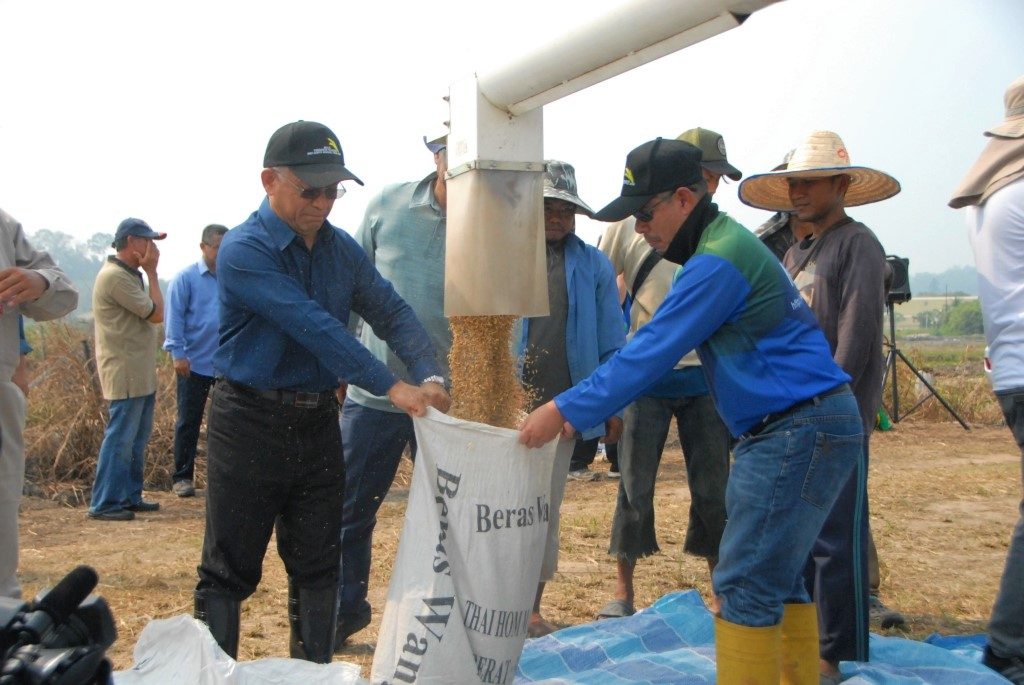 Another recent hybrid variety from Indonesia Sembada188 – jointly developed between the Department of Agriculture and Agrifood (DAA) and Syarikat PT. Biogene Plantation – is currently the highest yielding, mass planted variety in Brunei, capable of producing six tonnes per hectare.
The most popular local variety Laila, produces three tonnes per hectare. The national yield average in 2017 – which includes small scale farms planting traditional varities once a year – was 1.75 tonnes per hectare.
Titih's mass plantation has been a long-awaited development, with research on the strain dating back to 2011 with Sunland Pte Ltd. According to previous reports, breeding hybrid strains locally is complex and requires specialised expertise, where cross-pollination from different parental lineages involves changing the reproductive systems of rice plants.
The minister previously said that Brunei can double its rice production next year from 1,500 tonnes to achieve 10% self-sufficiency through higher-yielding strains, new sites and infrastructure upgrades.
Last year, the government budgeted $45 million to invest in new technology, irrigation systems and farming programmes. Rice production has been at similar levels for the past three years, with Brunei continuing to require over 30,000 tonnes of rice imported from its ASEAN neighbours annually.

Currently, the vast majority of locally produced paddy rice is sold to the government under a "buy-back" scheme at $1.60/kg. The government then mills paddy into rice – which sheds 65% of its weight – and sells it at $1.15/kg to retailers to keep it competitively priced against imported rice.