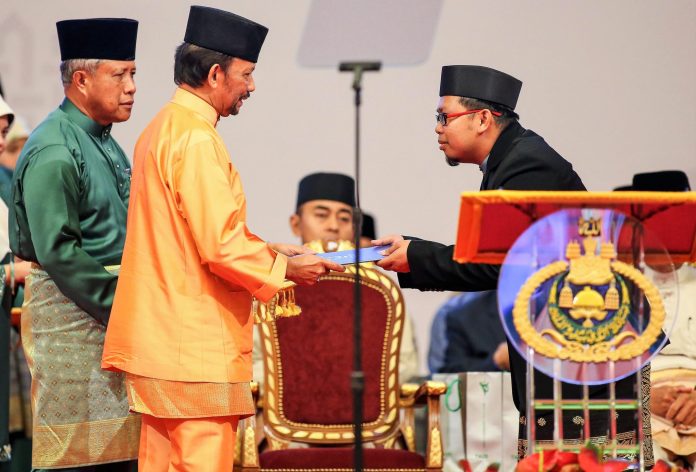 Islamic education start-up Al-Huffaz Management is on track to continue its rapid growth – which has doubled in the past four months – after being officially announced as the winner of Perbadanan Tabung Amanah Islam Brunei's (TAIB) Entrepreneurship Programme yesterday.
Receiving the award from His Majesty Haji Hassanal Bolkiah Muízzadin Waddaulah, the Sultan and Yang Di-Pertuan of Brunei Darussalam at TAIB's 25th anniversary celebration at the International Convention Centre in Berakas, Al-Huffaz's founder Hj Mohd Loqman Al-Hakim Hj Hamdan (pictured R) said yesterday's achievement was of the "highest honour" that marks a significant milestone for the start-up which is just 11 months old.
Steamy Ridez and Cleaning Services and Simvolous Consultancy & Medical Supplies came in second and third respectively.
Al-Huffaz, whose core activity is matching a pool of local Al-Quran teachers to provide classes to customer homes across Brunei, has more than doubled its teachers and customer base in the past four months. "We currently have 67 teachers, all who are local graduates, giving Al-Quran classes to 347 students a week, across all the four districts," said the 26-year-old graduate from Universiti Islam Sultan Sharif Ali.
With weekly classes costing 100 per month, Al-Huffaz's teachers can earn $400 for six hours of classes a week. The matching system is currently inputted manually by Al-Huffaz through a live spreadsheet, with the start-up expected to migrate to fully automated online matching system within the upcoming months.
"We are in the process of building a dedicated website for the matching service, which will automatically track and match teachers with customers," said Loqman.
Loqman also said participating in TAIB's two week programme helped "refresh and reinforce" business development principles taught in Darussalam Enterprise's startup bootcamp, which ended last February, as well as offer new perspective from the international speakers invited.
The entrepreneurship programme began on January 4, with 54 start-ups, before being narrowed down to 25 companies, from which a final top 10 were shortlisted.
Loqman added that the programme's cash prize of $5,000, and access to up to $25,000 in profit-free financing from TAIB under the 'Qardhul Hassan' concept, will be carefully looked into by his team to see where the funds are best allocated to for maximum development.
"Ultimately our goal is to cater to customers beyond Brunei, leveraging on the fact that our local Bruneians are able to teach Islam effectively in English," said the 26-year-old.
He also shared that Al-Huffaz is in the process on producing 1,000 of their first book tentatively titled: Why Islam? – which is being produced in English and Mandarin for the overseas market.
"It is an easy to read book that introduces the general concepts of what Islam is all about," said Loqman. "We are working with the religious authorities to gain the approvals needed and we are looking to distribute the book first at international expos as a Bruneian product."
Runner up Steamy Ridez and Cleaning Services, a car detailer which applies surgical-like precision to cleaning the interior and exteriors of automobiles – said they are planning to use the financing available to refurbish their store in Sg Hancing and potentially bring in new equipment to improve their services.
"Through the programme we were able to learn a lot of new concepts that have helped organize our business better especially through proper record-keeping," said its 28-year-old owner Ak Ahmad Akram Pg Hj Mohd Idrus. "I've been running the business for two years now, without any formal business background or education. Now with the new knowledge gained, and access to finance, we can take our services to the next level."
Special thanks to Rano Iskandar and Information Department under the Prime Minister's Office for sharing pictures for this story.