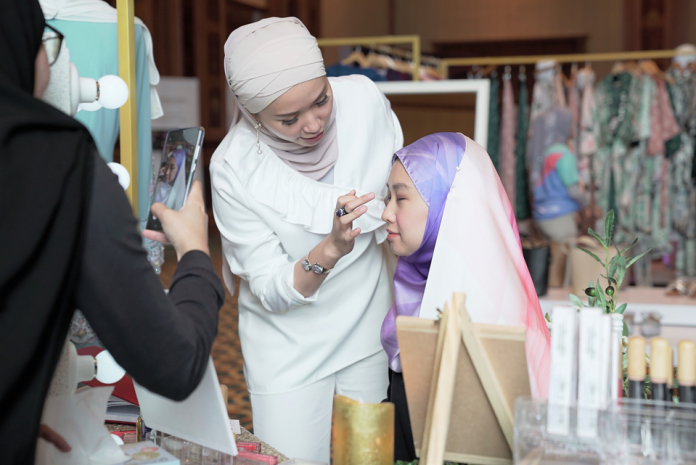 BIBD is looking to help five Brunei small and medium enterprises (SMEs) onboard Malaysian e-commerce platform FashionValet (FV) by 2020 through their entrepreneurship development programme Catalyst.
BIBD have selected headscarves companies Mumtaz Collections and Rozai Hijab, modest women's apparel Baitaal Hijab, natural cosmetics producer Mukaku Cosmetics and menswear brand Mudaser to be part of the second cycle of their Catalyst programme, which begins this week by participating in FV's pop-up store at the Indera Kayangan Ballroom of The Empire Hotel & Country Club which runs until Sunday.
BIBD's Head of Retail Banking Hjh Nurul Akmar said FV would help mentor the SMEs with Darussalam Enterprise (DARe) also assisting to help the businesses scale beyond Brunei.
"With the first two cycles of Catalyst we are targeting Brunei SMEs in the fashion industry with a good track record who have the potential to scale beyond Brunei," said Hjh Nurul at a press conference before the launch of FV's pop-up store.
"Garments are easier to export (from a regulatory standpoint) but we have to be able to develop or adjust our products that foreign markets will buy, which is where the mentorship from FV comes in."
FV's General Manager Nadia Norzuhdy said that they have run preliminary checks on the brands and found them meeting most of their supply chain requirements.
"The brands are well developed; they have the product and they have a story now they need the opportunity and the platform to be able to begin shipping internationally," said Nadia.
She said that the e-commerce platform – whose customers are largely from Southeast Asia – will also be making an ambitious push towards tapping into the Middle Eastern market.
Mudaser is the only participant in the Catalyst's second cycle that wasn't rolled over from the first cycle which was announced in May last year. Hjh Nurul said the reason the four brands were carried forward from the first cycle was that they had yet to meet the target of selling through FV or to achieve substantial exports.
In a previous interview CEO of FV Fadzarudin Anuar said their platform – which houses over 300 brands – typically evaluates the creative and technical capabilities of brands before listing.
"On the creative side, we are looking not only for the artistic flair and (product) style, but also the brand's story – what is their identity? What values do they embody? What do they stand for?" he said. "The technical (supply) side is also important because as the business grows, there will be challenges in the administration, operations and that's where it's important to have the discipline and consistency."