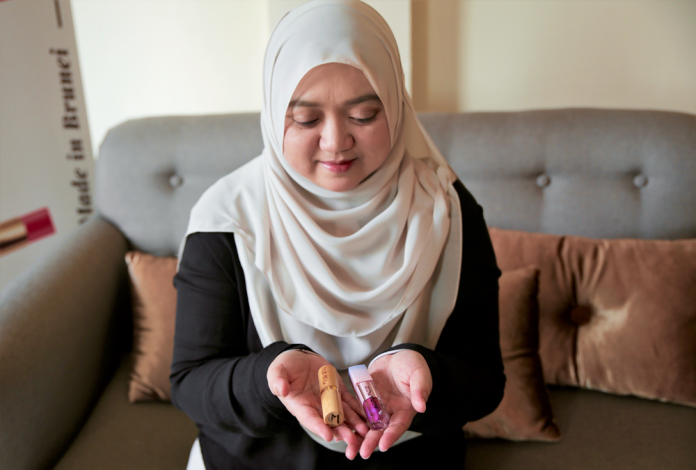 MuKaKu cosmetics are looking to Halal certify their local cosmetics line made from organic botanical ingredients to boost consumer confidence and marketability.
The amendment of the Halal Certificate and Halal Label Order last year paved the way for businesses to Halal certify locally made health and beauty products, although the certification isn't mandatory for cosmetics.
MuKaKu cosmetics' founder Edy Zurina said their ingredients were exclusively "botanic" or plant-based, and is confident they would pass stringent Halal requirements.
"The Halal (certification) adds brand value especially in a Muslim majority market," said Edy. "We are hoping that MuKaKu can be the first cosmetic brand certified Halal in Brunei."
MuKaKu's flagship range is in a 3-in-1 eyeshadow, tint/blush and lipstick (pictured above) which is sold either as a concentrated liquid for $27 or in the traditional tubular form for $35. It's made at their spa As-Salwaa Beauty in Gadong and comes in four variations of brown, pink and red – with the raw ingredients imported from Indonesia, UK and the US.
They've sold about 300 since launching in September last year, where they brought their products to Nanning for the China-ASEAN Expo, and plan to launch a newly improved version in the upcoming months.
The 3-in-1 concept isn't novel amongst mainstream cosmetics brands, but Edy says an organic, all-natural version has yet to be gain significant popularity.
"I wanted to make something practical for people on the go," said the 36-year-old. "Customers can touch up with just one application instead of searching for different products in their bag and they can rest easy knowing that the ingredients used are all natural."
Edy created the formulations through personal experience, using essential oils and plant and fruit-based extracts. When she opened her spa in Gadong Central in March last year, she began using the same all-natural treatments, and after encouragement from her customers decided to make her own line of products for sale.
Edy's now studying online for a diploma in Organic Skincare Formulation from Formula Botanica, an accredited online organic cosmetic science school based in the UK.

"I'm hoping to learn more (technically) so that we can further improve MuKaKu products," said Edy. "In the long-term, we want to have this product in (retail) stores and export these outside Brunei."
As-Salwaa is located at Unit 3, Level 1, Block A, Gadong Central, Spg 21, Kg Gadong. To learn more follow @mukaku_cosmetics on Instagram or contact +6738850857 to get in touch directly.