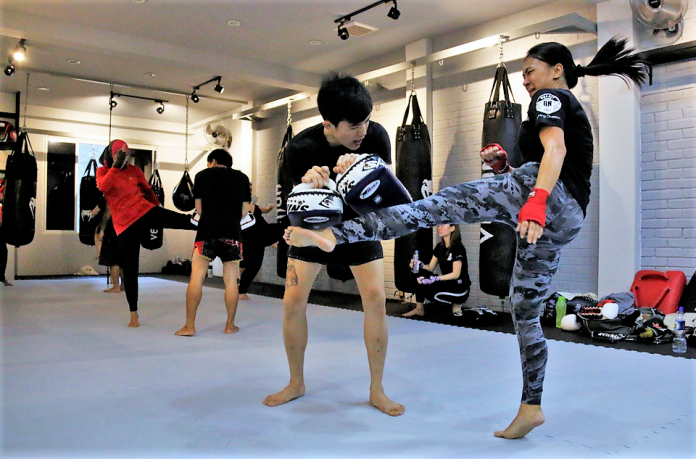 Located on the fourth floor of an ageing Seria Plaza with a creaking elevator, it's safe to say that if you've stopped by Project Mayhem in Belait, it wasn't by chance.
Since opening in 2015, Project Mayhem has slowly built up a loyal following as the district's first home for mixed martial arts; beginning as a single shop lot, before expanding to four.
Yesterday, things were a bit quieter in Seria, because most of its members rushed after work to Kiulap's prime's retail space – Setia Kenangan II – to mark the opening of Project Mayhem's second branch in the capital.
Dressed in a white button-down shirt and black pants, Mayhem's founder, 33-year-old Aaron Lim (pictured main C), has carefully laid out a spread of food and drinks for those stopping by. But as the clock strikes 5pm, he's switched something his members are more familiar; a pair of fighting shorts and a black t-shirt.
"We came down because we really wanted to show our support for Aaron," says Amal Amin, who's been with Mayhem since it's beginning. "He's built this gym and the community – we owe so much to him."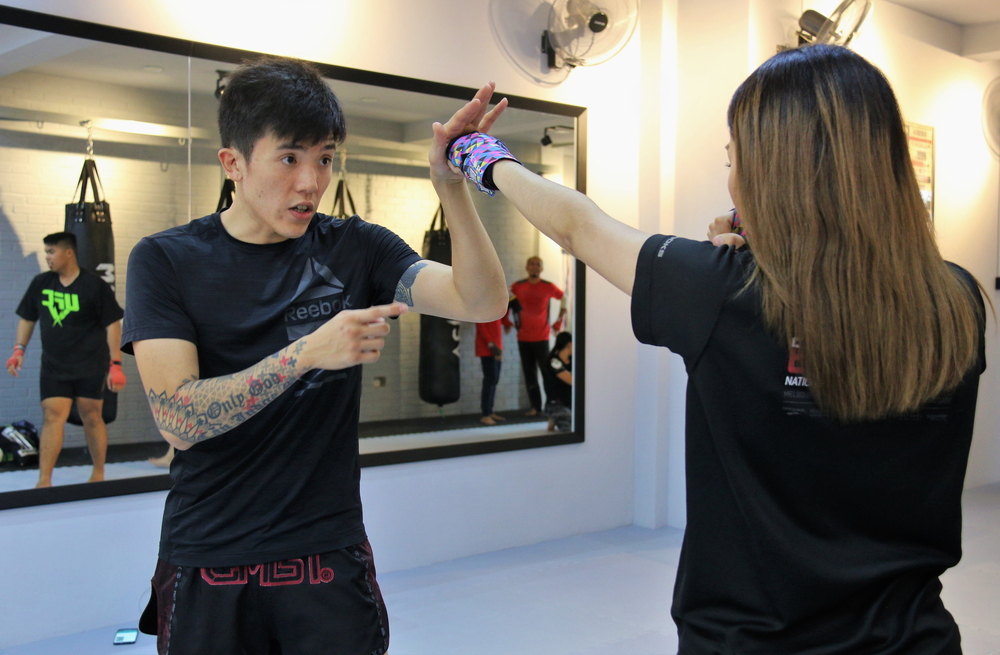 Aaron, who left his corporate job in oil and gas in 2016 to grow Mayhem – and was initially its only trainer – is now hoping to carve out a slice of the Brunei-Muara market that's already populated with martial arts gyms, by focusing on stand-up fighting; specifically Muay Thai.
"To the untrained eye, Muay Thai can just look like a straight-up throwdown," said Aaron, who picked up the art in beginner classes taught in an indoor basketball court in Seria five years ago. He's since competed in eight amateur fights, winning his first pro outing recently – the ISKA K1 Borneo Martial Arts Expo (BMAEX) 60kg title.
"You're striking with eight parts – including the elbows, shins and knees. The more you learn, the small details become apparent; supple movements in sweeping and all the balance and co-ordination required," he added. "We had people traveling from Bandar (to Seria) just to learn, so we want to take the opportunity (to open in Kiulap) to see how much we can grow the community here."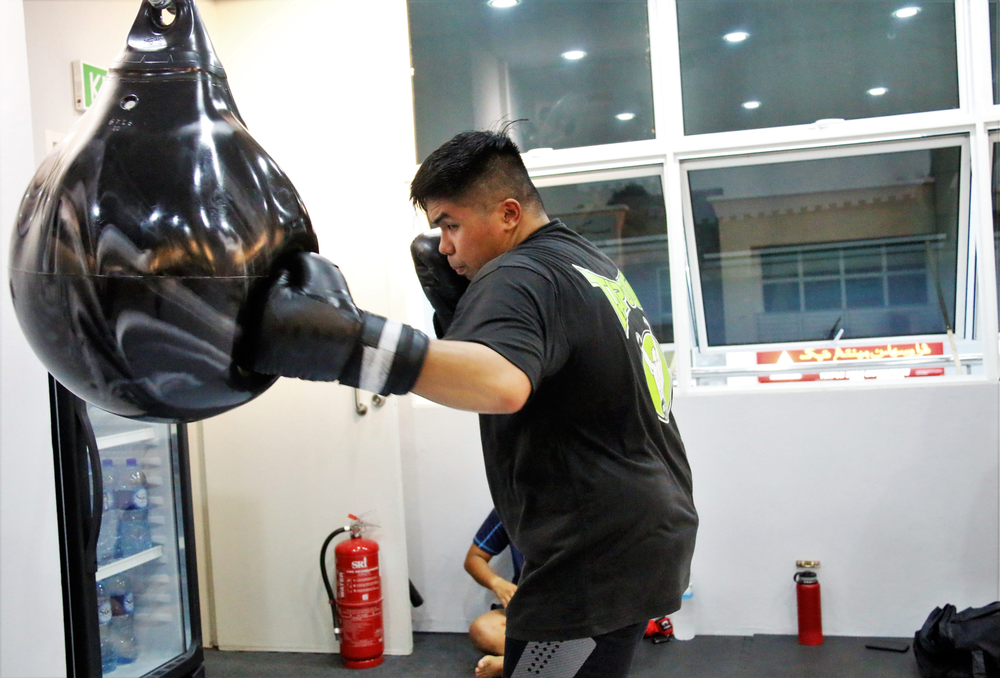 Yesterday's Open Class begins with about 20 minutes of warm-up – skipping, bodyweight exercises and stretching – before the 12 students take turns on the nine striking bags, before honing their punches and kicks with Aaron while he holds up pads.
At least half of those joining yesterday's class are women, and the instruction is tailored from the beginners without experience up to those have been training with Aaron for several years. At 7.30 the Focus Session – gets underway, a more advanced class for those who have completed at least five of the open classes.
Ken (pictured L below), a former national-level Filipino boxer who has also competed professionally in Muay Thai, joins as a second trainer. Aaron had first met Ken up while he was still working in Brunei in construction and found him training in local gyms.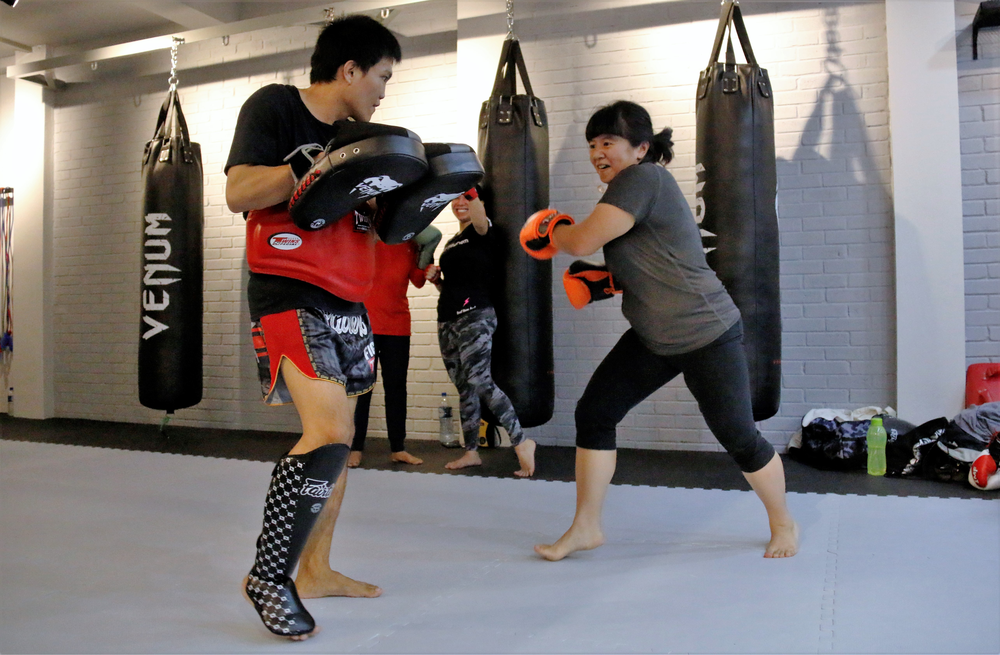 "We managed to get Ken in (as a full-time trainer) last year," said Aaron. "He's made a big difference, because with both of us together we can now offer classes six days a week and offer training seven days a week."
When I last met Aaron in 2016, he said that he would have to return to the corporate world if the gym didn't pan out – he was, after all, attempting to bring to market a service which he wasn't a 100 percent certain there was a long-term demand for. Two years later, he's found that the answer isn't just catering to demand, but also building it.
"We have been working hard to build Mayhem not just as a business, but also a team and a community grows and competes," said Aaron, who will be in the corner of three of his gym members who are eagerly looking to compete in Kota Kinabalu next month.
"33 isn't young for a fighter – and my focus can't be on competing forever. I have to make sure that I am learning and passing on to others."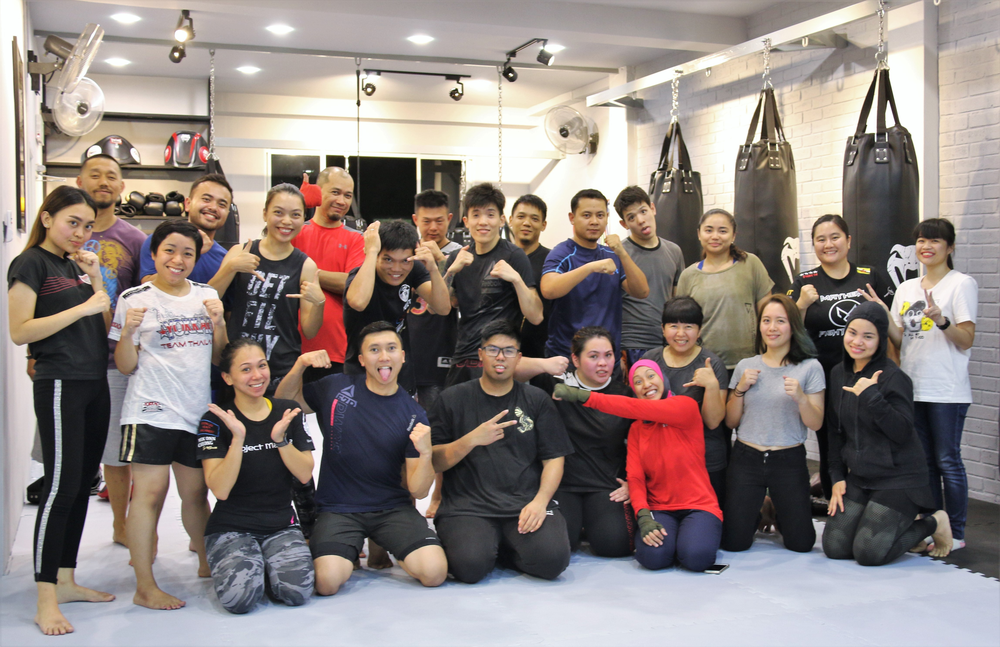 Project Mayhem is located at Unit C8, Block C, 2nd Floor, Setia Kenangan 2 in Kiulap and at Unit 5 35-38a, 4th Floor, Seria Plaza, Jalan Sultan Omar Ali. Drop in classes run Monday to Saturday from 5pm to 9-9.30pm. To learn more follow @theproject_fightclub on Instagram and @projectmayhemboxing on Facebook.