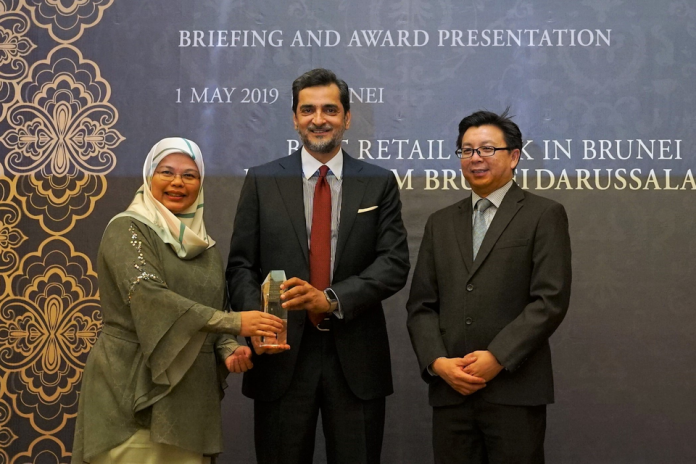 BIBD has won the Best Retail Bank in Brunei for the seventh consecutive year from The Asian Banker on the back off record profits, digitisation initiatives and superior market share.
The Asian Banker's Managing Editor Foo Boon Ping said BIBD has one of the best balance sheets in the region and is expected to place in the top 20 out of 300 retail banks in the Asia Pacific in this year's International Excellence in Retail Financial Services Awards.
"In 2018, BIBD delivered many firsts across remittance and payments and initiated ecosystem partnerships to migrate Brunei to a cashless society," said Foo, who presented BIBD with the award on Wednesday at The Empire Hotel and Country Club.
"Through several initiatives aimed at improving customer experience, the bank was able to improve its 'net promoter score' of 17% while competitors averaged -9%."
BIBD has posted record net profits in 2017 and 2018 amounting to $169 million and $148 million respectively, enabling it to return over 12% in dividends annually to shareholders in the past two years. BIBD has also amassed assets over $10 billion, making it one of the region largest Islamic banks.
BIBD's mobile application – recently rebranded under their digitisation initiative NEXGEN – has 148,000 active users, which Foo says is one of the highest penetration rates for any bank's mobile application in the region.
"Digitisation (in the financial industry) is an ongoing journey that is evolving with new technologies and BIBD has positioned themselves well to tap into emerging opportunities by already having a large mobile banking base," said Foo.
BIBD's Head of Retail Banking Hjh Nurul Akmar Hj Mohd Jaafar said NEXGEN and streamlining has helped improve the bank's efficiency and profitability, with The Asian Banker reporting that BIBD's retail workflow processes are 90% automated.
"Our focus moving forward will be to remain cost-efficient while elevating the customer experience in line with the latest innovations in the banking industry globally," said Hjh Nurul.
The Asian Banker also noted that BIBD is continuing to build on deposits – which it holds more than 50% of within Brunei – by introducing a new certificate of deposit programme called BIBD Aspirasi which awards over $380,000 in prizes annually.