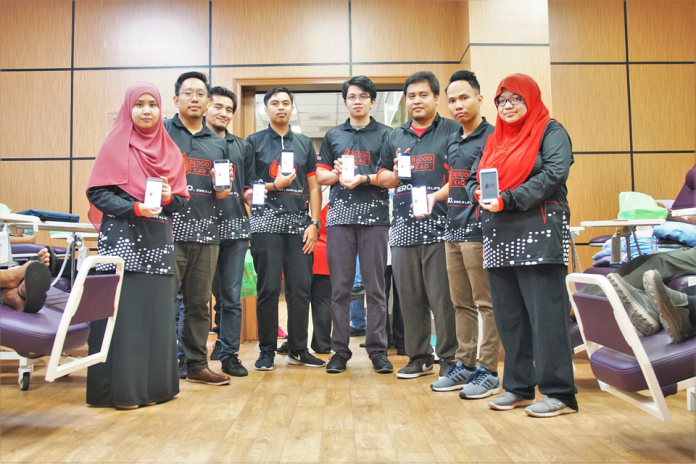 Local IT startup Nextacloud Technologies is hoping to increase the number of blood donations in Brunei by simplifying donor registration and emergency notifications by developing an online system called Bloodkad for the public to use.
Filling a seven-page written questionnaire and declaration has been the standard screening process for new and returning donors looking to donate blood at the Blood Donation Centre and its mobile drives.
Nextacloud's Bloodkad digitalizes the physical form through its website and mobile application, enabling its users to create personalized profiles which can automatically fill the assessment questionnaires for repeat donors.
"If you're a returning blood donor you'll still have to fill in the same (written) form which includes your full personal details," said Nextacloud Technologies' chief marketing officer Hakim Yakob.
"But if you use Bloodkad, your personal details are maintained and your previous answers (to the screening questionnaire) can be copied, making the process as simple as a few clicks, which you can access from your phone or computer anywhere."
Bloodkad has completed two trial phases with the Ministry of Health's support, and has since gained 1,300 users, about half who are repeat blood donors.
Brunei registered 2,973 new blood donors last year, with 16,104 blood donations in total, corresponding to 2.6% of the population donating which falls within the World Health Organization's recommended target of 1% to 3% to meet emergency situations.
Hakim shared that Bloodkad would soon incorporate a push notification system that would alert users of a blood shortage or emergency. The system is currently able to inform users when and where they're next able to donate.
"By simplifying the registration process and giving the latest updates of what's needed, we believe Bloodkad will encourage more people to donate," he said.
CEO of Nextacloud Agus Muslim said that Bloodkad – which previously won at the Brunei Info-Communication Technology Awards – was conceptualized off a social enterprise model during a hackathon in 2015 that encouraged participants to come up with solutions to national problems.
Bloodkad has no plans to charge its users, and while the system is supported and utilized by Blood Donation Centre, it isn't commercially commissioned by them at present.
"Although we hope to run on a (paid) subscription basis with blood banks in the future, it will not be our only revenue model," said Agus. "We are working on getting vendors (private companies) who see value in the potential to reach out to people (blood donors) through the app or during donation drives. This could be in the form of online advertisements, or marketing content and having booths at donation events."
Nextacloud, formerly known as Newgate Plus, are an award-winning IT startup founded by Bruneian youth in 2015 that specializes in IT security, systems development as well as website and app development.
Watch: Bloodkad now available for download
To sign up head over to Bloodkad's website, or download the application from Google Play for Android or the Apple App Store for iOS.
Follow @bloodkad.bn on Facebook and Instagram for the latest updates and contact +6737329817 or +6737136761 to get in touch with Nextacloud directly.