With over 200 businesses showcasing local products and services, the MSME Festival at Bridex is Brunei's biggest expo of local brands. But it's also more than a market access opportunity for businesses and the Brunei public to get to know their brands.
Darussalam Enterprise (DARe) in collaboration with Asia Inc and the Ease of Doing Business Unit (EODB) have lined up a full programme of business talks from March 28 to 31.
With no entrace fees – there's no better place to be in Brunei this weekend to learn about business. Here's a guide on what's on offer.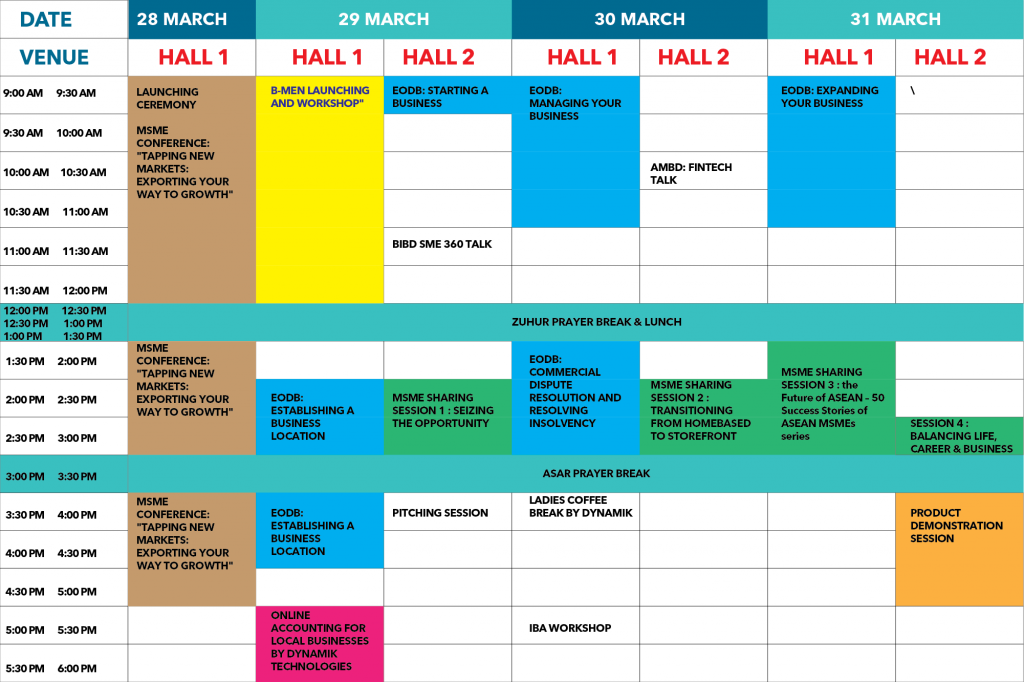 MSME conference – Tapping new markets: Exporting your way to growth
The MSME Festival's flagship conferenc hosted by Asia Inc kicks off at 9.30am on March 28 with Director of Malaysia External Trade Development Corporation's Sabah Regional Office Noor Azian Romlan presenting on the fundamental requirements to export successfully.
At 10.30am, Executive Director for the Asian Trade Centre in Singapore Dr. Deborah K. Elms will share about export opportunities in ASEAN, before a panel session is opened to fruther deliberate on the topic, which includes CEO of Ghanim Dr Nur Rahman will share their experience with exporting bruneihalalfoods.

At 2pm, the founders of Brunei e-commerce businesses Nimanja and Rotuku will be joined by the CEO of Malaysia's 28mall.com Fione Tan to discuss strategies to strengthen export through developing an effective online strategy.
The conference ends with a final session at 3.30pm with a sit down with two entrepreneurs who've built borderless businesses: Christy Ng Shoes from Malaysia and serial Bruneian entrepreneur Keeran Janin who has delved into watchmaking with his latest venture Avantist.
Practical and specific: Processes on starting, running and growing your business
From March 29 to 31, EODB has brought together government and business-related agencies in Brunei to outline the processes and involved in a businesses' lifecycle from registration to insolvency.
EODB's sessions kick off at Hall 2 on March 29 at 9am to 11am focusing on starting a business: covering how to register your business,how to hire your first employees as well the process to get Halal certification. The session resumes later at 2.30pm at Hall 2 to cover the technical approvals required to set up at a commercial space, which include getting electricity, construction permits and registering property.
The next day's session begins at 9am at Hall 1 with a session focused on running your business, with the relevant government agencies covering paying taxes, employee contribution (TAP) and business reporting. DARe will also explain its capacity building programmes which offer a wide range of practical business classes covering financial management to marketing under the Industry Business Academy as well as business bootcamps which help to accelerate business growth through guided courses and consultation over six weeks to three months. At 1.45pm, legal agencies will share how to deal with contract disputes, arbitration and insolvency in Brunei.
The final day of the festival will see EODB focus on expanding your business, at Hall 1, which will cover standards and certifications for businesses to export as well as local requirements for trading across borders. In the same session, Autoriti Monetari Brunei Darussalam will discuss how to use different kinds of collateral to get credit, while DARe and the Ministry of Finance and Economy will share their initiatives to enable market access and promote trade.
MSME sharing sessions
Hear about business growth and the entrepreneurial journeys behind Brunei's budding entrepreneurs through four sharing sessions held from March 29 to 31.
The first takes place at 2.30pm at Hall 2, focusing on seizing on new market opportunities. The founders of Islamic startups Tarbiyyah and Al-Huffaz, Dr. Mona Kassim and Hj Loqman Al-Hakim Hj Hamdan will join the founder of Brunei's own bean bag company Mohd Hafizal in discussing how they leveraged their own unique positions to break through and start their businesses.
On March 30 at 2.30pm at Hall 2, three businesses who've recently made the transition from home to operating from a commercial space will share their experience. The founders of Project Ice Cream, car detailer OCDbn and healthy food takeaway Fuel'd will take the stage.
The following day will see five Brunei MSMEs with digital business models – Nuara Group, Super Squad, AgromeIQ, Nextacloud and DotRoot – discuss their entrepreneurial journeys at Hall 1, 1.30pm in conjunction with their feature in the ASEAN Coordinating Committee on Micro, Small and Enterprises's book: Future of ASEAN – 50 Success Stories of Digitalised MSMEs in ASEAN.
The final day's sharing session will begin at 2.30pm at Hall 2 to talk about balancing, life, career and business. Co-founder of oil and gas company Flux and ASEAN Business Award winner Supa Rania Karwanamurthi will share the platform with the founders of Mexican eatery Ricardo's and homemade furniture business EvCroft.
Launch of Brunei Mentors for Entrepreneurs Network (BMEN)
Brunei's first formalized mentorship platform will also host its official launch at 9am to 11am on March 29 at Hall 1. The Brunei Mentors for Entrepreneurs Network (BMEN) enables new businesses to connect with established Brunei-based business owners and professionals online and offline. The launch will include a forum to highlight how mentorship can unlock new business growth for startups. Rumah Gelato founder Mordeny Hj Modihi is expected to share how his mentorship with co-founder of Bake Culture Nicky Wong helped rapidly expand his business from one to six outlets in under two years.
This article will be updated periodically to include the latest information. To learn more, visit the MSME Festival's website.