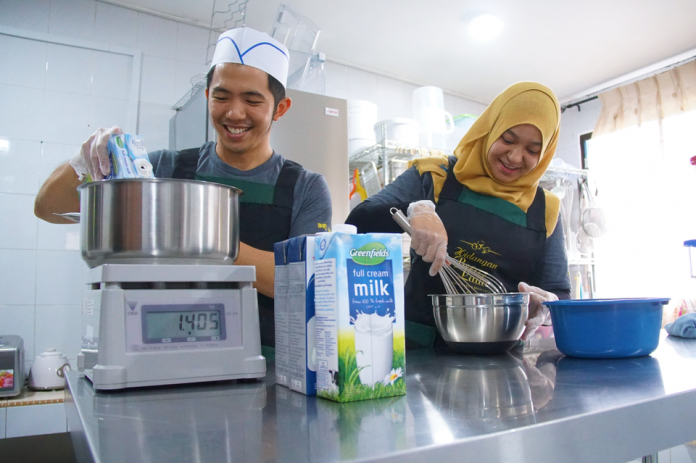 Project Ice Cream – it's about as direct and self-explanatory as a name can get for an experiment turned business lead by two fresh-faced engineering graduates Kevin Lim and Siti Norasyikin Hj Kariya.
Schoolmates that later became classmates when they entered the O-Levels science stream of Sayyidina Husain Secondary School, Kevin and Syikin share a natural chemistry and combined with their curiosity and precision, have developed over 20 flavours and opened up five channels for Project Ice Cream to make sales.
"Project Ice Cream is about making ice cream that's as wholesome and natural as possible," says Kevin, 27, as he pulls out cartons of milk and cream, while Syikin begins cracking eggs to separate the yolks.
In a building extension outside Kevin's house in Kg Pasai, Sengkurong, Project Ice Cream's production is underway.
The extension might only be the size of a bedroom, but the renovation to outfit it as a fully-functional kitchen earlier this year cost Kevin $10,000, funded largely through his savings working as a barista at a local coffeehouse after graduating with a degree in petroleum engineering from USCI Malaysia in 2016.
It has proved to his most indispensable asset, upholding supply to their scooping station at The Bloom Project in Citis Square, Taniem Minimart in Gadong, delivery orders, private caterings and as of last week, their first storefront in Kiarong.
"Instead of using pre-mix powders, we use whole milk and cream; to stabilize the ice cream we use the egg yolks over xanthan gum, and to sweeten we use unrefined (brown) sugar," says Syikin.
"We don't use any food colouring, and we also make the ingredients like cookies and honeycombs that go with the different flavours of our ice cream."
The 26-year-old has been Kevin's only other full-time production partner since she finished her final year assessment for her degree in civil and structural engineering from Universiti Teknologi Brunei in July.
The pure milk-cream mixture is then gently pasteurized over the stove and is kept at 70 degrees Celsius, while the yolks, beaten with brown sugar are added in. Since this batch is milk ice cream, no other additives or flavorings are needed, and it's simply left to cool for slightly under an hour, then kept in the refrigerator overnight.
The next day, Kevin and Syikin begin the process of churning, which simultaneously freezes the chilled mixture while aerating it to create a smooth, fluffy texture; limiting the number of icy crystals that form within.
The machine responsible is an Emery Thompson CB-350, which boldly brandishes a 'Made in U.S.A' nameplate next to its power switch. With shipping, the CB-350 – no larger than a standard photocopier and weighing over 100 kilogrammes – costs $18,000.
It's power requirements are unique, repeatedly tripping electricity to Kevin's house when he first tried to install it, until he called an electrician in who resolved it by connecting it to a different switchboard.
"The CB-350 has been a game changer for us," says Kevin, who was previously using small appliances designed for making ice cream for personal use. "We are now getting true professional quality and production. And it's all thanks to Naufal."
Earlier this year, Ahmad Naufal Hj Mohd Taib, Kevin's housemate back in KL, gave him a call asking to meet up after he returned from his offshore duties where he works for a multinational oil and gas company that services Brunei Shell Petroleum.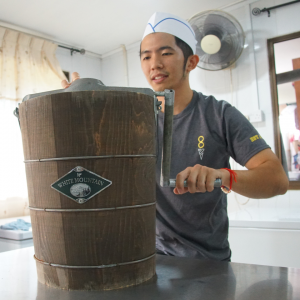 "He had no idea about Project Ice Cream at the time," says Kevin, who had similar aspirations like Naufal to work in Brunei's oil and gas industry upon graduating.
"I told him that the job hunting (in oil and gas) wasn't going so well, but that in my downtime I had picked up this new skill that I learned online; making ice cream."
To Kevin's surprise, Naufal put his faith in Project Ice Cream almost immediately, backing Kevin with the funds to secure the CB-350.
Project Ice Cream's initial breakthrough came at their first Ramadhan pop-up event Sahur Saturday earlier in May – about seven months after Kevin made his first sale through Instagram.
Delivery orders and caterings to private events for clients like Royal Brunei Airlines came shortly after, and in August 2018, Naufal and Kevin decided to partner to secure a half-sized unit in Kiarong which was advertising a rental rate below $1,000 monthly.
While their storefront was under construction, they began supplying to Taniem Minimart in September and The Bloom Project in October. Overwhelmed by producing, delivering and handling all the sales and marketing, Kevin and Syikin decided to hire three others to handle their frontline, while they focused on beefing up production.
"The most sales (doing delivery before our store) was $300 in a day, but the problem was we couldn't hit those numbers every day, because one day would be production, the next, doing delivery – it was a struggle to get all of it running simultaneously," said Kevin.
In the last few years, Brunei has seen its own homegrown brands of premium ice cream beginning to establish themselves. Rumah Gelato now has four outlets, while Happy Cream supplies to Supa Save and also operates out of The Mall.
The Project Ice Cream team are relishing the opportunity to carve out their own slice of the market, and sales at their Kiarong will be their benchmark to evaluate any future expansion plans.
"Now we are still gaining back the investment we put in," answers Kevin with a polite smile, when asked about what the future holds.
In an increasingly saturated job market with thousands of graduates competing with similar degrees, Kevin and Syikin's decision to re-tool themselves with a new skill is a simple – yet meaningful – lesson in what it truly means to make the most out of a challenging situation.
"It's surreal thinking back how we all started," adds Syikin, who has been appointed by Kevin as production manager. "We are not really sure about the future plan, but when the opportunity comes we will grab it as soon as we can."
Watch: Kevin and Syikin making fresh ice cream
Project Ice Cream's Kiarong branch is located at Unit B, Ground Floor, Hj Zakaria H.M & Howsten Building, Spg 181-22, Kg Kiarong (opposite Baiduri) and opens from 11.30am to 8.30pm.
For the latest updates follow @projecticecream.bn on Instagram and contact +6738826833 to get in touch directly.