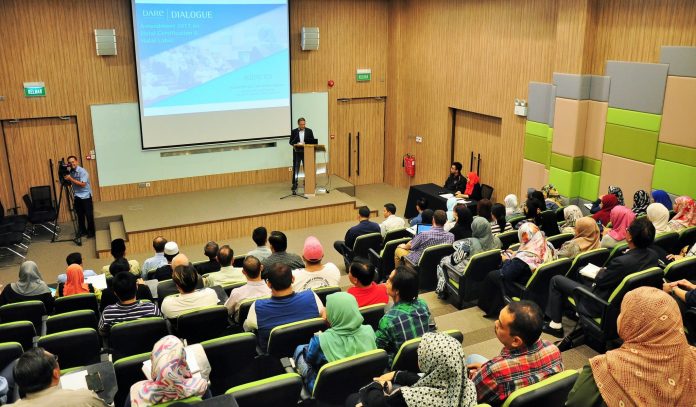 The Halal Certificate and Halal Label Order – which covers the legal framework for Halal certification in Brunei – was recently amended earlier in May, and carries several important changes for the food and beverage industry, as well as opening the door for newer industries such as beauty and cosmetics to obtain certification.
Yesterday evening, at the Design and Technology building, Darussalam Enterprise (DARe) hosted a dialogue for the Ministry of Religious Affairs (MoRA) to answer questions about the amendments from the business community, and how it will impact business operations.
In case you weren't able to attend – here were the main points covered.
What do the amendments cover?
All orally consumed products – food, drink, medicine and supplements – that are sold or served to Muslims in Brunei have to obtain halal certification.
If you prepare, cook and serve food on your site – like a restaurant or cafe – you will require just the Halal Certificate.
If you manufacture and produce products for the purpose of supply and distribution, you will require the Halal Label which is also known as the Halal Permit.
Unlike the Halal Certificate, which covers whatever is prepared and served in a single entire premise, the Halal Label only applies to an individual product.
If you have ten different products therefore, you will need ten labels. Examples of businesses needing labels would be bakeshops supplying to supermarkets, chilli sauce produced in a factory and even packed food sold in cube stores.
Cosmetics and pharmaceutical products that aren't orally consumed can now also be certified with a Halal Label – however for these the procedure is voluntary.
What happens if you don't comply?
Failure to apply Halal certification within the grace period comes with a fine up to $8,000 and/or two years in jail.
The grace period is November 26, 2017 for businesses that have been up and running before May 26 (the date of the new order's implementation). Newly registered businesses after May are given a six-month grace period to apply or initiate their application.During the grace period, these businesses are allowed to operate as usual.
How do I apply?
The first step is to obtain the application form from the counter at the Halal Food Control Division at the Department (BKMH) of Syariah Affairs under MoRA located opposite the Sultan Omar Ali Saifuddin Mosque in the capital or the MoRA branches in the other three districts.
Applicants must have two full-time Halal Supervisors – technically anyone working on the premise – in order to get a certificate or permit. These supervisors need to be above 18-years-old and Muslim. If the owner or applicant is a Muslim, then the owner is eligible to be a supervisor.
However only one has to be on-site at all times.
Once the application is submitted, the supervisor will be called in for a test. After, an on-site audit will be conducted. Once everything checks out, the application goes for review before it is approved by the Brunei Islamic Religious Council (MUIB).
What's required for the application?
How long does it take?
If the criteria and steps above are fulfilled without much need for change, the process takes 45 working days.
How much does it cost?
$90 for the Halal Certificate, and $50 for the Halal Label (per product). The Halal Certificate has a validity of three years; the Halal Label will continue to be valid until the ingredients or preparations are altered.
MoRA clarified that the $50 fee for the Halal Label is currently being reviewed with the possibility of being reduced.
What about home businesses? Do you need a separate kitchen?
The order applies to any business producing items for the purpose of sale. According to MoRA, you will not necessarily need a separate kitchen, but there needs to a partition or separation within the kitchen that clearly establishes it for business use.
"As long as you can provide a place that is separated from your daily use specifically for your business, where you have sufficient room to process," said scientific officer at BKMH Hadilah Hj Abd Manaf. He added that businesses should also make ingredients that do not cross lines and are kept clearly separate.
How do I know the ingredients I use in making my product are Halal?
The most straightforward way is checking for a Halal label from its origin country. For those with no obvious label, businesses are advised to check the ingredient profile, before making an educated decision whether to use the product.
These ingredients (with no obvious Halal label), once submitted in the application as being used to make your product, will be reviewed by MoRA.
"If there are no alternatives to the ingredient(s), we will try some other way such as sending it for lab tests and see how it goes with the results. Or we could ask for other documentation like a process flow chart of the product or a declaration that it was not made with things such as alcohol," said Hadilah.
Do businesses with branches need individual certification for each?
Yes each premise must have its own certificate – the certificate for one branch cannot be copied and displayed to other branches. MoRA clarified that the application period for businesses applying for their second or subsequent certification  – especially if the menu is similar – would be relatively quicker than the period for first time applicants.
What about non-Muslim businesses?
The exception for the certificate and permit are for businesses looking to serve or distribute non-Muslim products. However they are now required to apply/notify the Halal Food Control Division under the Ministry of Religious Affairs to be exempted through a letter.
They will be required to fulfill certain requirements including a declaration that they are only serving food for non-Muslims and will forbid Muslims from partaking food from the premises.
Businesses with questions can contact BKMH's hotline at +6732242570/71 ext 113 or 2242566/67 ext 113 or email bkmh@mora.gov.bn. For more information on the application process, visit www.kheu.gov.bn or contact the application hotline