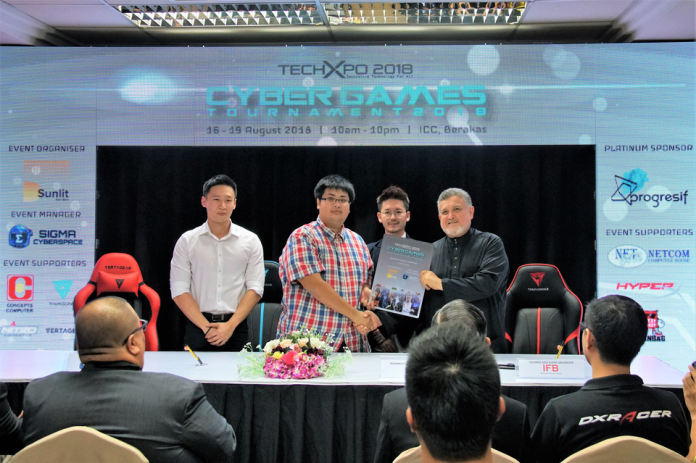 Sigma Cyberspace is hoping to draw hundreds of gamers from Borneo to contest seven PC, console and mobile games with $15,000 in cash prizes at the upcoming Technology Expo (TechXpo) Cybergames Tournament this August 16 to 19 at ICC.
Director at Sigma Winston Ang – a Bruneian cybercafe based in Sengkurong – said the event has already received interest from gaming communities in Sarawak and Sabah to participate, as it looks to be the "biggest edition yet" of the cybergames at TechXpo, which was last held in 2015.
"We hope to put Brunei eSports on the map and identify the best gamers in the country with this event," said Ang earlier today at the Cybergames signing ceremony at D'Sunlit's office in Beribi. "We are also positive that we will draw players from East Malaysia who see Brunei as a middle group before going over to compete in West Malaysia. With the support of the sponsors, we are expecting a very exciting tournament."
The largest cash prizes will go to the PC Games totaling $4,264 for CS:GO; $2,864 for the League of Legends and $1,964 for DOTA. The mobile game Rules of Survival will have a pool prize of $1,750 and 17,000 game diamonds, while Mobile Legends has $1,800 up for grabs. PS4 console games FIFA 2018 and Tekken will receive $1,164 respectively.
Ang said that PC games would be $60 a team to register, $40 for mobile and $30 for console, adding that the winners of the Cybergames would position themselves at the forefront of Brunei's eSports scene, opening up opportunities to represent the Sultanate regionally.
"Through the TechXpo Cybergames will be able find and showcase the gaming talent in Brunei, who can potentially go onto compete regionally," said Ang, whose company is leading the games' event management.
Ang added that while registrations were open to everyone, there are likely to be preliminary rounds for PC games at Sigma Cyberspace to select the final competitors for the Cybergames. At least 16 competitors or teams are targeted for each of the seven games.
TechXpo is IT-focused trade and consumer fair organized by InfoCom Federation Brunei, a non-profit body dedicated to growing the ICT industry in Brunei. D'Sunlit, the appointed event organizer, is targeting a 100 companies to participate in the expo, which will be held at ICC's Plenary Hall.
Signing behalf of IFB earlier today for the TechXpo Cybergames was its chairman Sheikh Hj Abas Sheikh Mohd, while D'Sunlit was represented by its business development manager Gavin Chai.
Progresif Cellular will be the Cybergames' platinum sponsor, along with event supporters Netcom Computer House, HyperX, Concepts Computer and Feezy Beanbag Company.
Click here to access the registration form. For the latest updates follow @SigmaCyber on Facebook and @sigmacyberspace on Instagram.