Brunei-based business directory Mahigo is offering free registration and promotions to all new vendors as part of their ongoing onboarding campaign.
Since launching earlier this year, Mahigo has onboarded over 200 local businesses with over a thousand listings on their website, which is positioned as a business directory with value-added services including the ability to list product and services, message with customers and advertise specific promotions.
Mahigo co-founder and manager Adib Hassan – who started the business with two other close friends – said their website aims to help customers find Brunei businesses more seamlessly.
While most Brunei businesses do have social media accounts today, the ability to search for specific products or service providers online is still lacking. "With social media, you have to know the name of the business to be able to find them," he said.
"What we've found is that sometimes you want a specific product or service, but don't know who is selling them or where to find them. This is where our online directory comes in, where you just select the category or type in the item or service you're looking for and you can find the sellers."
Adib believes that once Bruneians are able to find the business selling the product or service they want, concluding the transaction is straightforward: WhatsApp is often used to communicate and payment can be done through bank transfer.
Mahigo's website therefore focuses on listing businesses and their offerings without online transactions.
"Mahigo aims to fill that gap in discoverability and searchability of Brunei businesses. By creating your own vendor page, you can list branch locations, operating hours, products, social media handles – functioning almost like your own website but at minimal cost," he added.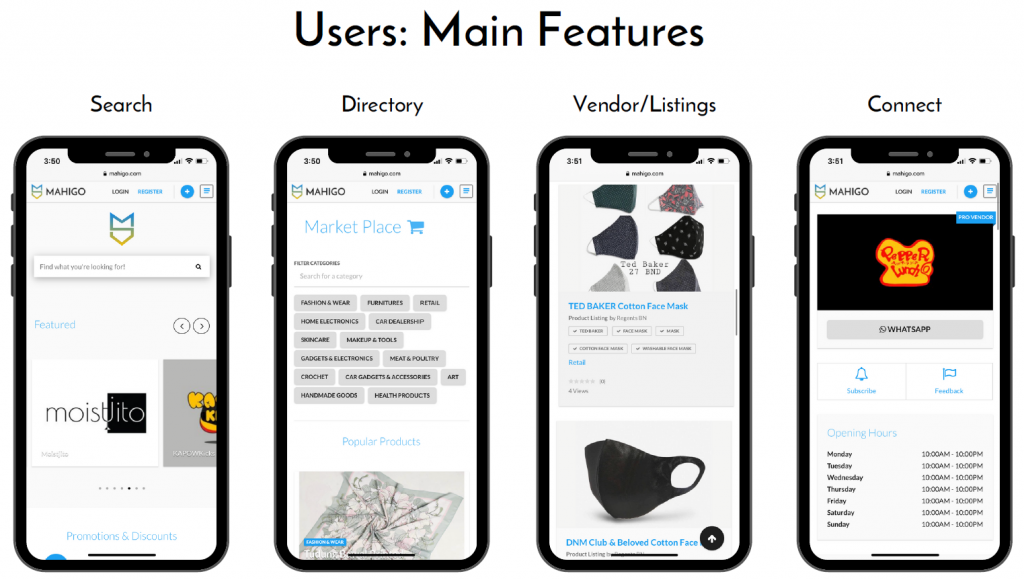 Mahigo's categories include different types of food and beverage; products including fashion, electronics and furniture; and services including delivery, photography and construction.
Mahigo is free for customers to use either as a general visitor or as a registered user account which enables you to communicate with vendors through the website and save specific businesses and their promotions.
For businesses, Mahigo has three tiers of subscription of increasing value: Free, Basic ($19.99 a month) and Pro ($29.99 a month).
The Free package enables the business to list their profile, be reviewed and view visitor analytics.
Adib said they are currently running a promotion offering a 12-month subscription to their Basic and Pro packages for free.
The Basic offers the standard capabilities plus direct messaging capability and posting of live announcements. Meanwhile the Pro package has all these functions as well as capability to list products, services and promotions.
"In the future, (paying) subscriptions of the Pro and Basic packages will also be highlighted more in the featured section of the homepage as well as in posts on our social media."
The co-founder added that their dedicated media section also offers vendors photography, videography and graphic design services for their products, services and promotions.
These are done based on custom requests by registered vendors.