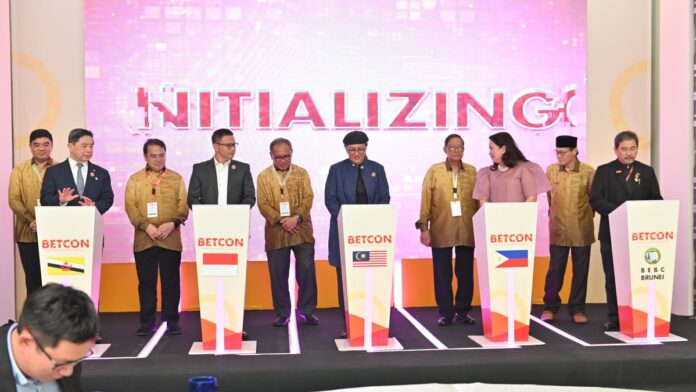 The BIMP-EAGA Trade Convention (BETCON) 2023 is currently underway, bringing together more than 200 businesses from Brunei, Indonesia, Malaysia, and the Philippines at Bridex from October 25 to 29.
With the theme "Connecting Businesses," BETCON is organized by the Brunei BIMP-EAGA Business Council (Brunei BEBC), representing Brunei's private sector in the Brunei-Indonesia-Malaysia-Philippines East ASEAN Growth Area (BIMP-EAGA), an intergovernmental economic cooperation program.
Held in conjunction with Brunei's chairing of the 26th BIMP-EAGA Ministerial Meetings and Related Meetings, BETCON aims to address the calls from sub-regional leaders for the private sector to take a prominent role in leading post-pandemic recovery in trade, tourism, and investment.
BETCON is divided between two halls: Hall 1, featuring a marketplace showcasing local SMEs, and Hall 2, which hosts a more business-to-business (B2B) focused exhibition with a pavilion for each of the sub-region's countries. The industries targeted align with BIMP-EAGA's five strategic pillars: connectivity, food production, tourism, environmental sustainability, and socio-cultural and educational initiatives.
The event features a full schedule of business forums and roundtable discussions on regional developments and opportunities alongside business matching sessions.
During his keynote address, Minister at the Prime Minister's Office and Second Minister of Finance, YB Dato Seri Setia Dr. Awg Hj Md Amin Liew Abdullah, highlighted BETCON's significance, given the increased investment and economic growth in the region. He emphasized that the event offers an opportune platform for business professionals in the region to network and explore opportunities.
Sharing BIMP-EAGA's progress from 2021 to 2022, the minister said the region's trade balance has improved from US$70.2 billion to US$84.8 billion, with foreign direct investments increasing 46.7% to US$19.9 billion, while domestic investments grew 19.3% to US$8.7 billion. Tourism is also seeing a full recovery with annual arrivals increasing 137.3% to 114.9 million from 48.4 million.
Infrastructure investment has also tripled from 57 projects in 2017 to 129 projects this year, amounting to US$ 38.87 billion.
The official launch of the event yesterday saw the signing of seven business and cooperation agreements for the BIMP-EAGA market.
Memoranda of Agreements were signed for the following collaborations:
Indonesia-based agricultural products manufacturer, PT Sterily Halal International, partnered with the local poultry farm, Riza Fudhlana Farming, to cooperate in the fields of health, agribusiness, and fisheries.
Malaysian snacks producer, Hong Xin Food Sdn Bhd, entered into an exclusive distribution agreement with Hui Huang Enterprise in Brunei.
Memoranda of Understandings were signed for the following agreements:
Local sauce and cracker producer, Sahamada Corporation Sdn Bhd, inked a deal to distribute their products through RNF Trading in the Philippines.
Sabah beverage producer, Life Water Marketing Sdn Bhd, secured agreements to supply their products to Syarikat Perniagaan Muneera in Brunei and JS Jaya Sdn Bhd in Sabah.
The Federation of Brunei Malay Entrepreneurs and the Palawan Economic Development Council of the Philippines forged a strategic partnership to drive industry developments.
Brunei's El-Abqari Travel Tours Sdn Bhd and LDA Labuan Holding Travel and Tours joined hands to promote Islamic and halal tourism in the EAGA region.
BEBC and Gallop Air initiated collaborations for air connectivity and cargo shipment in the EAGA region.