Background lights fade as the spotlight intensifies, panning to a young man as he takes centre stage. Nerves.
Wearing a loose green shirt that drapes over his slight build, he crosses his arms gently as he sizes up the sold out crowd for TEDx Gadong at the Design and Technology Building's auditorium in Kampong Anggerek Desa.
"Hello everyone," says the 23-year-old politely, as he begins to share how he first stumbled upon design. "I was 16, at home, in my underwear playing The Sims." As the ensuing laughter breaks the ice, he begins to open up his arms. Wai'z is ready for his first public speech.
Unless you are intimately connected with interior design in the Sultanate, the name of Wa'iz Maidin will not ring any bells. But chances are – you've already been in a store designed by him.
Ask for the trendiest spot in the capital for retail and dining, and many throw Kiulap's Setia Kenangan II into the mix. With open walkways on its upper floors and glass panels that wrap the corners of each building, its exterior is certainly different to the standard shop house in town.
It's inside however, where Wa'iz has worked his magic. Five of the area's outlets – Letterbox, Potters, Pelicana, Nollybook and Sate House have been designed by WM Design and Construction – whose sole employee is its founder, Wai'z.
Humble, and looking younger than his age, Wa'iz isn't the archetype of a seasoned designer that boasts a savvy pitch. But make no mistake – he isn't here to make up the numbers. He's here to win.
Taking on established companies and designers, Wa'iz has racked up a portfolio of more than 10 commercial projects – all while still in university. But he shies away from descriptions of prodigy or innate genius, insisting that it's through repetition, trial and error, that he's been able to wedge his way into the forefront of the designing community.
"There isn't a substitute for experience," he says. "You hardly ever get things right the first time. So the earlier you get started the sooner you can come up something."
The youngest of seven, a little more was always expected of Wa'iz growing up. Son to a contractor of modest means, conversations about buildings and construction always found their way to the dining table. But so did Wa'iz's education; he shouldered his parents hopes of having a kid who graduated from university.
Formal education rarely piqued Wa'iz's interest however, and academic achievement didn't carry the fulfillment he imagined it would. Instead it was the discovery of an online 3D design software that proved to be his turning point.
"I would spend hours playing The Sims after O-Levels," he recalls. "But after a while, the designing element wasn't enough. I began searching for something more challenging. And then I stumbled on Google SketchUp."
Most nights were spent watching design tutorials on YouTube, and he continued to dabble and experiment even after enrolling into sixth form. "I kept the designs mostly to myself the first few years," he said. "I didn't know if anyone would be interested and moreover I didn't know how to go about implementing them."
A few weeks after sitting for A-Levels, he seized an opening to join his friend's studio where he earned a few hundred dollars a month.
"This was the first time I had the chance to turn what I drew up on the computer screen into reality," he said. "And that's when I discovered what being a designer truly means."
Wa'iz would get fancy on SketchUp with elaborate designs – but businessmen weren't keen. Their concerns weren't just style. They questioned if the materials needed were affordable or even available locally.
"That's the missing gap that only experience can provide. You can go overseas, study at a great university, but it's only on the ground that you'll learn how to balance price, style and practicality," he said. "Every client has a budget – and you've got to find a way to make it work."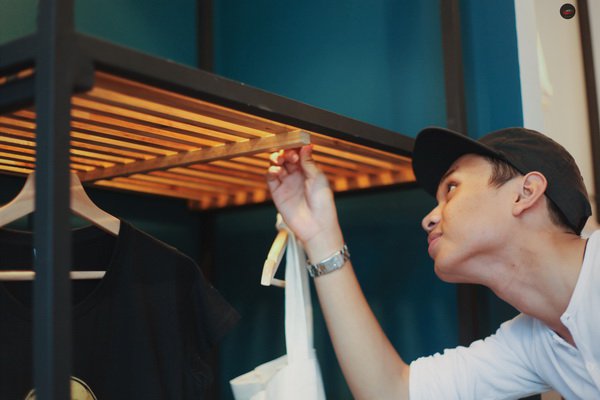 The studio he plied his trade for was one of the first to bring the industrial, rustic look trending abroad. Contrasting natural, wooden materials with metals and polished cement floors, it soon became the standard for hip breweries and antiquated stores.
"It's warm, cozy and inviting," said Wa'iz. "At the same time it's affordable and can be done in a relatively short time frame."
Wa'iz and his partner went on to design High Frequency café, the first Paddington Pancake outlet in Berakas, and even completed work at a five-star establishment – Radisson's restaurant Tasek Brasserie.
Wa'iz increasingly sub-contracts the construction of his design at the clients' requests, and is now envisioning a future where his company will do both.
In the past four years, Wa'iz has squeezed site visits, meetings, phone calls and classes all across a single day. It is only in the late evenings that he is left undisturbed, able to perfect his designs as he works into the wee hours of the morning.
The workload has admittedly affected his university grades, and as he enters his final semester majoring in Creative Arts and Technology, Wa'iz has his work cut out for him if he is to finish strong.
"I must do my parents proud by finishing this degree," says the 23-year-old, who already has companies knocking on his door to offer him a job. "Then I will take WM Design and Construction to the next level."
His vision: a company that will design, build and even take on projects abroad. Judging from the interest of a former client eager to partner with him for a project in Kuching – these goals aren't as farfetched as they first seem.
"I think there is a growing recognition of the power of interior design," he says as we wrap up our conversation over coffee. "Soon as you step through the doors of this café – you are the audience to this space. And the design within it can shape our mood, affect our thoughts, impact our interactions.. and ultimately play a fundamental role in what our experience will be."
Nerves. They don't disappear. But they aren't a match for this 23-year-old's effusive descriptions about character and space.