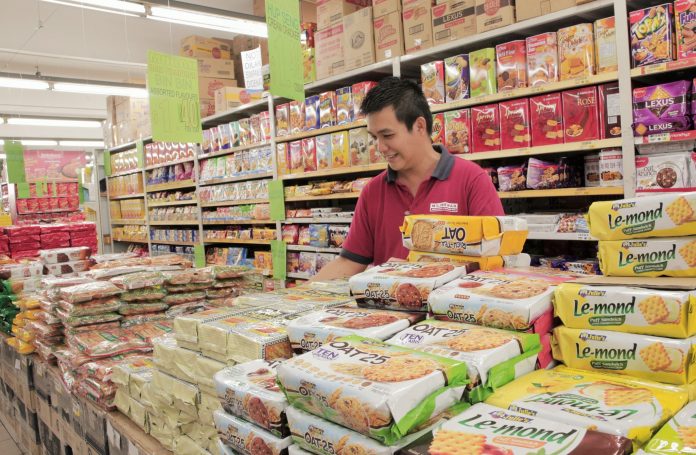 Looking to spend during the December holidays? The Brunei Salebration 2017 (BSb 2017), commencing on 28 November 2017 until 31 January 2018, promises to offer a variety of attractive prices with a minimum discount of 20% for consumers – on at least 50 per cent of displayed items – to enjoy.
A total of 196 companies with 444 branches have committed to join the national sale to date, recording the highest number of company participation in the national sales event, making it their biggest one yet.
The companies participating in BSb 2017 mainly comprise of textile businesses, retail shops, department stores, supermarkets, clothing and footwear stores, house furnishings, equipment and maintenance shops as well as healthy and beauty salons.
The Brunei Salebration is an annual scheduled sales activity with a duration of over 60 days organised by the Department of Economic Planning and Development (JPKE) as part of the government's continuous initiative to promote Brunei as a shopping destination for both locals and international visitors alike.
Through attractive sales events, BSb 2017 also aims to increase local consumption and boost business activities in December, a month where both are indicatively low. Businesses joining the national sale will have a JPKE-issued Participation Notice clearly displayed in their premises to indicate their participation.
The past two years have seen a growth in their participation, with last year recording 178 companies participating and a total of 172 the year before.
JPKE has amended some conditions of BSb 2017 to further facilitate and encourage companies to join the national sale. Companies are now only required to offer discounts to at least 50% of the goods they have on display at their premises instead of the usual 60% before.
Furthermore, it is no longer a requirement for companies to have additional promotions on the remaining displayed goods that are not on sale as required by JPKE last year.
Along with the amendments to the BSb 2017 requirements, participating businesses are given the opportunity to bring in more customers by advertising their sales events in JPKE's SmartConsumer mobile application, an app initiated by their Department of Competition and Consumer Affairs for consumers to notify on sales and discounts activities as well as to allow public to lodge consumer complaints on concerns related to law and regulations related to sales activities and price controlled items.
This year's sales event will also coincide with the Brunei December Festival, a Brunei Tourism Board initiative, to encourage locals to spend their December holidays in Brunei by working with other organisations to organise more than 30 activities for locals and tourists to enjoy.
In support of this, JPKE is encouraging participation of companies in the hotels, transportation services as well as the food and beverages industries to widen the variety of products and services offered, attracting locals and tourists to shop and spend in the country. The full list of participating companies are listed below.
Clothings & Footwears
1
Abd Qadir Sdn Bhd
No. 18, Ground Floor, Block D, Delima Square,
Spg. 82, Jln. Muara, Kg. Serusop, BM
2
Afridi Jaya Sdn Bhd
G27B – G27C. Ground Floor, The Mall,  Abdul Razak Complex,
Gadong, BM
No. 2.39, Ground Floor, The Mall, Abdul Razak Complex,
Gadong, BM
3
Al-Bukhari Sdn Bhd
No. 17 & 18, Ground Floor, Block B, Warisan Complex P.H.N,
Kg. Serusop, BM
No. A3 & A4, Ground Floor, Block A, Tanjung Bunut Palace,
Kg. Tg. Bunut, BM
Unit 8 – 10, Ground Floor, Cities Square, Lot 10293,
Kg. Jaya Setia, BM
No. 13 – 15, Ground Floor, Block B, Berjaya Complex,
Kg. Petani, Tut
Unit F7 & F8, 1st Floor, KB Sentral Shopping Centre,
Jln. Maharaja, Kg. Mumong 'A', KB
4
Al-Fayaaz Sdn Bhd
No. 4, Block F,
Jln. Batu Bersurat, Pengkalan Gadong, BM
No. 19, Block D, Ground Floor,
Spg. 72, Delima Satu, BM
5
Anis Jaya Sdn Bhd
Unit B22, Block B, Delima Jaya Complex,
Spg. 62, Kg. Delima Satu, BM
6
Baglovers Boutique
Unit 2.20, 2nd Flr, The Mall, Abd Razak Complex,
Gadong, BM
7
Bata Store
G37, The Mall, Abdul Razak Complex,
Jln Gadong, BM
Unit 10, Block I, Abdul Razak Complex,
Jln Gadong, BM
G16 & G18, YSHHB Complex,
BSB, BM
No. 8 & 9, Block A, Delima Jaya Complex,
Spg. 62, Jln Muara, BM
34, GFlr, Airport Mall,
Kg. Jaya Setia, Mukim Berakas 'A', BM
G71, Giant Hypermarket Tasik Rimba,
Kg. Rimba, Gadong, BM
No. 56, Jln Pretty, KB
8
Beautiful Life Company
Unit 3.16, 3rd Floor, The Mall,
Gadong, BM
Unit 2.51, 2nd Floor, The Mall,
Gadong, BM
Unit 3, Ground Floor, Yong Siong Hai Building,
Gadong, BM
9
Bebeland Trading Company
Unit 2-5, Ground Floor, Block A, Shakirin Complex,
Kg. Kiulap, BM
Unit 1 & 2, Block C, Pelangi Complex, Lot 7302,
Kg. Delima Satu, BM
10
B.Foot Sdn Bhd
Unit G20, Ground Floor, Times Square,
Spg 13-29, Jln. Berakas, Kg. Jaya Setia, Mukim Berakas, BM
G30 – 31, GFlr, Giant Hypermarket Tasik Rimba,
Kg. Rimba, Mukim Gadong, BM
Unit 10 (Black Lane), Ground Floor, Block I, Abdul Razak Complex,
Gadong, BM
G-04b & 05, Ground Floor, Abdul Razak Plaza,
Jln. Laksamana Abdul Razak, KM 2, Jln.  Tutong, BM
Lot 2748, Ground Floor,
Lorong Bunga Melor, Seria, KB
No. 26, GFlr, Lot 2747,
Jln. Pretty, KB
G7, Ground Floor, Sentral Shopping Centre,
Jln. Seri Maharaja, Kg. Mumong (A), KB
11
Bingo Sdn Bhd
Unit 1.07, 1st Flr, The Mall, Abdul Razak Plaza,
Gadong, BM
12
Blue Zeal Company
Unit 113B, 1st Floor, Mabohai Shopping Complex,
Jln. Kebangsaan, BM
13
Brunei Store
No. 106, 1st Floor, Mohd Yussof Complex,
Km. 2, Jln Tutong, Mukim Kianggeh, BM
No. 6, Ground Floor, Seri Delima Complex,
Spg.82, Jln. Muara, Kg. Serusop, Mukim Berakas'A', BM
14
Buner Textile Mall Sdn Bhd
No. 1-2, Ground Floor, Bgn. Seri Delima,
Spg. 82, Jln. Muara, Serusop, BM
No. 3, Ground Floor, Block A, Hj Md Yusop Building,
Spg. 88, Kiulap, BM
No. 15-17, Ground Floor, Plaza Abdul Razak,
Jln. Laksamana Abdul Razak, BM
15
Calla Boutique
Unit 33, 2nd Floor, Airport Mall,
Kg. Jaya Setia, Mukim Berakas, BM
16
C'EST Moi Enterprise
Unit L2/13, 1st Flr, Seri Qlap Mall,
Kiulap Commercial Area, Kg. Kiulap, M.Gdg, BM
17
Chong Chin Shoe Store
Shop 1-B, Jln. Pretty, KB
18
Chop Kong Foh
No. 36, Jln. Pretty, KB
19
Creations by Karishma
No. A – 3, Serusop Complex, Spg. 82,
Delima Satu, BM
20
Dainty Boutique and Heatwave Shoes
G.29, Ground Floor, The Mall, Abdul Razak Complex,
Gadong, BM
21
De'iyad Company
No. 2.12, 2nd Floor, The Mall, The Rizqun International Hotel,
Abdul Razak Complex, Gadong, BM
No. 111-113, 1st Flr, Athirah Plaza, Seri Complex,
Jln. Kubah Makam DiRaja, Batu 1, Jln. Tutong, BM
No. 8-10, Ground & Mezzanine Floor, Block A, AnNuha Complex,
Kg. Tanjung Bunut, BM
No. 1-4, Ground Floor, Block A, Home Centre,
Jalan Tutong, Kg. Tanjung Bunut, BM
No. 13, 1st Floor, Airport Mall,
Kg. Jaya Setia, BM
22
D.Euro Fabricsd Sdn Bhd
No. 19-20, Delima Jaya Complex,
Jln. Muara, BM
23
Domani Boutique
Unit 2.50, 2nd Floor, The Mall, Abd Razak Complex,
Gadong, BM
24
First Metro
No. 101 – 104, Chandrawaseh Shopping Complex,
Jln Tutong, BM
25
Firoz Jaya Silk House Sdn Bhd
Unit A2-A4, Blk A, Pg Hj Tajuddin Complex, Kg. Delima Satu, BM
Unit 20-22, Blk D, Delima Square, Kg. Delima Satu, BM
Unit 6-7, Blk C, Delima Square, Kg. Delima Satu, BM
G1, GFlr, Teck Guan Plaza, BSB, BM
No. 3, Block C, Shakirin Complex,
Kg. Kiulap, BM
No. 4, Ground Floor, Hua Ho Shopping Mall,
Kg. Tg. Bunut, BM
No. G1, Block C, Lot 51181,
Kg. Tg. Bunut, BM
26
GEX Sdn Bhd
No. G9, Ground Floor, The Mall,
Gadong, BM
No. G28, Ground Floor, The Mall,
Gadong, BM
No. G10, Block B, YSHHB Complex,
BSB, BM
Kiosk No. 1, Basement, Block B, YSHHB Complex,
BSB, BM
27
GL Extra Enterprise
No. 9, Ground Floor, Block F,
Kg. Tg. Bunut, BM
No. 16, Ground Floor, Airport Mall,
Kg. Jaya Setia, Mukim Berakas 'A', BM
No. 6, Ground Floor, Block A, Delima Jaya Complex,
Serusop, Mukim Berakas 'A', BM
No. 5, Ground Floor, Block J, Abdul Razak Complex,
Gadong, Mukim gadong, BM
No. 11, Ground Floor, Block A, Hj Abd Rahman Building,
Kg. Kiulap, Mukim Gadong, BM
No. 9, Ground Floor, Block A, Berjaya Complex,
Kg. Petani, Tut
No. 16, Ground Floor,
Jln. Pretty, KB
28
Great Future Sdn Bhd @ Vincci
Unit B10, Ground Floor, Shakirin Complex,
Kg. Kiulap, M.Gadong, BM
29
Green & Brown Sdn Bhd
Unit 102 & 115, 1st Floor, Mabohai Shopping Complex,
Spg. 99, Jln. Kebangsaan Lama, Mukim Kianggeh, BM
30
Hijab House Sdn Bhd  (Formerly : Ashfaq Jaya Sdn Bhd)
No. 25, Ground Floor, Citis Square,
Kg. Jaya Setia, BM
31
Hong Textile
G7 – G8, Plaza Athirah,
Jln. Kubah Makam Di Raja, Jln. Tutong, BM
Unit 21, Ground Floor, Airport Mall,
Kg. Jaya Setia, Mukim Berakas 'A', BM
32
Hoon's Collection
Unit 115, 1st Floor, Plaza Athirah, Seri Complex,
Jln. Kubah Makam Diraja, BM
Unit 1.14 & 1.15, Complex YSHHB, BM
Unit 1.05, 1st Floor, The Mall, Abdul Razak Complex,
Jln Gadong, BM
Unit 5, Block C, Lot 4334,
Kg Sengkurong, BM
Unit L2 17 & 18, 1st Floor, Seri Q-Lap Mall, Lot 58170,
Kg. Kiulap, BM
Block E & F, Complex YSHHB, BM
Block C, Bgn. Setia Kenangan, Lot 22083,
Kg. Kiulap, BM
Unit 2-10, Row 544 & 545,
Spg. 72, Jln. Muara, Kg. Delima Satu, BM
Lot 13096,
Kg Petani, Mukim Pekan Tutong, Tut
Unit 10, Lot 7204,
Jln. Pandan 7, Kg. Mumong, KB
33
I Retail Success Sdn Bhd
Unit 108, 1st Floor, Mabohai Shopping Complex,
Spg. 99, Jln. Kebangsasaan Lama, BM
34
I TOP Sdn Bhd
Unit 1.25, 1.26 & 1.26A, 1st Floor, The Mall,
Gadong, BM
35
Jay Wonder Kids World Company @ Baby's Diary
Unit F20, 1st Flr, Time Square Shopping Centre,
Spg. 13-29, Jln. Jaya Setia, Berakas, BM
Unit 2, Block C, Lot 11620, Supa Save,
Kg. Mata-Mata, Gadong, BM
36
Joenah Boutique
Unit 1.40, 1st Floor, The Mall,
Gadong, BM
37
Just Kidding Children's Boutique
Unit 2.48, 2nd Flr, The Mall, Abdul Razak Complex,
Gadong, BM
38
Kofom Textile
G3 – G4, Plaza Athirah,
Jln. Kubah Makam Diraja, BM
Unit 13, Block A, Setia Kenangan,
Kg. Kiulap, Mukim Gadong, BM
G-10, The Mall, Abdul Razak Complex,
Gadong, BM
G20 – G22, Giant Hypermarket Rimba,
Kg. Rimba, Mukim Gadong, BM
G19- G21, Times Square Shopping Centre,
Kg. Jaya Setia, Mukim Berakas 'A', BM
39
La Vanita
Unit 106-107, Plaza Athirah,
Jln. Kubah Makam DiRaja, Jln. Tutong, BM
40
Lemari Enterprise @ Perusahaan Lemari
Unit 1.07, 1st Floor, YSHHBC,
BSB, BM
41
LFT Butterfly Footwear
Unit 1.44, Level 1, The Mall, Gadong, BM
42
Libas Sdn Bhd
No. 24, Ground Floor, Citis Square, Lot 10293,
Kg. Jaya Setia, BM
43
Lili Lingerie
Unit 1.20, 1st Floor, The Mall, Gadong, BM
44
Mable Enterprise
Unit 2.46, 2nd Floor, The Mall, Abdul Razak Complex,
Gadong, BM
45
Mace Enterprise
FCA 3, 1st Foor, Times Square Shopping Centre,
Spg.. 13-29, Kg. Jaya Setia, BM
Unit L2/9, 1st Floor, Seri Q-Lap Mall, Lot 58170,
Commercial Area, Kg. Kiulap, BM
Space Unit FSP 10, 1st Floor, Sentral, KB
46
M.S.B. Enterprise @ Mothercare
Unit 1 & 2, Block B, Pelangi Complex, Lot 7302,
Kg. Delima Satu, BM
No. 2 & 3, Ground Floor, Block B, Shakirin Complex,
Kg. Kiulap, BM
Unit 1 & 2, Pg. Hj. Halus Pg. Abd. Wahab Building, Lot 7268, KB
47
Nazmi Textile Mall
No. 13 – 15, Block B, Kompleks Delima Jaya,
Jln. Muara, Kg. Serusop, BM
Unit 14, Block B, Kompleks Jasa Awam, Lot 53068,
Jln. Muara, Kg. Serusop, BM
Unit 8, 1st Floor, Hua Ho Mall,
Kg. Manggis, BM
Unit 9, Block A, Abdul Razak Complex,
Jln. Gadong, BM
G04, Ground Floor, The Mall,
Jln. Gadong, BM
G1 & G2, Ground Floor, Plaza Athirah,
Jln Kubah Makam DiRaja, BM
G29, YSHHB, BM
Unit 3 & 4, Ground Floor, Block F,
Kg. Tanjong Bunut, M. Kilanas, BM
Unit 2-4, Medan Tanjong Bunut, Lot 3606,
Jln Tutong, Kg. Tanjong Bunut, BM
Unit G-15, Ground Floor, Annajat Complex, Lot 71077,
Kg. Mata-Mata, Mukim Gadong, BM
Unit 11 & 12, Tutong Central Mall,
Kg. Petani, Tut
48
Niceline Shoe House
No. 34 A, Ground Floor, Seria Plaza,
Seria, KB
49
Options Apparel Company
Unit 2.45, 2nd Floor, The Mall, Abdul Razak Complex,
Gadong, BM
50
Parvati Textiles Centre
C5 – C6, Shakirin Complex,
Spg. 88, Kg. Kiulap, M.Gadong, BM
51
Qaisara Dreams Enterprise
Unit 1.26A, 1st Floor, YSHHBC,
BSB, BM
52
Shoelovers Boutique
Unit 1 – 3, Basement Level 1, Hua Ho Manggis,
M.Berakas'B', BM
53
SH – Himco Enterprise
No. 18, Block A, Setia Kenangan Complex,
Kg. Kiulap, BM
54
Serene Company
No. 14, Ground Floor, Block D, Delima Square,
Jln. Muara, BM
55
Sunil's Emporium
B16-18, Sri Aman Complex, Tutong
56
Syarikat Veena's
Unit 16 & 17, Ground Floor & 1st Floor, BlockD, Delima Square,
Jln. Muara, BM
Unit 16, Ground Floor, Block B, Delima Jaya Complex,
Jln. Muara, BM
No. 5, Ground Floor, Block F, Tanjong Bunut Palace,
Kg. Tg. Bunut, BM
57
The Runway Boutique & Tailoring
Unit B10, 1st Floor, Block B, Setia Kenangan 2,
Kg. Kiulap, Mukim Gadong, BM
58
Unistar Company @ Spur
Unit 1.45A, 1st Floor, The Mall,
Gadong, BM
59
Vigee Trading Company
No. 17B, Ground Floor, Darussalam Building,
Jln. Sultan, BM
60
Virgo Boutique and Ladies Fashion Tailor
No. 26, Ground Floor, Awg Hj Ahmad bin Awg Hassan & Anak2 Building,
Spg. 88, Kg. Kiulap, BM
61
Ziznaa Enterprise
Unit 1.05, 1st Floor, Yayasan Sultan Haji Hassanal Bolkiah Complex,
BSB, BM
62
Health & Beauty
63
Cosmobeauty & Perfume Shop
No. 7, Ground Floor, Jln Pretty, KB
64
Dayspa & Jamu Garden
No. 39, 1st Floor, The Mall, Abd Razak Complex,
Gadong, BM
65
D'Moore De Beaute
No. 2, Ground Floor (front portion), Hj Tahir II Complex,
Kg. Sg. Menglait, Gadong, BM
66
Giant TMC (B) Sdn Bhd @ Guardian
Giant Hypermarket, Kg. Rimba, BM
Ground Floor, The Centrepoint, Gadong, BM
Block C, Delima Square, Jln Muara, BM
G26A, Ground Floor, The Mall,
Gadong, BM
Unit G 14A, Ground Floor, Block B, YSHHB Complex,
BSB, BM
No. 7, Ground Floor, Hua Ho Mall,
Jln. Muara, Kg Manggis, BM
Unit B2, Ground Floor, Seri Q-Lap Mall,
Kg Kiulap, BM
No. 6, Ground Floor, Block A, Muara Centre Brunei,
Kg Pekan Muara, BM
No. 47, Ground Floor, Jln. Sultan, BSB, BM
No. 4, Ground Floor, Block E,
Kg Tg Bunut, BM
No. C6, Ground Floor, Block C, Sim Kim Huat Building,
Kg Sengkurong, BM
No. 13, Block B, Kg Kiulap, BM
No. 5, Ground Floor, Block L, Pg Hj Tuah bin Pg Hj Menuddin Building,
Kg Pengkalan Gadong, BM
No. 1, Ground Floor, Commercial Building,
Kg Lambak (B), BM
No. 3, Ground Floor, Block A, Spg 343, Kg Mulaut, BM
Unit G13, Ground Floor, Times Square Shopping Centre,
Spg. 13 – 29, Kg. Jaya Setia, BM
No. 8, Block A, Kg Mata – Mata, Gadong, BM
Unit 20, Ground Floor, Block B, Abd Malik & Anak2 Building, Petani Mall,
Kg Petani, Tut
No. 03 – 34 B, 1st Floor, Seria Plaza,
Seria, KB
No. A3, Ground Floor, Block A, Lim Kui Hong Building,
Kg. Sg. Liang, KB
No. 47, Ground Floor, Jln Pretty, KB
67
House of Cocoa Enterprise
Unit 3.07, 3rd Floor, The Mall, Abdul Razak Complex,
Gadong, BM
68
Li Wan Hairdressing & Beauty Salon
Unit F15, 1st Floor, Time Square Shopping Centre,
Lot 51597, Kg. Jaya Setia, BM
69
M.J.G. Cosmetics
Unit D2B, 1st Floor, Times Square Shopping Centre,
Spg. 13-29, Jln. Berakas, Kg. Jaya Setia, BM
Unit 1.36B, 1st Floor, The Mall, Abdul Razak Complex,
Km. 4, Jln. Gadong, BM
70
P'fection Beauty Concept
No. 7, Ground Floor, Hj Awg Matusin HA Building,
Kg. Kiulap, Mukim Gadong, BM
71
Skin Concept Company Sdn Bhd
Unit 2, 1st Floor, Block C, Shakirin Complex,
Kg. Kiulap, Mukim Gadong, BM
72
Shop @ Lisa Sarah's
Unit L2/5 & 9, 1st Floor, Seri Q-Lap Mall,
Kg. Kiulap, Mukim Gadong, BM
73
Unistar Company @ Missha
Unit 1.45, 1st Floor, The Mall,
Gadong, BM
74
Wan Lin Trading Company @ Skin Food
Unit 7, Basement Level1, Hua Ho Mall,
Kg. Manggis, BM
Unit 7, Ground Floor, Hua Ho Mall,
Spg 1287, Jln. Tutong, Kg.Tg.Bunut, BM
Unit G9, Ground Floor, Times Square Shopping Centre,
Spg 13-29, Jln. Berakas, Kg.JayaSetia, BM
Unit 3.10B, 3rd Floor, The Mall Shopping Centre, AbdulRazakComplex,
Gadong, BM
75
Winna Diana Beauty Salon
 No. 1 – 5, 1st Floor, Hua Ho Mall,
T.Bunut, BM
House Furnishings, Equipments & Maintenances
76
Al-Hikmah Interior Décor Sdn Bhd
No. 3 – 4, Block A, Sutera Complex,
Spg. 68, Kg. Delima Satu, BM
Unit 7, Block A,
Spg. 68, Jln. Muara, Kg. Delima Satu, BM
Unit 10, Block F, Ground Floor, BD 4C & 10,
Jln. Tutong, Kg. Tg. Bunut, BM
Unit 10-11, Block A, Jln. Penyurat Haji Abu Bakar,
Spg. 59, Jln. Sg. Basong, Kg. Bukit Bendera, Tut
77
Arabesque Furniture
(Arabisc Collection Sdn Bhd)
No. 13, Bangunan Nur Baqiah,
Spg. 1530, Jln. Tutong, Kg. Sengkurong, BM
78
Ausons Interior Furnishing Company
B9, Ground Floor, Block B, Shakirin Complex,
Spg. 88, Kg. Kiulap, M.Gadong, BM
79
Bellavista Lifestyle & Furniture
Unit 9 – 14, Spg. 116, Jln. Delima Satu, BB4713, BM
80
Brupars Jaya Enterprise Tailoring (Brupars Sdn Bhd)
Unit 1, Hajah Marianan DH Wahab Building,
Kg. Petani, Tut
81
Cinnamon Home Décor & Gift Shop
No. 1, Block F, Abdul Razak Complex,
Jln. Gadong, Mukim Gadong, BM
82
Chop Kim San
Lot 14050, Jln. Gadong, Kg. Beribi, BM
Lot 22075, SPg. 88, Kg. Kiulap, BM
Lot 705, Kg. Salar, Mukim Mentiri, BM
83
Cinnamon Home Décor & Gift Shop
No. 99C, Jln. Mc. Kerron, KB
84
Court Pioneer Company
Unit 1 – 6, Lot 28052, Kg Kiulap,
BSB, BM
Unit 10 – 13, Bgn. Awang Hj Ibrahim, Lot 6452,
Spg 38, Jln. Jerudong, Mukim Sengkurong, BG3122, BM
Unit 1 – 4, Lot 7930,
Kg. Kilanas, Mukim Kilanas, BF2520, BM
Unit 1 – 5, Lot 55304,
Spg. 535, Jln Muara, Kg. Sg. Hanching, BM
Unit 1 – 3, Lot 15115,
Kg. Sg. Kebun, Mukim Lumapas, BM
Unit 4 – 7, Lot 29976, EDR 27921,
Spg. 493, Jln. Gadong, Kg Beribi, Mukim Gadong 'B', BM
Unit 1 – 4, Block A, Lot 12698,
Kg. Tg. Panjang, Mukim Tg. Maya, Tut
Unit 9 – 12, Block D, Lot 8982,
Kg. Pandan, KB
85
Daiecharm décor Sdn Bhd
No. 6, 7, 8 & 10, Ground Floor, Pg Hj Menuddin & Anak – Anak Building,
Batu Bersurat, Kg. Pengkalan Gadong, BM
Unit 1 – 3, Spg. 472, Jln. Muara, Kg. Sg. Hanching, BM
No. G70, Giant Hypermarket Tasik Rimba,
Kg. Rimba, Mukim Gadong, BM
No. D1, E1, F1, Jln Masjid, KB
86
Dat – Co Design (B) Sdn Bhd
Unit 8 – 10, Spg 590, Jln Telanai, Mile 4, BM
87
Dayang Damit dan Rakan – Rakan Sdn Bhd
Lot 384 – 89, Jln. Berakas, Kg. Lambak, BM
88
Ekamjot Sdn Bhd
No. 9, Block J, Abdul Razak Complex,
Gadong, BM
No. C3, Block C, Tanjung Bunut Place,
Kg. Tg. Bunut, BM
89
Encore Sdn Bhd
Unit 14-21, Block B, Awg. Hj Ibrahim Building,
Spg. 38, Jln. Jerudong, BM
Unit 17 & 18, Block B, Regent Square,
Spg. 150, Kg. Kiulap, BM
90
Fashion Furniture & Construction Co. Sdn Bhd
Lot 39 – 42, Spg 557, Jln Muara, Tapak Perindustrian, Kg Salar, BM
91
Flexa Shop Brunei
B8, Ground Floor, Shakirin Complex,
Spg. 88, Kg. Kiulap, M.Gadong, BM
92
Galleria YMRM
No. 1, Lot 35542,
Spg. 100, Jln Tungku Link, Kg. Pengkalan Gadong, BM
PAP Hjh Norain Complex, Lot No. 1992,
Jln. Kubah Makam Diraja, Batu Satu, BM
B24 – 25, Delima Jaya Complex,
Serusop, BM
No. 4, Anuha Complex,
Jln. Tutong, Kg. Tg. Bunut, BM
93
Hasmit Electrical & Lighting Sdn Bhd
No. 1 – 3, Ground Floor, Hj Abd Rahman Building,
Gadong, Mukim Gadong, BM
No. 8, Block B,
Jln. Tutong, Kg. Tg Bunut, BM
94
Home Suite Home Co
Unit 14 – 16, 1st Floor & Unit 14 & 15, 2nd Floor, Regent Square,
Kg. Kiulap, M.Gadong, BM
95
Homeselect Furniture Sdn Bhd
Unit 7 – 10, Block B, Sengkurong Shopping Complex,
Jln. Tutong, BM
No. 4, Ground Floor, Block C, Shakirin Complex,
Spg. 88, Kg. Kiulap, BM
96
Ilham Fiqri Sdn Bhd
Unit C4-5, Block C, Hua Ho, Lot 51181,
Kg. Tg. Bunut, Jln Tutong, Mukim Kilanas, BM
Unit No.13, Ground Floor, Seri Lambak Complex,
Mile 6, Jalan Berakas, BM
Unit C6, Block C, Pg Hj Menuddin dan Anak-Anak Complex,
Batu Bersurat, Kg Pengkalan Gadong, Mukim Gadong, BM
97
Jackhan Sdn Bhd
Unit 11 – 14, Block B, Bangunan Hj Hashim & Hjh Zalina,
Spg. 440, Jln. Muara, Kg. Sg. Tilong, Mukim Berakas 'B', BM
No.1111, Spg. 1113, Jln. Tutong, Km 13,
Kg. Kilanas, Mukim Kilanas, BM
EDRNo. 18465, Lot No. 19567, Bgn THS,
Jln. Jerudong, Mukim Sengkurong, BM
No.8 – 11, BlockC, Lot6718,
SPp. 100, Jln. Jerudong, Kg. Jerudong, Mukim Sengkurong, BM
EDR 14227, Lot 15847,
Jln. Gadong, Kg. Jangsak, Mukim Kilanas, BM
98
Jaizs Fashion Sdn Bhd
No. L2-8, Seri Qlap Mall,
Kg.Kiulap, BM
99
Jasa Ibu Sdn Bhd
No. 4, Block D, Hj Abdul Rahman Building,
Kg. Kiulap, Mukim Gadong, BM
100
J.K Uma Sdn Bhd
Lot 100, Jln McKerron, KB
101
Loft & Co.
Unit 6-9, Spg. 73-5-8, Little Soho, Gadong, BM
102
Mohan's Carpet Palace
No. 3/4, Block F, Abdul Razak Complex,
Gadong, Mukim Gadong, BM
Unit 7 & 8, Block B, Home Centre,
Jln. Tutong, Kg. Tg. Bunut, BM
No. 5, Tutong Central Mall,
Kg. Petani, Tut
No. 99B, Jln. Mc Kerron, KB
103
My Space Gallery Sdn Bhd
Unit 1, Block A & B, Lot 60363,
Jln. Utama Tanah Jambu, Kg. Salambigar, M.Berakas'B', BM
104
Naniriza Jaya Enterprise
No. 6, Ground Floor, Block F, Forming part of Comercial Building, Lot 51181,
Kg. Tg. Bunut, Mukim Kilanas, BM
Lot 7561, Block A14,
Kg. Pandan 5, KB
105
Nasma Sdn Bhd
No. 7, Block C, EDR No. 4138, Lot No. 4334,
Jln. Tutong, Kg. Sengkurong, BM
106
Nazmi Home Décor
No. 2-4, Medan Tanjong Bunut,
Jln. Tutong, Mukim Kilanas, BM
No. 47-50, Blk A, Melabau Kompleks,
Jln. Muara, Kg. Serusop, Mukim Berakas, BM
107
Neo Metro Company
Unit 1 – 5, Abraco Building, Jln Batu Bersurat, Gadong, BM
108
Procera Tiles (B) Sdn Bhd
No. 19, Block E, Atiya Complex, Lot 6718,
Spg. 100, Jln. Jerudong, Kg. Sengkurong, BM
No. 37, Block G, Atiya Complex, Lot 6718,
Spg. 100, Jln. Jerudong, Kg. Sengkurong, BM
109
Puteri Bungsu Sdn Bhd
No. 2, Ground Floor, Haji Abd Rahman Building,
Kg. Kiulap, Mukim Gadong, BM
110
Raiyah Company
No. 1-6, Block A, Mastercon Complex, Lot 7563,
Jln Sg. Pandan 6, KB
111
RVNR Trading Company
No. 30 & 31, Ground & 1st Floor, Block F, Lot No. 6718,
Kg. Sengkurong, BM
112
Sci-Eco Kitchen & Wardrobe Company
D2, 1st Floor, Setia Kenangan 2,
Kg. Kiulap, BM
113
Sek Gee Enterprise
Unit 3, Ground Floor & 1st Floor, Bangunan H.S.B.S,
Jln. Gadong, Kg. Jangsak, BM
114
Sengkurong Furniture Trading & Construction Sdn Bhd
No. 6 – 9, H.Y.A Building,
Kg. Sengkurong, BM
115
S-GL Enterprise
No. 6, Ground Floor, Block H, Abdul Razak Complex,
Gadong, BM
116
Sing Geap Enterprise
Unit 4-6, Block A, Spg. 1213, Jln. Tutong, Kg. Kilanas, BM
117
Sopan Enterprise Sdn Bhd
No. 3 – 7, Block A, Bgn Ben Kassim & Hajjah Zaliha,
Spg. 440, Jln Muara, Kg. Sg. Tilong, M.Berakas'B', BM
Unit 1, 2, 2A & 3, Lot 16161, Spg. 68, Jln Batu Bersurat,
Kg. Pengkalan Gadong, M.Gadong, BM
Unit 15 – 18, Hj Abdul Malik dan Anak-Anak Building,
Kg. Petani, Pekan Tutong, Tut
118
Thomson Furniture Square Sdn Bhd
No. 1109,
Km 12, Jln. Tutong, Kg Kilanas, BM
Lot 57234,
Spg 593, Jln. Gadong, Kg. Beribi, BM
119
Tomato Kidz
Unit D1, Ground Floor, Block D, Setia Kenangan 2,
Kg Kiulap, Mukim Gadong, BM
120
Wee Mey Trading Co
Lot No. 7916, Spg. 1389, Kg. Tg. Bunut, Mukim Sengkurong, BM
Recreations & Cultures
121
Audiomarc Company
Shop 1-5, Ground Floor, Hassanin 1 Building,
Spg. 103, 3 1/2 Km, Jln. Gadong, BM
No. 14 & 15, Ground Floor, Setia Kenangan Building,
Kg. Kiulap, BM
No. 495, Spg. 493, Jln. Muara, Kg. Sg. Hanching, BM
No. 1 & 2, Block D, Jln. Tutong, Kg. Tg. Bunut, BM
No. 207, 210, 213, 216 & 219,   Ground Floor, Hj Mohd Yussof Seri Complex,
Jln. Tutong, Batu Satu, BM
No. 4, Ground Floor, Block H, Pg. Hj Menuddin Building,
Jln. Batu Bersurat, Kg. Pengkalan Gadong, BM
A7 & A8, Ground Floor, Hj Abd Karim & Anak – Anak Building, Lot 7065,
Jln. Jaya Negara (in front of TAIB), KB
122
Best Eastern
G.9, Plaza Athirah,
Jln. Tutong, BM
G2, The Mall, Abdul Razak Complex,
Gadong, BM
Unit 7, 1st Floor, Hua Ho Manggis, BM
Unit 112, Mabohai Shopping Complex, BM
Unit G24, G25, Times Square Shopping,
Kg. Jaya setia, BM
123
Bike Doctor BN
No. 7, Spg. 15, Jln. Dato Ratna, Kg. Kiarong, Mukim Gadong, BM
124
Bilster Technologies
G27, Citis Square,
SPg. 13-41, Jln. Airport, Kg. Jaya Setia, Mukim Berakas, BM
125
Concept Commercial Suppliers
B22, B23 & B24, Block B, Habza Building,
Spg. 150, Kg. Kiulap, Mukim Gadong, BM
126
Engage Minds Sdn Bhd
No. C8, Pehin Khatib Haji Mohd. Yussof Building, Bengkurong Complex,
Mukim Kilanas, BM
127
GL Extra Enterprise
No. 12-13, Ground Floor, Block A, Hj Abd Rahman Building,
Kg. Kiulap, BM
No. 17, Ground Floor, Airport Mall,
Kg. Jaya Setia, BM
No. 8, Ground Floor, Block A, Berjaya Complex,
Kg. Petani, Tut
No. 03-34A & 35 A, 2nd Floor, Seria Plaza, KB
No. 16, 1st Floor, Jln. Pretty, KB
128
Greenhorn Trading Company
Kowira Building, Jln. Pasir Berakas, Perkhemahan Berakas, BM
Unit 9 – 10, Ground Floor, Block B, Wisma Yakin Building,
Jln. Pandan 5, KB
129
Imperiall Trade & Co.
No. 6, Ground Floort, PAP Masna Shopping Complex,
Jln. Tutong, Batu 1, BM
No. MA01, Arcade Shop, 2nd Floor, The Mall, Abdul Razak Complex
Gadong, BM
No. 26, Ground & 1st Floor, Cities Square, Lot 10293
Kg. Jaya Setia, BM
130
Intracorp (B) Sdn Bhd
GF – 2F, Wisma Hj Daud,
Spg. 137, Gadong, BM
Lot 8527,
Spg. 15, Jln. Gadong, BM
Unit 1,3,5&7, GFlr, Kiulap Plaza Hotel,
Kg. Kiulap, BM
G09, Ground Floor, Kiulap Plaza Hotel,
Kg. Kiulap, BM
Unit 4, Bangunan Hj Abu Yusof,
Spg. 14, Kg. Petani, Tut
No. 6, Jln. Pretty, KB
No. 6-8, Rayaa Building,
Spg. 61, Jln. Jerudong, BM
131
Jill & Jill Giftshop & Enterprise
No. 5, Ground Floor, Block B,
Spg. 343, Kg. Mulaut, Mukim Sengkurong, BM
No. 2-40, 2nd Floor, The Mall,
Gadong, Mukim Gadong, BM
No. 2, Ground Floor, Block H, Abd Razak Complex,
Gadong, Mukim Gadong, BM
Inside Soon Lee,
Km. 26, Jln. Maulana, Mumong, KB
Unit 37B, Ground Floor, Seria Plaza
Jln. Sultan Omar Ali, Seria, KB
132
K.N. Nursery (B) Sdn Bhd
Lot 49275, Rimba Garden Central,
Kg. Rimba, Mukim Gadong, BM
Green house No. 1, Agrotechnology Park (ATP),
Kg. Rimba, Mukim Gadong, BM
133
Little "M" Children Shop
No. 1 & 2, Block F, Pg Menuddin & Anak – Anak Complex,
Jln. Batu Bersurat, Gadong, BM
No. 1 & 2, Block F, Pg Menuddin & Anak – Anak Complex,
Jln. Batu Bersurat, Gadong, BM
134
Linknet Solutions Sdn Bhd @
QQ Store
No. 3, First Floor, Block B, Urairah Complex,
Kg. Kiulap, Mukim Gadong, BM
135
Lucky Charm Sdn Bhd
No. 12, Ground Floor, Block A, Serusop Complex,
Jln. Muara, Kg. Delima Satu, BM
Unit B26, Block B, Jasa Awam, Delima Jaya Complex,
Jln. Muara, Kg. Delima Satu, BM
136
Mubarak Book Emporium
No. 24 & 25, Block B, Delima Jaya Complex,
Jln. Muara, Kg. Serusop, BM
No. 6, Block B, An-Nuha Building,
Kg. Tg. Bunut, BM
No. 8 & 9, Block B, Kiarong Complex,
Lebuh Raya Hassanal Bolkiah, BM
Block C, Lot 11620, Supa Save, BM
No. 7, Block A, Muara Centre, BM
No. 21, Tutong Central Mall,
Kg. Petani, Tut
137
OM – Collection Sdn Bhd
Unit 7, Bock C, Abdul Razak Complex,
Gadong, BM
138
Pet Lovers Centre Freshco
Upper Basement "B", Plaza Abdul Razak,
Jln. Laksamana Abdul Razak, Batu 1, Jln. Tutong, BM
No. ss-00-17, ss-00-19,ss-00-20, Ground Floor, Times Square Shopping Centre,
Spg. 13-29, Jln. Berakas, Kg. jaya setia, M. Berakas 'A', BM
139
T.H.A Enterprise
No. A1, Ground Floor, Setia Kenangan Building,
Kg. Kiulap, M. Gadong, BM
140
Triple Star Enterprise
A6, Setia Kenangan Complex,
Kg. Kiulap, BM
Unit 1 – 3, Rizqan Maisura Building,
Jln. Tutong, Kg. Tg. Bunut, BM
141
TSK Sdn Bhd
Unit 7, Ground Floor, Hj Mohd Salleh Building,
Spg. 103, Jln. Gadong, BM
Unit A10, Ground Floor, PAP Hjh Amal Umi Kalthum Building,
Km. 2, Jln. Tutong, BM
142
WYWY Enterprise
G–06/08 & 11, Block B, YSHH Complex,
BSB, BM
No. 11, Ground Floor, Delima Complex 1,
Jln. Muara, Kg. Serusop, BM
No. 27A, Ground Floor, The Mall, Abdul Razak Complex,
Gadong, BM
No. 40 – 41, Giant Hypermarket Tasek Rimba,
Kg. Rimba, Mukim Gadong, BM
No. 26, Block B, Sri Aman Complex,
Kg. Petani, Tut
No. 8, Warisan Pungut Salleh Complex,
Jln. Sungai Pandan 7, Kg. Mumong, KB
No. 48C, Jln. Bunga Kuning, Seria, KB
Plot Shop No. 1, Jln. Sungai, KB
Restaurants
143
Fratini's Restaurant
Unit 3A, Ground Floor, Aman Complex Building,
Jln. Muara, Kg. Sg. Tilong, BM
Unit 2A & 2B, Ground Floor, Malin Jaya Building,
Kg Sengkurong A, BM
No. 1, The Centrepoint Food Court, Abd Razak Complex,
Gadong, Mukim Gadong, BM
Unit 44, Jln. Sultan Omar Ali Saifuddien, BSB, BM
No. 46, Jln. Bunga Melor, Seria, KB
Unit 1, Ground Floor, Lot 7191,
Jln Jaya Negara, Kg Pandan, KB
144
Panaga Mauri Restaurant Sdn Bhd
E5, 1st Floor, Panaga Club E5,
Spg. 464, Jln. Utara, Panaga Seria, KB
145
Prego Mauri Restaurant Sdn Bhd
No. 26, 1st Floor, Block B, Bangunan Habza,
BSB, BM
146
Villa Mauri Restaurant Sdn Bhd
No. 369, Spg 367, Kg. Sg. Tilong, M.Berakas'B', BM
147
Zaika Restaurant
A4, Maju Building, Lot 308,
Jln. Bunga Raya, KB
Retail Shops, Department Stores & Supermarkets
148
Aliaz Enterprise
Unit 10, 1st Floor, Spg. 94, Jln. Muara, Kg. Delima Satu, BM
Unit F24B, 1st Floor, Cities Square, Lot 10239,
Kg. Jaya Setia, BM
Unit G7, Ground Floor, Block C, Haji Abdul Malik & Anak-Anak Building,
Kg. Petani, Tutong
Unit A8, Ground Floor, Perniagaan Bumiputera Complex,
Pekan Bangar, Temburong
149
Ash-Shabakah Technologies
No. 9, Ground Floor, Block A, Hassanin Building,
SPg. 42, Jln. Muara, Kg. Delima Satu, BM
150
Atlanta Supermarket Sdn Bhd
Unit 9 – 12, Ground Floor, Lot 15526,
 Kg. Katimahar, BM
151
C.F. King Enterprise
Unit 24, Hj Matusin H.A dan Hj Abdullah H.M. Adik beradik Building,
Kg. Kiulap, Mukim Gadong, BM
152
First Emporium & Supermarket (BR)
No. 1-4, Kompleks Mohammad Yussof,
Jln. Kubah Makam Di-Raja, Jln. Tutong, BM
No. 109-110, Chandrawaseh Shopping Complex,
Km. 2, Jln. Tutong, BM
153
Hua Ho Department Store (1)
Block C & D, Setia Kenangan Complex,
Kg. Kiulap, BM
Lot 30087,
Spg. 343, Kg. Mulaut, BM
Lot 1999, Bgn. Halimatul Sa'adiah,
Jln. Gadong, BM
1 – 12, Ground Floor, 1st & 2nd Floor,
Spg. 72, Jln. Muara, Kg. Delima Satu, BM
Mim – Nun Jaya Complex,
Jln. Bebatik Kilanas, Kg. Kilanas, BM
Lot 13096, Kg. Petani, Tut
154
Hua Ho Department Store (2)
Block E & F, YSHHB Complex,
BSB, BM
Lot 58799,
Spg. 226, Jln. Sg. Akar, Jln. Muara, BM
Lot 20577,
Jln. Tutong, Kg. Sengkurong A, BM
Lot 51181, Spg. 1287, Jln Tutong,
Kg. Tg. Bunut, Mukim Sengkurong, BM
155
Jaya Centrepoint Hypermarket Sdn Bhd
No. S1, Ground Floor, Sentral Shopping Centre,
Jln. Maharaja, Kg. Mumong A, KB
156
Kota Mutiara Department Store
No. 18-21, 2nd & 4th Flr, Darussalam Complex,
Jln Sultan, M.Kianggeh, BSB, BM
157
Lai Lai Department Store
No. 1-2, PAP Hjh Masna Building,
Batu Satu, Jln. Tutong, BM
158
Liang Toon Department Store Sdn Bhd
Unit 2 – 4, Lot 56222, Spg. 122, Jln. Bengkurong Masin, BM
159
Mahmoon Department Store
No. 1, Lot 5088, Spg. 339, Kg. Sg. Taring, Lumut, KB
160
Makro Jaya Sdn Bhd
1st & 2nd Flr, Lim and Poh Building,
Lot 557, Pekan Muara, BM
161
Maya Silk Emporium & Co.
No. 105, Mohd. Yussof Complex,
Mile 1, Jln. Tutong, BM
No. 1.46, 1st Floor, The Mall, Abdul Razak Complex,
Gadong, BM
No. 5-6, Block B, Home Center,
Kg. Tg. Bunut, BM
No. 40-41, 1st Floor, Airport Mall,
Kg. Jaya Setia, BM
G31, Hj Abdul Malik & Anak-Anak Building, Tut
Unit A4, Block A, Lim Kui Hong Building,
Mukim Liang, KB
No. 5-6, Pandan Tujuh, KB
No. 15, Jln. Pretty, KB
No.22, Jln. Pretty, KB
162
Milimewah Department Store Sdn Bhd
No. 12-15, 5th Floor, Darussalam Complex,
Jln. Sultan, BSB, BM
Unit No. 31, 31A, 32, 32A, 33, 33A, 34 dan 34A, 1st Floor, Seri Lambak Complex, Mile 6, Jln Berakas, BM
No. 28 – 32, 1st Floor, Seri Aman Complex,
Kg Petani, Tut
Lot 33 – 35, Jln. Pretty, KB
163
M-Porium Jaya Department Store Sdn Bhd
No. 104 – 107, 1st Floor, Halim Plaza, Lot 9003,
Kg. Petani, Tut
164
National Inn Emporium
No. 17 – 20, Lim Kok Beng Building,
Spg 588, Km7.2, , Jln. Tutong, Kg Madewa, BM
165
Noorjumanah Department Store Sdn Bhd
No 24 – 27, Hjh Sinun bte Simpul & Anak2 Complex,
Spg 173, Kg. Mulaut, BM
166
One Station Sdn Bhd
Unit 16, Lot 4914,
Jln. Kota Batu, Kg. Mentiri, BM
167
Orbit Supermarket Sdn Bhd
Unit 1-6, Lot 18273, Block A,
Spg. 638, Jln Muara, Kg. Orok, BM
168
Pertama Department Store
No. 3-9, Block C, Lot 35378,
Spg. 396, Jln. Jerudong, Kg. Sengkurong, BM
169
Pertama Jaya Department Store
No. 1-10, Kompleks Awg Hj Ibrahim,
Spg. 250-24-29, Kg. Lambak Kanan B, M.Berakas'B', BM
170
Sim Kim Huat Trading Company Sdn Bhd
Unit 1-12, Block A, SKH Building, Lot 4334,
Spg. 38, Jln. Jerudong, Kg. Sengkurong, Mukim Sengkurong, BM
BD49664, Lot 57038,
Kg. Manggis, M.Berakas'B', BM
Unit 38 Supermarket, Ground Floor, Airport Mall,
Kg. Jaya Setia, M.Berakas'A', BM
Unit 1-9, D Amin Jaya Building, BD 46390, Lot 54989,
Jln Kiulap, M.Gadong, BM
G01-G07, Halim Plaza, Lot 9003,
Kg. Petani, Tut
171
Sin Kew Hin Department Store
Unit 1-7, Blok I, Kompleks Abdul Razak,
Spg. 137, Gadong, BM
172
Soon Lee Mega Mart
Unit 4-12, Ground Floor, Block G, Lot 25115,
Kg. Pengkalan Gadong, Mukim Gadong, BM
Unit 8-14, Ground Floor, Lot 35850,
Kg Lambak Kanan 'B', Mukim Berakas 'A', BM
Unit C2-10, Block C, Mentiri Complex,
Jln. Kota Batu, Kg. Mentiri, Mukim Mentiri, BM
Unit 14-16, Ground Floor, Lot 15115,
Kg. Sg. Kebun, Mukim Lumapas, BM
Unit 2-7, Lot 30195,
Kg. Sinarubai, Mukim Kilanas, BM
Tiga Tingkat Building, Lot 557,
Pekan Muara,Mukim Serasa, BM
Unit 2-3, Lot 34738,
Kg. Mulaut, Mukim Sengkurong, BM
No. 28-33, Sri Aman Complex,
Kg Petani, Tutong
Unit 3-7, Block C,
Kg. Gana, Mukim Sg. Liang, KB
Lot 3678,
Jln. Maulana, KB
Unit 1-6 & 13-24,
Jln. Pandan 7, Kg Mumong, KB
Lot 5405, Lorong 3,
Seria, KB
173
Teguh Raya Department Store Sdn Bhd
No. 3 – 7, Delima Jaya Complex,
Jln. Muara, Kg. Serusop, BM
No. 4 – 13, Ground Floor, Block A, Bgn. Begawan Pehin Dato Yusof,
Kg. Kiulap, BM
No. 9 – 10, Bunga Cempaka Complex,
Kg. Petani, Tut
No. 16 – 20, Bgn. Central Mall,
Kg. Petani, Tut
174
The Potters
Unit 8, Ground Floor, Block F, Setia Kenangan 2,
Kg. Kiulap, Mukim Gadong, BM
175
T.M. Majeed Supermarket
No. 2, Spg. 1102, Jln. Tutong, Kg. Kilanas, BM
176
Treasure City Department Store
No. 6, Ground Floor, Sutera Complex,
Spg. 68, Jln. Muara, Kg. Delima Satu, BM
177
Utama Grand Superstore Sdn Bhd
The Mall, Abdul Razak Complex, Gadong, BM
178
Wanika Enterprise Sdn Bhd
Lot No. 25206, Spg. 719, Jln. Limau Manis, Kg. Masin, BM
No. 109, Jln Jerudong, BM
179
Warisan Utamajaya Emporium & Supermarket
No. B1 – B6, Block B, Lot 17175 & 16547, Aman Complex,
Jln. Muara, Kg Sg Tilong, BM
Transports & Accessories
180
Seng Hoe Huat Auto Accessories Services Co.
Unit 1-4, Ground Floor, Block A, Haji Daud Complex,
Jln Gadong, BM
Unit 9, Ground & 1st Floor, Block A, Bgn. Hj Awg Ibrahim,
Spg. 38, Kg. Jerudong, BM
Unit 2, Ground & 1st Floor, Block A,
Spg. 811, Jln. Tutong, Kg. Bunut, BM
Unit 1 & 2, GFlr, Sutera Complex,
Jln. Muara, Kg. Delima, BM
Unit 2 & 3, Ground Floor, Tutong Central Mall,
Kg. Petani, Tut
181
SHH Autosmart Company
Unit 1 – 3, Ground, 1st & 2nd Floor, Block A, Melabau Complex,
Jln. Muara, Kg. Serusop, BM
182
SHH Offroad Auto Company
Unit 8-9, Ground & 1st Floor, Hj. Untong bin Ali Building,
Jln. Gadong, Kg. Kiarong, BM
183
Momocorse Auto Company
Unit 15 & 16, Ground Floor, Lot B, Plot 77,
Perindustrian Beribi Complex, Gadong, BM
Miscellaneous Goods & Services
184
Dubai Optical
Kg. Sengkurong, BM
185
Hassan & Hussain Sdn Bhd @
Unit B1, Ground Floor, Hj Abu Bakar Building, Sengkurong Shopping Centre,
186
Kedai Emas Fu Gui
No. 6, Tingkat Bawah, Block H, Abd Razak Complex,
Gadong, Mukim Gadong, BM
187
Masjaya Goldsmith
No. 1, Ground Floor, Block B, Hua Ho Mulaut Mall,
Kg. Mulaut, BM
188
M.Citymas Jewellery
G14, Ground Floor, Block B, YSHHB,
BSB, BM
189
NS BlueScope Lysaght (B) Sdn Bhd
(3165) Industrial Complex, Phase 1,
Jalan Gadong, 6Km, Kg. Beribi, Mukim Gadong, BM
190
OKKY Jewellery Sdn Bhd
No. G23&24, Giant Hypermarket Tasek Rimba,
Kg. Rimba, BM
Unit 1-9, Ground Floor, D'Amin Jaya Building, D'Amin Jaya,
Kg. Kiulap, BM
No. 2, Block A, Bgn Sim Kim Huat,
Kg. Sengkurong, BM
Unit 7 & 8, Ground Floor, Seri Q-Lap Mall,
Kg. Kiulap, BM
Unit 4 & 5, Block A, Delima Satu Complex,
Spg. 62, Jln. Muara, Kg. Delima Satu, BM
G10, Ground Floor, Times Square Shopping Centre,
Spg. 13-29, Jln. Berakas, Kg. Jaya Setia, BM
Kios No. GD, Ground Floor, The Mall, Abd Razak Complex,
Gadong, BM
No. G12, Lot No. 19903, Plaza Abdul Razak,
Jln. Laksamana Abdul Razak, Kg. Parit, BM
No. 22, Ground Floor, Block A, Hua Ho Petani Mall,
Kg. Petani, Tut
191
OKKY White Gold
No. M2.48A, 2nd Floor, The Mall, Abd Razak Complex,
Gadong, BM
192
Perfect Vision Bn Services
L1/10, Ground Floor, Seri Q-Lap Mall,
Kg. Kiulap, BM
Unit 28, Ground Floor, Airport Mall,
Jln. Berakas, BM
1st, Hua Ho Dept. Store, Setia Kenangan Complex,
Kg. Kiulap, BM
No. 10, Ground Floor, Bgn. Hj Ibrahim,
Spg. 250-49-29, Jln. Berakas (Exp. Open dec 15th), BM
193
Rentokil Initial (B) Sdn Bhd
Unit D1 & D1-1, Block D, Haji Lajim & Anak – Anak Building,
Kg. Kiarong, BM
Unit 4, Block A, Jaisa Building,
Kg. Pandan 4, KB
194
Standard Optics Company
No. 2-52, The Mall, Abdul Razak Complex,
Gadong, BM
G18, Ground Floor, Freshco, Plaza Abdul Razak,
Jln. Laksamana Abdul Razak, BM
Area FSPI, 1st Floor, Sentral Shopping Centre,
Jln. Seri Maharaja, Kg. Mumong, KB
51-B, Jln. Pretty, KB
195
U – Optic Company
Unit F6, 1st Floor, Times Square Shopping Centre,
Spg. 13-29, Jln. Berakas, Kg. Jaya Setia, BM
Unit 4, Ground Floor, Supasave Panaga Seria, Lot 06810,
Lorong Kg Barat, KB
196
YGK Jewellery Sdn Bhd
Unit 6, Ground Floor, Wisma Ibrahim,
Kg. Lambak, M. Berakas, BM
Unit 10, Ground Floor, Block C, Delima Square,
Kg. Delima Satu, M. Berakas 'A', BM
Unit 4, Ground Floor, Block F, Pg Hj Menuddin & Anak2 Shopping Complex,
Kg. Batu Bersurat, M. Gadong, BM
Unit L1/7, Ground Floor, Seri Q-lap Mall,
Kg. Kiulap, M. Gadong, BM