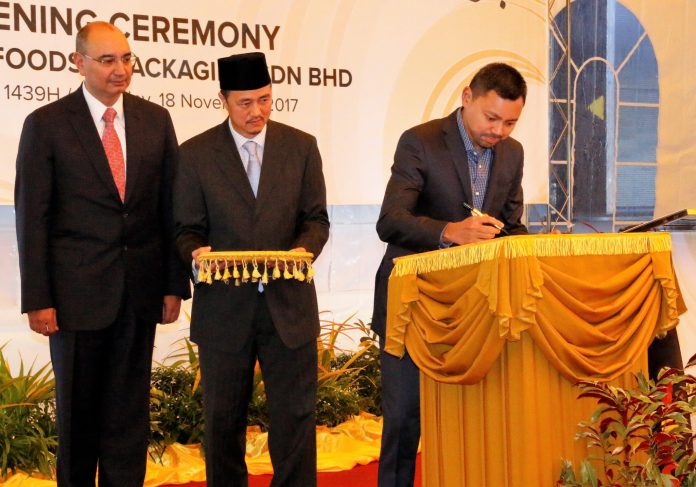 The Crown Prince and Senior Minister at the Prime Minister's Office His Royal Highness Prince Haji Al-Muhtadee Billah ibni His Majesty Sultan Haji Hassanal Bolkiah Mu'izzaddin Waddaulah opened Western Foods & Packaging Sdn Bhd's (WFP) BND 50 million manufacturing plant in Serasa earlier today – which is expected to churn up to 200 tonnes of margarine daily as well other edible oils for export.
WFP, a subsidiary of edible oil and fats company Marsa Yag – majority owned by the Turkish conglomerate Yildiz Holding and the Brunei government – is expected to begin exporting its margarine this month, according to its director Dr Zeki Ziya Sözen.
The margarine and cooking oil produced by the factory is primarily for business or industrial use, particularly in manufacturing pastries and confectionery, with palm oil used as the main raw ingredient. Dr Zeki said developing consumer varieties were in the pipeline.
"One of the biggest concerns, globally, with using margarine, is the presence of trans fat (which is associated with heart disease)," said Dr Zeki, also the Chairman of the Group of Foods, Frozen Products and Personal Care in Yildiz Holding – who owns established f&b brands including Godiva, Jacob's and McVities.
"We have invested a lot in technology (and as a result) the margarine that we produce has no trans-fat. This plant is state of the art."

The Ministry of Finance in a press statement said the setting up of WFP's factory marks another effort towards economic diversification and increasing local employment and business opportunities through attracting foreign direct investment.[/caption]
Dr Zeki said their decision to set up in Brunei comes down to its "stability and peacefulness", educated workforce and its positioning; neighbouring Malaysia and Indonesia produce 90% of the world's palm oil.
The current facility, located on a 1.9-hectare plot at the Serasa industrial site, is just a few minutes away from the Muara port and has an "extension" capability to further increase production to 400 tonnes a day or 120,000 tonnes a year.
WFP currently employs 75, 72 who are locals, a figure that can rise to 200 people if the plant operates at full capacity, said Dr Zeki.
He added that the spin-off and downstream opportunities for local businesses are also significant; its main products can be used to make biscuits, chocolates, pastries and ice cream, while its by-products can be used to make chicken feed, soap and detergent.
According to a previous news report from 2012, Brunei bought a 20% stake in Marsa Yag, valued at USD 100 million, which marks one of the first joint investments between Turkey and Brunei. The agreement was announced after a state visit by His Majesty Sultan Haji Hassanal Bolkiah Mu'izzaddin Waddaulah, the Sultan and Yang Di-Pertuan of Brunei Darussalam to Turkey.
Marsa Yag, one of Turkey's pioneers in edible oil and fats manufacturing, exports to over 65 countries.
HRH was welcomed at WFP by Minister of Development and Chairman of the Strategic Development Capital Fund Yang Berhormat Dato Seri Setia Hj Bahrin Abdullah, who then together with Vice Chairman of Yildiz Holding Ali Ulker, invited HRH to the main stage to officiate the factory's opening.
HRH later proceeded to tour the facility with Dr Zeki, before posing for a group photo and meeting WFP's employees.
Also in attendance at the event were Minister at the Prime Minister's Office and Minister of Finance II and Chairman of the Foreign Direct Investment and Downstream Industry Steering Committee Yang Berhormat Pehin Orang Kaya Laila Setia Dato Seri Setia Awg Hj Abd Rahman Hj Ibrahim along with senior government officials and private sector representatives.