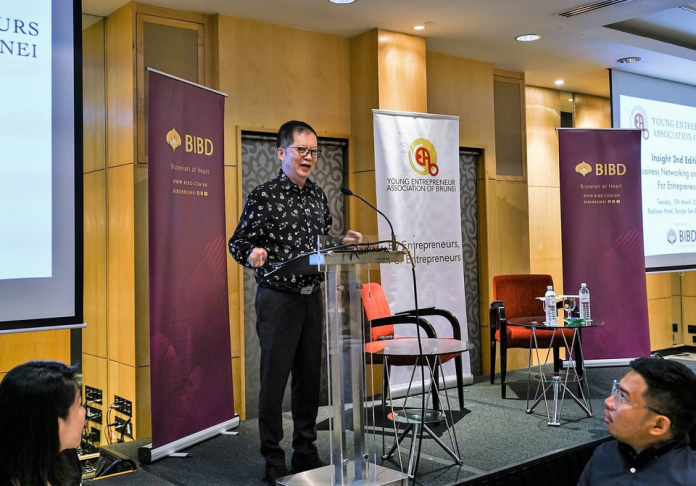 Being resilient while keeping a realistic overview your business are the qualities necessary to thrive in today's challenging economy, said founder and chairman of Asia Inc. Dato Timothy Ong.
Speaking at Young Entrepreneurs Association Brunei's (YEAB) Insight: Business Networking and Dinner at the Radisson Hotel earlier this week, Dato Timothy said that both qualities must be balanced together, because resilience on its own – without being able to keep a realistic viewpoint, does not guarantee success.
Opening up on one of his unsuccessful ventures, Dato Timothy shared how he acquired a magazine for "a small fortune, at least for me" despite having no experience in the publishing industry.
He said that "he did everything" to keep the magazine running, moving the operations around the region from Thailand to Singapore but was ultimately unable to curtail its losses.
"For the longest time, I took the fact that the magazine wasn't doing well personally, being very emotional about the whole thing – which is the opposite of being realistic with the situation," said Dato Timothy who's a board member to a number of local and regional companies, including Baiduri Bank Group, Brunei Hotel, Singapore listed YOMA Strategic Holdings and Philippine listed PHINMA Inc.
He said that he should have cut his losses earlier and used the money for investments elsewhere, but his difficulty in detaching from the situation and assessing it realistically cost him.
"Realistic means being in control of the numbers. A good entrepreneur has to know how much money they need to operate daily, weekly and monthly," he said. "And when the business isn't working out, you have to set a line, period or plan for you to recover. If you are unable to meet or recover in your set time frame, you will have to call an end to it (to prevent further losses) and pursue other ventures."
On the other hand resilience, is the ability to stay the course, accept criticism and endure negativity. For entrepreneurs, Dato Timothy said this means being able to learn from mistakes, failed businesses and having the courage and drive to move forward and persistently seek new opportunities.
YEAB's event held earlier on Tuesday saw over 50 young entrepreneurs attend as well as Darussalam Enterprise CEO Javed Ahmad.
According to YEAB, the Insight event is an opportunity for entrepreneurs to not only network but also acts a platform to share knowledge with each other.
It was inaugurated last year, with the support of BIBD and has become one of YEAB's key annual activities.
"As entrepreneurs, we believe that knowledge sharing and networking can contribute to new opportunities," said the President of the YEAB Hjh Lela. "Therefore through Insight we seek to promote the value of extending business networks whilst gaining new knowledge."
Visit www.yeabrunei.com to learn more, and follow @yeabrunei on Instagram for the latest updates. To join, fill out YEAB's membership application form.