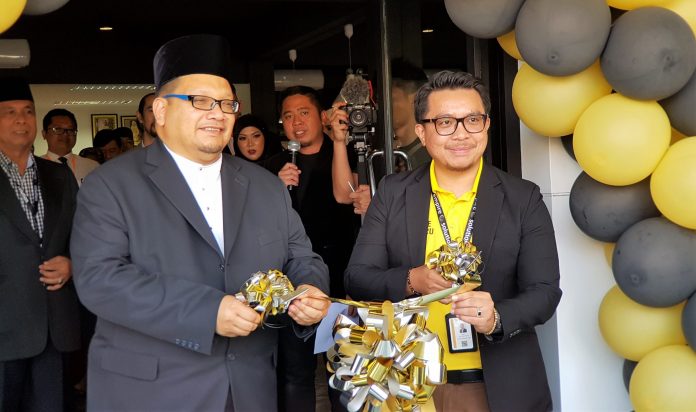 Empire Solutions Sdn Bhd (ESSB) has launched a mobile application for its housekeeping and landscaping services as well as a 24-hour laundromat last weekend at their headquarters in Jerudong.
The mobile application for their service TeamBru will allow for the payment and booking of the housekeeping and landscaping packages which start at $50 and $30 a month respectively for a weekly service and is now available for download from the Google Play Store for Android and soon for iOS.
Managing Director of ESSB, Sahrulnizam Ismail said the application, built by DotRoot Technologies, would increase customer convenience and improve the efficiency of the business' operations – who have ambitiously targeted cleaning 15,000 households with 1,000 Bruneians after launching their service earlier in January this year.
Although TeamBru primarily works on a monthly subscription basis with the customer, Sahrulnizam said that they would be incorporating an on-demand service, where users can place an order for cleaning, with the nearest professional able to accept the order.
He added that local ride sharing startup Dart would be providing the transport, with ESSB looking to recruit more professionals to their platform to offer services outside just cleaning and landscaping such as plumbing and household maintenance.
"We have also signed a memorandum of understanding with the national housing scheme of Kg Panchor in Mengkubau to assist unemployed youth to join in providing services for ESSB's on-demand service," said Sahrulnizam.
He also shared that they are hoping to introduce their application in Malaysia, and are looking to partner with popular ride sharing platform Grab. They're currently working with Universiti Tun Hussein Onn Malaysia to have its students be part of trial runs.
ESSB also launched their 24-hour laundromat called the Laundry Bar, which runs alongside their customer service counter. The laundromat also has a station serving freshly brewed coffee by Coffee Field Cafe.
Attending the launch as the guest of honour was Brunei-Muara District Officer Misli Hj Abd Karim.
Empire Solutions is located at Unit 2&3 Ground Floor of Jerudong Centre, Jln Jerudong (same row as HSBC Jerudong previously).
Follow @empiresolutionbrunei on Facebook and @empiresolutionbn on Instagram to learn more. To get in touch directly contact +6732612059 or +6738727959.