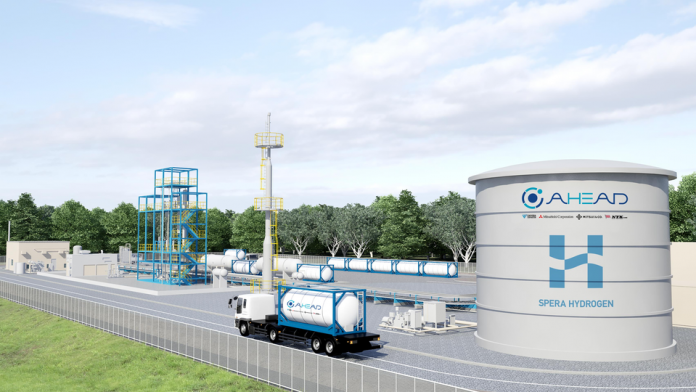 The Advanced Hydrogen Energy Chain Association for Technology Development (AHEAD), an association composed of four industry-leading companies from Japan, will begin the world's first international supply of hydrogen from Brunei to Japan in January 2020.
The pioneering renewable energy project will see a hydrogenation plant constructed at the Sg Liang Industrial Park (SPARK) in Belait to produce liquefied hydrogen from gas piped directly from Brunei LNG, that will be shipped to a dehydrogenation plant in Kawasaki, Japan who will extract the hydrogen gas to be supplied to consumers.
The project is demonstrative and is scheduled to be operational for a year, with 210 tonnes of hydrogen expected to be supplied to Japan which can power 40,000 vehicles using fuel cells.
President of AHEAD Hideko Endo said to media yesterday that the project will be a critical step in determining the technical feasibility as well as the commercial viability of supplying hydrogen internationally.
"This is the first time where the processes of hydrogenation and dehydrogenation are kept separate," said Endo on the sidelines of the groundbreaking ceremony at SPARK. "Much of the engineering data will be used to make a commercial scale up."
AHEAD's members are Japan's largest trading company Mitsubishi Corporation, shipping giant Nippon Yusen, engineering company Chiyoda and trading company Mitsui & Co., Ltd, and are funded by Japan's New Energy and Industrial Technology Development Organization to conduct research and develop plans for hydrogen supply chains to Japan.
Endo said that the demonstration project was part of the wider extensive research that Japan is currently undertaking on hydrogen, as they target the carbonless fuel as a key renewable energy resource with widespread use by 2030 for transport and power generation.
The hydrogen in Brunei will be produced by steam reforming, where a device reacts with steam at high temperatures with gas to yield hydrogen. It's then mixed with Toluene, converting it to Methylcyclohexane, and cooled at -253 degrees Celcius to become a flammable but non-explosive liquid – a process quite similar to liquefing natural gas, which happens at -162 degrees Celcius.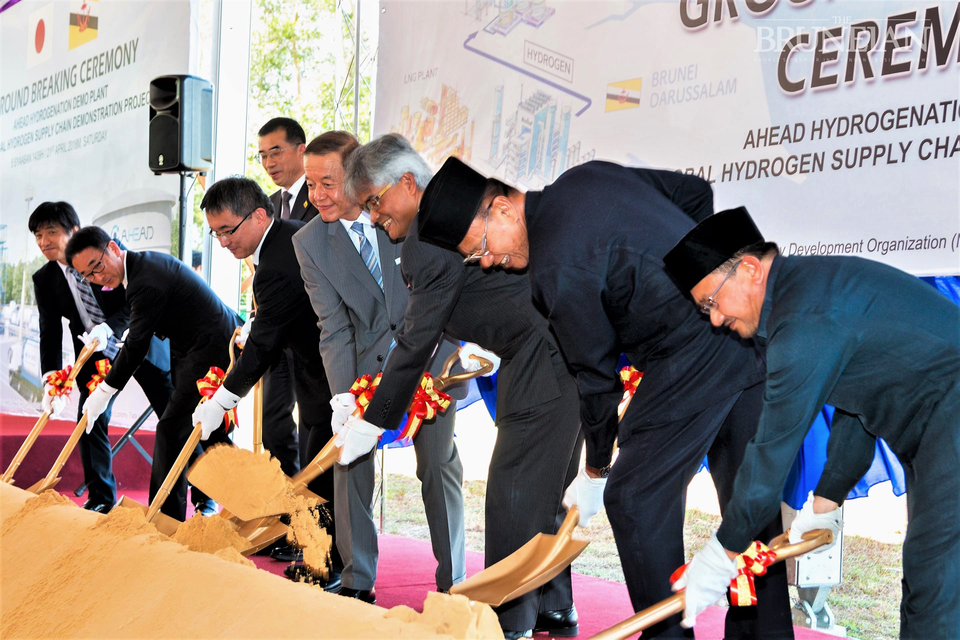 "We picked Brunei as it is (relatively) close to Japan (compared to other natural gas producing countries)," said Endo, who clarified that the Brunei plant was specifically built to produce Hydrogen from fossil fuels and its by-products (hydrocarbons). "There are other processes to produce hydrogen (like electrolysis of water), however, this is the most widely used (and currently cost-effective) method of producing hydrogen for energy use."
Within Brunei, Endo said that AHEAD had initiated talks with the Energy and Industry Department to utilize hydrogen in the capital for transport, potentially through fuel cell vehicles or power generation.
The Deputy Minister of Energy and Industry Dato Paduka Hj Matsatejo Sokiaw said the project was in line with Brunei's environmental commitments under the Paris Climate Change Agreement and hoped that it would contribute to Brunei's diversification and sustainable development in the mid to long-term.
"I fully support the involvement of educational institutions to promote and raise the awareness of this efficient fuel," said Dato Paduka Hj Matsatejo. "I know the world is still far away from adopting hydrogen as a mainstream energy source but there is no reason why we cannot be one of the pioneers in the development of this clean energy system."
Japan's ambassador to Brunei Motohiko Kato echoed the deputy minister's comments, hoping that students from Universiti Brunei Darussalam and Universiti Teknologi Brunei would be "inspired by the project" and would research hydrogen energy use in the Sultanate.
The Japanese government has been vocal in prioritizing the use of hydrogen as an energy source, with their Hydrogen consumption targeted at 4,000 tonnes in 2020, 300,000 tonnes by 2030 and five to ten million tonnes by 2050, with plans to reduce the current cost of Hydrogen from fuel stations from USD 10 per kilogramme to USD 3 in the next 13 years.
Information and pictures for this story are courtesy of AHEAD, The Bruneian and The Scoop.