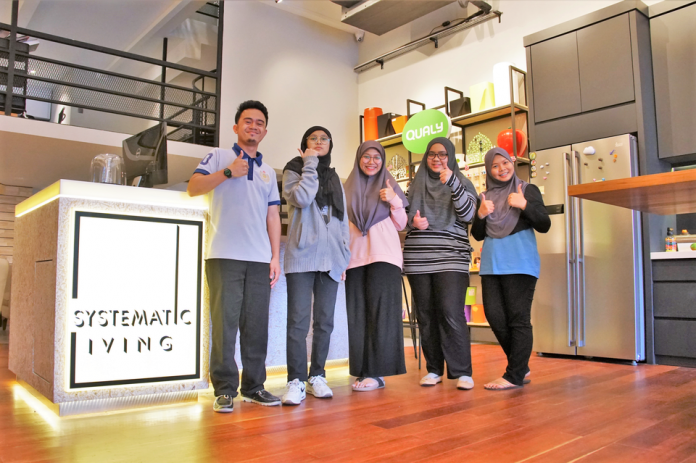 IBTE interior design graduates Nor Raudah Nadirah Abdullah, Saidatul Hazirah Sahari and Munawarah Samat might only be 21 to 23-years-old but they're at the heart of Systematic Living's bullish outlook in designing residential and retail properties.
A startup founded by Sun Jenn Hwan, his wife and seasoned builder Victor Wan, Systematic Living specializes in designing and constructing the interiors of buildings and homes, completing 80 projects since opening in 2016.
Having recently opened their first fully-fledged showroom at Jalan Pasir Berakas, Sun has groomed an all-Bruneian team of interior designers as he targets an increase in manufacturing interior furnishing in Brunei.
"We started by customizing the client's space with the right (imported) furniture but we've now evolved into constructing our own interiors that are fully fitted with furnishing that we've built locally in our Kilanas factory," said Sun.
"This includes wardrobes, counters, tables and flooring; almost everything except loose types of furniture like chairs and sofa sets, which we can also help source separately."
Watch: Raudah and Hazirah share their journey in interior design
Sun founded Systematic Living two years after he set up a small construction company Bina Setia, which focused on building and renovating individual properties. Realizing that these clients often wanted their home, office or shop's interior also customized, Sun decided to delve into interior design to provide a complete solution.
The 38-year-old put up a job vacancy advertisement which drew the attention of fresh diploma graduates Raudah and Hazirah, who are now the most senior in Systematic's design team of five, which also include two IBTE interns on attachment.
"The range of projects that we have been able to work on is the most satisfying part," said Raudah. "At first, most of us wanted to continue on (to study a Higher National Diploma) but just because we've started working, doesn't mean we've stopped learning."
Hazirah said the extensive modeling and rendering work, familiarisation with building materials, and learning how to create designs that balance aesthetics and practicality has been a valuable experience.
"We've been able to see our designs being built on site," added Hazirah. "So we get to understand what works (from our design) and what doesn't."
Today, Systematic Living's projects generally fall into three categories; designing and constructing the interiors for properties built by their sister company Bina Setia, clients with existing spaces looking for a new interior, and clients who've already mapped out their own interior design and are looking for a company to construct their plan.
Systematic Living's biggest challenge in expanding lies in its fabrication operation, which is currently limited to a 0.4-acre site in Kilanas. Sun says the area isn't large enough to accommodate long-term demand.
"If we have the opportunity to set up in an industrial zone we could build an ISO-certified factory that would manufacture more furniture; including items like doors and chairs," said Sun. "If we are able to manufacture more, we will also be able to take on more designers, and even venture into exporting items."
For the latest updates visit Systematic Living Company on Facebook and Instagram. Systematic Living is located at Unit B9, Simpang 145, Jalan Pasir Berakas and opens from 10am to 7pm daily. To get in touch contact +6732342708.