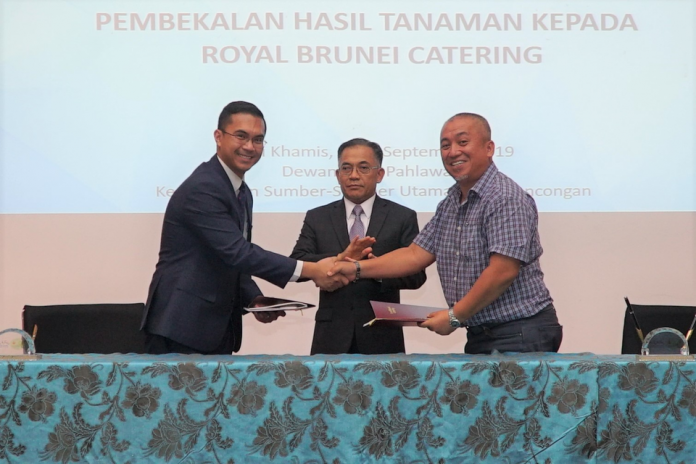 Seven local farms have signed contracts with Royal Brunei Catering (RBC) to supply their vegetables and fruit as part of a wider market access initiative by the Ministry of Primary Resources and Tourism (MPRT) to match small to medium farms with buyers.
Under the contracts, RBC will stipulate their demand over 30 types of produce – including tomatoes, eggplant, lettuce and garlic – effectively guaranteeing the signing farms a reliable buyer that can provide them consistent sales.
RBC's General Manager Hj Jeff Hardiman Dato Paduka Hj Danial was on hand to sign the contracts at MPRT with Koperasi Pengusaha Sayur Berhad, Bioprop Sdn Bhd, T16 Farm, Juja enterprise, Syarikat Perniagaan Hj Sapar, RZ Prisma and the Orchid Vegetable Mart.
Hj Jeff said RBC's eateries and catering – which include flagship establishments Anjung Saujana and Seasons as well as supplying the in-flight menu of Royal Brunei Airlines – prepare between 3,000 to 5,000 meals a day, leaving significant room to incorporate more local farmers into their value chain.
"This agreement (between smaller farms) is the first (of its kind) that RBC has signed," said Hj Jeff. "At present, we source most of our proteins locally (e.g. poultry from Ideal and Riza) but still have more than 200 vegetables and herbs which we'll be looking (to source) for in the next phase (of contracts)."

Hj Jeff added that RBC has largely relied on distributors to source for their raw ingredients because of convenience. With MPRT facilitating the matching process, RBC was able to network and visit local farms.
In principle, the farm-to-table concept brings bigger margins for local farmers by reducing the distributor's mark up and provides eateries with fresher produce that's supplied directly.
The Minister of Primary Resources and Tourism YB Dato Seri Setia Hj Ali Apong said they would be continuing to conduct business matching and socialize contracting farming opportunities, especially to smaller and new farmers.
"We encourage more establishments (retailers, eateries, caterers) to business match with our local farms," he said after the contract signing event. "Being local, the produce will be fresher (compared to imports) and the quality can be monitored (and assured)."