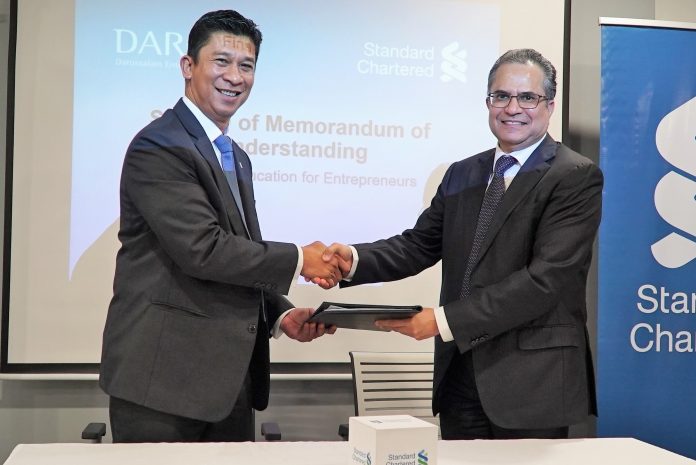 Standard Chartered Bank (SCB) will be extending their Financial Education for Entrepreneurs Programme in Brunei through Darussalam Enterprise (DARe) after signing an MoU yesterday.
The programme's content – which span five fundamental modules on managing finances – will be administered through DARe's Industry Business Academy (IBA) which is open to Brunei-based businesses at no charge.
DARe's CEO Javed Ahmad said that the course would add to IBA's growing range of classes for MSMEs and enable them to understand the basics of financial management including cash flow and accounting as well as developing business plans.
"After much study and visits conducted by the DARe team, we have seen a lack of this knowledge and with the curriculum that will be shared by SCB, we hope businesses we train under IBA will be able to increase their financial knowledge," said Javed.
SCB's programme has been implemented globally with national partners. Under IBA, the course will be delivered at DARe over two days, beginning with cash flow, budgeting and accounts before moving onto business planning and strategy.
SCB's CEO-designate Pg Aki Ismasufian Pg Hj Ibrahim added that wider financial education amongst the community aligns with their core business.
"The bank can bring more than financial resources to the community; it can leverage its people and expertise which will multiply its potential impact," he said. "We recognise that the security, prosperity and stability of our financial systems, communities and economies depend on well educated, financially capable young people and entreprenuers."